When I settled down to write this article about Janelle Monae's new music video "Pynk" and her famous vagina trousers, I was in a cafe – seated next to a collection of board games, some tired pot plants, and an art history book I'd never seen before. It was Feminine Beauty, by Kenneth Clarke.
Back in the early nineties, when I was a student of fine art, I was lucky enough to be taught by the feminist art historian Griselda Pollock. Take it from me that Clarke's writing was not held up as an example for us students to follow. In fact, his work could justly be described as the anti-text of my visual arts education. So I'd never seen Feminine Beauty. Predictably, it's a gushing rhapsody on what Clarke thinks is women's primary function – that is, to be beautiful – alongside a collection of plates of peachy-looking white women as painted/sculpted/photographed by white men. (Okay, there are one or two ancient Egyptians in there too.)
By contrast, "Pynk" is emphatically not a peachy re-rendering of Western conceptions of white female beauty, or even "the male gaze" – a phrase I would happily never hear again. It is four minutes of Monae and a group of black female dancers (including actress Tessa Thompson) frolicking in the desert wearing enormous, pink, apparently vulva-shaped trousers designed by Duran Lantink.
While the lyrics peel off a list of all the reasons why pink is the new black, the video constructs for us an unusually rich, feminine paradigm. It reclaims, among other things: the colour pink as a deeply powerful feminine symbol; the vagina as a universal place of origin (we see underpants with the words "Great Cosmic Mother" printed on the front).
Pynk is where all of it starts
The dominant narrative in modern Western society has been the same as that illustrated by Clarke's book on Feminine Beauty. Women exist as objects to be seen and done to, rather than active agents in their own right. In popular culture, the black woman's backside has been fetishised as an object of mute and even contemptible spectacle, certainly since the rise of commercial hip hop in the 1980s, and dating at least as far back as Sarah Baartman – aka The Hottentot Venus – in the early 1800s. More recently, the "black bottom" has been weirdly appropriated by Kim Kardashian at one extreme and Miley Cyrus at the other. In Monae's video, black women's bottoms are presented playfully as something both for and about black women, as she and Thompson alternately rise from an undulating sea of upturned backsides.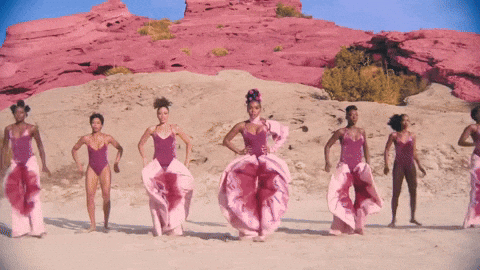 For Sigmund Freud (whom I love, by the way), the female sex organs are a space of absence, a hole – even a wound. According to patriarchal models, symbolic female power is alarming – not because of the fear that women might take over the world (although, yes, that too) – but because the hole of a woman's sex challenges the male with symbolic loss of the penis. For Freud, fear of castration was the cornerstone of human neurosis. But, somewhat as Courtney Love's band Hole did 25 years ago, Monae's Pynk explores the question of the hole not as a lack or a wound, but as a locus of profound depth, mystery and origin. More of a whole, than a hole. In the song's lyrics, "pynk" is "the holes of your heart", "the folds of your brain", "beyond forest and thighs" as well as "the secrets you hide". At one point, Thompson's head appears in the gap between Monae's voluminous trouser legs.
Pynk and black
If I had a criticism of the #MeToo agenda, it is that it repeats the narrative it seeks to disrupt, by casting women as perpetual victims and men as irredeemable predators. What is unexpectedly powerful about Pynk is that it claims archetypal feminine energy as one that is not defined by victimhood -– or, indeed, by any relationship to men.
The opening sequence shows Monae's pink cadillac pulling into view on a desert background, surely a reference to Russ Meyer's 1965 cult film Faster Pussycat, Kill, Kill – a surreal tale of Cadillac-driving, homicidal women in the desert. While Monae's video does not endorse man-slaying as a matter of course, it does subtly reclaim the iconography of powerful women from Meyer's sexploitation genre, where torpedo-breasted superwomen serve as mascots of patriarchal fear and fantasy. In Pynk, nobody needs to die; but we do see Monae kickboxing a giant phallic punchbag into submission.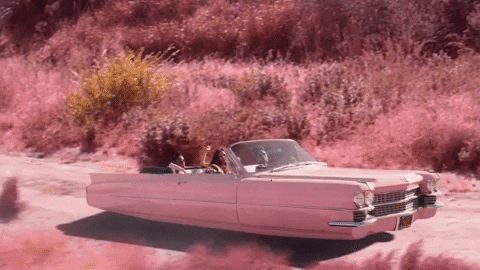 This week I am mindful of Beyoncé's Coachella performance, which has been widely praised. Maybe it's just me, but I can never get past the fact that Beyoncé seemingly uses signifiers of whiteness – specifically that long blonde hair, like a Botticelli Venus – to elevate herself by comparison with her dancers (and before that, her fellow band members in Destiny's Child). In 1992, well before Destiny's Child was even an embryo, bell hooks pointed out in her essay Selling Hot Pussy that black female performers frequently need to go blonde and leonine in order to crossover into the mainstream. The happy ending to this story, however, is that Monae's hair is both voluminous and black…
…and I don't just mean the stuff on her head.