It has been 18 months since Jeremy Corbyn was first elected as leader of the Labour party, promising "a new kind of politics". In September 2015, he pledged to build on the enthusiasm generated among his supporters during a leadership contest that saw him start as rank outsider before sweeping to victory on a left-wing wave.
The intervening period has not been kind. Corbyn's tenure has been marked by factional conflict, parliamentary revolts, frontbench resignations and electoral weakness. Hardly anyone now believes Labour can win the next election. Despite the early optimism of his supporters, Corbyn already looks like being one of the most ineffective and unpopular opposition leaders in the post-war era.
Unpopularity
By most electoral metrics, Corbyn's first 18 months have been abysmal. Labour is currently trailing the Conservatives in the polls by 12-17 percentage points (depending on the pollster), an extraordinary position for a party seven years in opposition. This compares unfavourably with most other opposition leaders, with only William Hague performing worse in his first 18 months.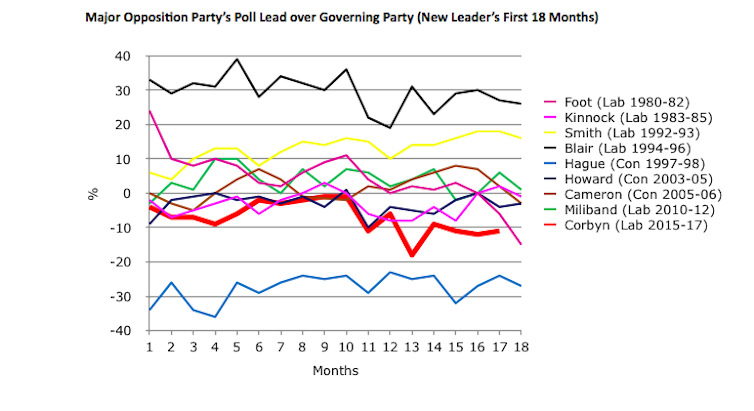 Corbyn's personal ratings are even worse. His net satisfaction ratings are around -40, putting him firmly in Michael Foot territory. In an age when more people vote for parties based on their leaders, Corbyn is dragging his side down. A recent YouGov poll found 49% of voters thought Theresa May would make a better prime minister than Corbyn. Only 15% backed Corbyn over May.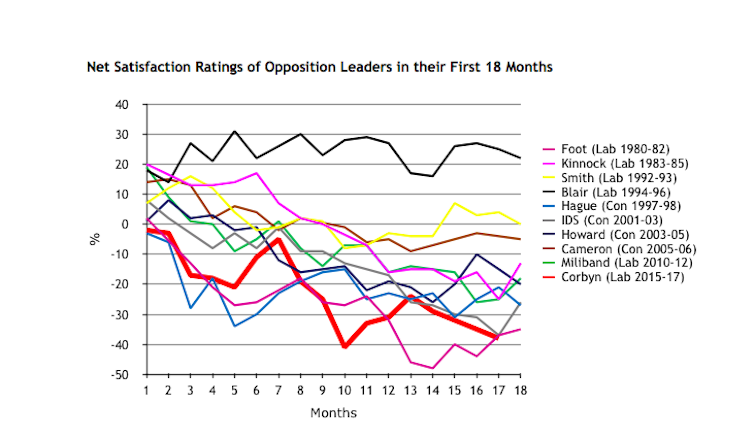 Labour's electoral performance has been weak. Although it won the London mayoralty in 2016 and several byelections, it generally did so by choosing candidates who distanced themselves from Corbyn.
In the recent Copeland byelection, Labour reached its electoral nadir under Corbyn, losing a seat that it had held for decades. It was the first time the major opposition party had lost a seat to a governing party since 1982, but that was made possible by the SDP split. You have to go back to Labour's defeat in Brighouse and Spenborough in 1960 for anything remotely comparable.
Internal politics
With an electoral performance this anaemic, a leader might expect to find himself under pressure. But the internal politics of Labour are far from normal. Corbyn has remained in place because of a deep division between the parliamentary party and new party members. Corbyn was never supported by most Labour MPs, but he was the overwhelming choice of the membership.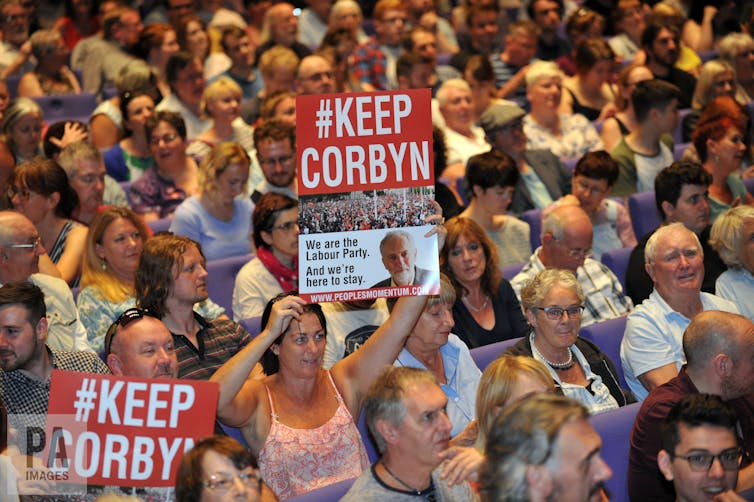 Membership has surged since the general election, fuelled by an influx of left wingers. It more than doubled between 2014 and 2015, and increased sharply in 2016 as another flood of recruits entered to vote in that year's leadership contest. One legacy has been a membership sharply polarised by when they joined the party: in a recent YouGov poll of Labour members, Corbyn's net approval rating was -46 among those who joined before he became a leadership candidate in 2015 but +36 among those who joined after he declared – and this latter group constitutes 60% of the total membership.
At over 500,000, Labour now boasts that it is the biggest membership party in Europe. These members may not have improved the party's electoral performance but they do shield Corbyn from the Parliamentary Labour Party. Owen Smith's leadership challenge in 2016 was easily defeated because the membership backed Corbyn, delivering him 61.8% of the vote to Smith's 38.2%. Talk of further leadership challenges is largely muted.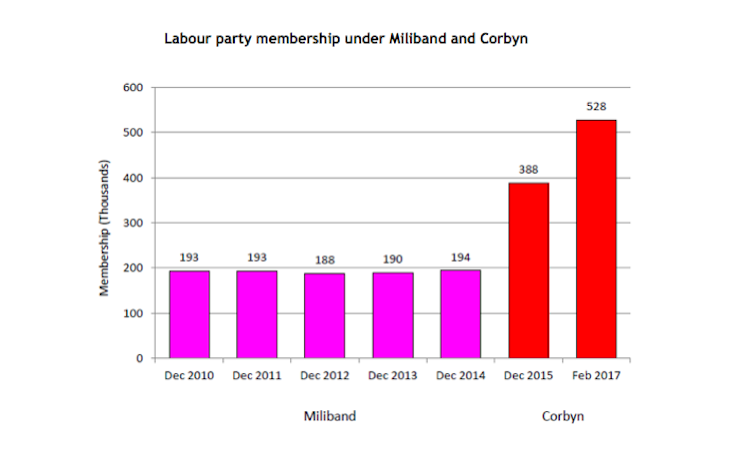 Internal dynamics in the Labour Party have been extraordinary. The PLP voted "no confidence" in its leader by 172 votes to 40 in June, following Corbyn's performance in the EU referendum campaign. In most instances, such a crushing rejection would automatically mean the leader resigning, as his authority would have been shot. But Corbyn sees himself as a delegate of the membership, not first-among-equals with his senior colleagues.
He has brushed off major parliamentary rebellions that would have destroyed other leaders, including over intervention in Syria, and renewing Trident. Even when Corbyn imposed a three-line whip on the Article 50 vote, 52 Labour MPs rebelled and some frontbenchers resigned.
There has been enormous churn on the Labour frontbench, with Corbyn undertaking four major reshuffles in 18 months. In Ed Miliband's four-and-a-half years as Labour leader, there were only three major reshuffles. Amid the chaos, inexperienced MPs, many of whom only arrived in parliament in 2015 have quickly – and unprecedentedly – become senior figures.
Looking ahead
Labour's biggest challenge for the immediate future is Brexit – and here, Corbyn may face another problem. His willingness to support triggering Article 50 antagonised lots of the more recent members, many of whom are staunch Remainers.
In truth, though, Corbyn's room for manoeuvre is limited. Approximately 70% of Labour MPs represent constituencies that voted Leave, which makes it harder to disrupt Brexit. This issue has exposed a new fissure in the party between its socially-conservative working-class supporters in the North and the Midlands, and its supporters in metropolitan areas, who are more likely to be liberal, young or from ethnic minorities. Any Labour leader would have had to deal with this challenge.
The question is whether the members will remain loyal if Corbyn is unwilling to fight for a soft Brexit. Fully 63% of members believe Labour isn't doing enough to hold the government to account over Brexit and 53% think Corbyn has handled the issue badly.
In the meantime, Corbyn's allies push harder to change the rules to make it easier for a left-winger to make a bid for the leadership. That could enable Corbyn to step down and hand over power to an ideological soulmate. But "moderates" are already resisting such rule changes and would fiercely challenge the left in any new leadership contest. There is unlikely to be any respite from Labour's turmoil for the foreseeable future.