The conviction of Thomas Mair for the murder of the British MP Jo Cox serves as a reminder that terrorism comes in many guises. Mair was tried for murder, rather than terrorism, but the judge in his case made it clear when delivering a whole life sentence that he considered this to be a terrorist murder.
The activities of Islamist groups such as Islamic State and Al Qaeda over the past 15 years have shaped the way we view terrorism. Particularly since the most recent attacks in Paris, Brussels and Nice by Islamic State, many of us tend to more readily associate terrorism with some causes over others. We have come to forget that far-right groups commit acts of terrorism too.
But as Mair's trial revealed, his political motives were apparent. He owned extreme far-right material and Nazi memorabilia and had visited far-right websites. As he attacked Cox, he shouted "Britain first, this is for Britain", "Britain will always come first" and "Make Britain independent". Cox had been campaigning for the UK to remain in the European Union after the June referendum – a view the far right has always opposed.
This is not an isolated incident inspired by the extreme far right. In June 2015, Zack Davies was convicted of the attempted murder of a Sikh, Sarandev Bhambra. In an unprovoked attack at a supermarket, Davies attempted to decapitate Bhambra. During the attack, Davies shouted racist remarks and had with him a National Action flag.
Formed in 2013, National Action is a Nazi-inspired group that targets mainly disenchanted young people. Its website's rallying cry is "Death to traitors, freedom for Britain". The organisation glorifies national socialism, Hitler and the Holocaust. The group regularly holds impromptu public meetings around the UK, many of which result in violence, as was seen in February 2016 in Liverpool.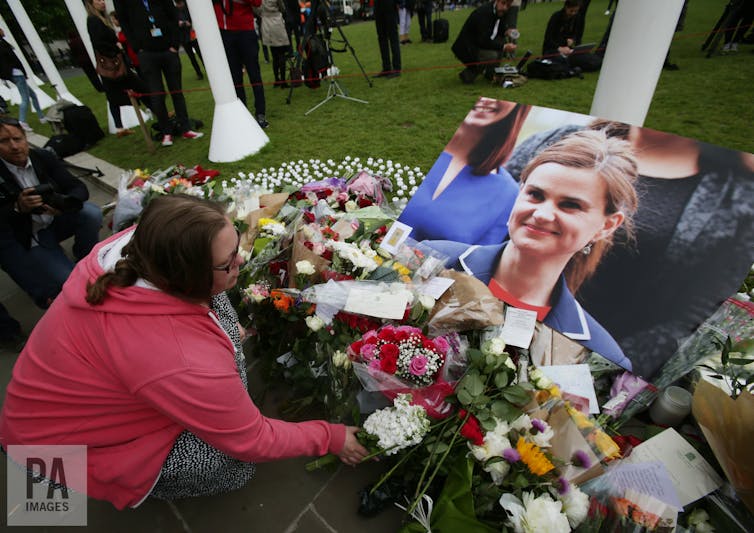 Because of what Mair said when he attacked Cox, the activities of the far-right group Britain First have also come under the spotlight. Although its leader, Paul Golding, was quick to distance the group from Mair's comments, the group has acquired a para-military image because of the training camps it runs for members and its pledge to take [direct action against Islam.
The influence these groups have on people like Mair cannot be overestimated. They are racist, anti-semitic, homophobic and intolerant. Whether they acknowledge it or not, they inspire people to kill and inflict violence on those they see as a threat. It's also clear from social media that these groups inspire hate crimes. Right-wing trolling has become a startlingly common problem. A particularly striking example is the case of John Nimmo, who sent anti-semitic death threats to Luciana Berger, another Labour MP.
One of his tweets read: "watch your back Jewish scum, regards your friend the Nazi". The tweet that caused Berger to fear for her own safety was one sent three weeks after Cox's murder saying she would "get it like Jo Cox".
Nimmo was convicted of sending malicious communications. And due to the anti-semitic nature of the correspondence, his was classified as a hate crime.
The scale of the problem
The impact of extreme, far-right crime should not be ignored. Figures on cases brought to the attention of the British government's anti-terrorism programme Prevent suggest that in some regions of the UK, there can be a 50:50 split between people inspired by Islamism and those inspired by the extreme far right.
This might make you wonder why far-right groups are not banned like Islamic State or the various factions of the Irish Republican Army, thereby making them terrorist groups. There is an advantage to not doing this though, as it makes it easier for state agencies to monitor extreme far right groups' activities and prevents the need for them to go underground.
The British far right has never been a cohesive, united group, which has prevented it from becoming an unmanageable problem. The various organisations involved in extreme right-wing activity have tended to have a fractious relationship, as was seen recently with the decline of the British National Party and the English Defence League.
But that decline has led to the emergence of new hardline groups with more dedicated followers. They may not have terrorist cells like the Provisional IRA during the Irish Troubles, but the far right reminds me of the Ulster Volunteer Force, which tended to carry out assassinations of Roman Catholics. Be it through direct violence on the streets or inspiring hate crime or, as seen with Mair, political assassinations, the danger these groups pose is very real.