If you've never read any of Jonathan Coe's novels, start with his latest, Number 11. Coe is under-read and underrated – in the UK, at least. But he is hugely popular elsewhere in Europe, particularly in France, where his sales are around four times higher than in Britain. This is odd considering the quintessentially British focus and nature of his work, but for a number of reasons he's been neglected at home.
Coe's particular style, which most obviously mixes politics and humour, has led to a relative lack of critical and academic attention. Some of his novels are openly political, most are extremely funny at times, but they are all, without fail, both gentle and fierce, heart-breaking and perceptive.
Number 11 returns to cover old ground with its playful nods to characters and situations from Coe's best-known novel, What a Carve Up! (1994), a simultaneously searingly critical and comic novel about the Thatcher years and the selling off of Britain's state assets.
Coe is known for his "state-of-the-nation" novels, in which he represents the UK as fully as possible, in all its social and geographical diversity. In Number 11 we move from the provincial town of Beverley, to Leeds, via rural Oxfordshire and suburban Guildford, to the capital; and from a librarian who cannot afford to heat her home due to a cut in her working hours, to a pampered super rich socialite. Coe shows playful awareness of this reputation, sub-titling his fourth story a "Nate of the Station Story", based on the adventures of a policeman named Nathan and his unusually intellectual methods of inquiry.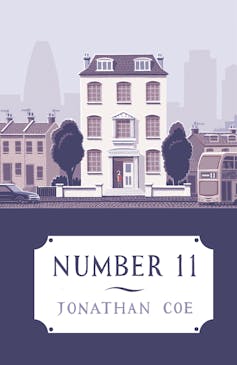 This latest novel provides another stinging social and political attack, this time on austerity Britain. There's migrant trafficking, closing libraries, the squalid and brutal horrors of reality TV. There are universities that are increasingly becoming service providers (the novel foresees the higher education green paper published on November 6 which formalises just this development). There's the lazy and acerbic prejudices of the press and the absurdity of the super rich.
What Coe very clearly captures is the gaping chasm – which is rapidly coming to define the UK – between the two distinct worlds of the haves and the have-nots: those who can afford life-saving drugs and those who can't; the harsh treatment meted out on those who commit benefit fraud versus the rewards of tax evasion. In this way, Coe exposes the cynical lie of "we're all in it together". The novel also reveals the ways in which the lives of the have-nots are increasingly controlled by the haves. As Freddie, the odious "wealth manager" declares:
Give them enough ready meals and nights in front of the TV watching celebrities being humiliated in the jungle and they won't even want to leave their sofas.
Characters' destinies are entirely tied up with politics. There's Roger and his desperate pursuit of a simpler time, free from neo-liberal choice; Alison and her embodiment of the right-wing tabloids' hate figure. As Coe said to me in a recent interview (not yet published): "I bring politics in because it's a way of relating personal questions of characters to larger social forces."
So, given this focus on all things British, what lies behind his hugely elevated popularity in France? The first chapter of the final story in this collection was originally published in French weekly magazine Le Point, in a special issue on London.
British fiction is increasingly popular in France, with Coe coming to represent what the French expect from across the channel: storytelling, a mixture of the personal and the political, and that famous British humour. It is likely that a little schadenfreude adds to the enjoyment of novels which chart the darker side of Britain; but Coe's novels also provide the French with "reading pleasure", something which in the land of Sartre and the nouveau roman, has perhaps been sidelined.
Coe's humour, said in the French press to be "so British" in its darkness, is in full evidence in Number 11, where Coe treads a deliciously fine line between humour and desolation. Nothing is out of bounds. Be that as it may, Coe continues his recent conversation in the media about the dangers of using humour to negate political anger. One of his characters expresses murderous fury towards the complacent middle classes taking comfort in comedy. This ambivalence can be read as somewhat cynical self-parody.
Number 11 is so-called, as the author himself wryly said at a recent colloquium, to assist lazy critics who never seem to remember how many books he has written. The novel is also organised around five different significant "number 11's", such as the number 11 bus route in Birmingham and Number 11 Downing St and the chaos of austerity. Characters and references wind their way through the stories, creating a satisfying continuity. The multiple meanings of the title capture the mixture of politics and playfulness which defines the book – a recipe which will delight readers, new and old, at home and abroad.
---
Number 11 is published by Viking on November 11.