Topshop continues its march towards global dominance. Sir Philip Green, the firm's owner, is now in "advanced discussions" on opening their first stores in China, with Kate Moss set to lead the brand's marketing.
The choice between Chinese and Western models to front Topshop's campaign is intriguing. Though traditionally foreign fashion firms have succeeded in China through maintaining their Western identity, changes in the local culture and economy, plus the fact that Topshop will be aiming for the mass market rather than the high end, means some local adaptation will be required.
Though foreign retailers have been operating in the country for more than two decades now, they have still largely retained their initial glamour for Chinese consumers. Most of the luxury-brand products, including cosmetics, watches, clothes, handbags, and cars (Dior, Rolex, Burberry, Louis Vuitton, Mercedes-Benz and so on), experienced dramatic growth over the past five years in China, while their sales in many richer countries stagnated.
This phenomenon among Chinese consumers suggests a strong link between a "Western" image and a personal status in the society. In this sense, Topshop's use of Kate Moss to break into China looks like the right strategy.
Think local
But this sort of global branding won't crack an emerging market by itself; foreign retailers must not neglect the significance of thinking local too.
The success stories of worldwide luxury brands in China are down to the purchasing power of high-end consumers, who have a relatively large amount of disposable income but who only account for a small proportion of the Chinese population. This is important to keep in mind as China's constant economic growth continues to lift more people out of poverty. Disposable incomes are increasing, and Western brands are no longer available only to elites. To compete in the middle tier of the consumer market, foreign retailers will require very different marketing strategies.
Marketing strategies must also take account of the fact that, after a period of pursuing foreign products, patriotic sentiments and nationalism are on the increase among Chinese consumers. Thus, there is a good chance for a major shift in their purchasing behaviour in the near future. The deeply rooted Chinese culture of "Thrift is a virtue" (勤俭是美德 – qinjian shi meide) may also be awoken, which will influence money management among Chinese consumers.
The Peng model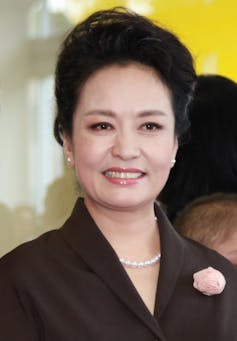 Western fashion retailing is targeted at customers who have a completely different appearance and figure in China compared to their segments in the home markets. If they want to understand and adapt to the Chinese retail market, foreign brands should pay attention to what First Lady Peng Liyuan wears when she visits foreign countries.
As a previously famous army singer, her modern and confident political appearances have been well received by the Chinese people. All of Peng's garments are Chinese branded and made in the country, and she is even believed to be changing the trend in clothing purchases back towards Chinese brands.
So yes, a foreign retailer like Topshop must focus on identifying particular demographics (by age, or income levels, say) who will make up their target customers. But they must also be aware of the many different categories of consumer behaviour and what marketers call "psychographic segmentation", that is, the many varieties of attitudes, values and lifestyles that consumers can be grouped into, within and across demographics.
Changing cultural trends, rising patriotism and ever-growing wealth means the traditional "Western-branded" approach to breaking into Chinese retail might no longer be the best move. The most successful foreign companies will be those that follow a hybrid strategy, responding to both local and global practices.
Kate Moss' global supermodel status certainly won't hinder Topshop's launch in China. But Philip Green would be well advised to not forget the "Peng Liyuan Effect" and other leading domestic icons.