Due to Australia's small population and high concentration of few media voices, public broadcasters play a pivotal role in shaping the media ecosystem and cultural landscape. With the ABC and SBS under scrutiny ahead of the budget, The Future of Public Broadcasting series looks at the role of these taxpayer funded broadcasters, how they shape our media and whether they provide value for money.
---
Buying commercial goods is part of social as well as economic life. We purchase gifts to exchange with loved ones or to enjoy as entertainment in peer groups and families.
But some commercial environments can manipulate both children and their parents to make purchases that are not beneficial in the long term. How important is an advertising-free environment for children's television? And what role does public broadcasting play in providing not only a diverse range of content, but a space that to some extent controls the flow of communication from vested interests?
Children's television and market failure
One of the traditional defences of public broadcasting lies in the fact that the market fails to provide certain categories of public goods – including educational resources, and children's programming.
Put bluntly, when left to the market, children's television is generally relegated to scheduling ghettos unpopular with advertisers and consists of imported programming that can be purchased fairly cheaply by commercial licensees. Since the 1980s, therefore, Australia has had both children's and Australian content quotas imposed on its commercial free-to-air broadcasters. From the 1990s, less onerously, a proportional spend has also applied to Pay-TV providers, thus creating de facto public service obligations on commercial enterprises.
Detractors of public funding to the ABC often argue that there is no market failure when it comes to children's TV. There are numerous subscription children's channels on Pay TV, the children's quotas on free-to-air commercial television and numerous online sources of entertainment.
It is true that certain categories of children's content are pretty well serviced because of the merchandising options attached. Some of this merchandising can be fairly benign, either because there are few long-term harms associated with consumption of the product, or because the commercial intention has not been allowed to affect program quality.
Preschool TV
Take preschool television. This is big business internationally for two main reasons. Usually animated, it can readily be dubbed and sold into multiple markets. Furthermore, because character-based toys are popular with children, the secondary merchandising is extremely lucrative. Toys, books, DVDs, have always been necessary to production financing for preschool television.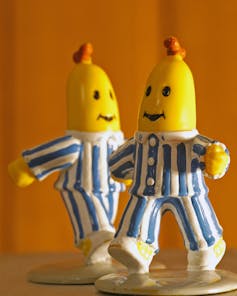 Global corporations such as Disney, Nickelodeon and the BBC – through BBC worldwide – dominate this market. Look no further than our own ABC Shop for toys, clothing, backpacks and books associated with its much-loved preschool properties.
But these corporations also know that parents and educators are a secondary audience and principal gatekeepers for the children in their care. Their programs are generally of high quality, produced initially for the corporations' own specialist children's channels in the US or Britain. They are usually produced in conjunction with early childhood specialists to meet developmental goals as well as provide entertainment value for children.
Other genres do not fare so well – for example domestic product and live action drama for middle childhood audiences. It costs much more to commission new Australian content than to buy in shows that have already recouped most of their production costs elsewhere. Live action doesn't translate as well for audiences from different cultures. These genres are only produced in Australia because of the regulatory mandate of the Children's Television Standards.
On the other hand, what Stephen Kline describes as the "30-minute commercial" remains a feature of cheap preschool animation. Heavily influenced by toy companies, these are produced with the sole aim of marketing toys. Such shows are accused of poor production values and scripts.
An early example of the type includes My Little Pony – a property developed by toy company Hasbro.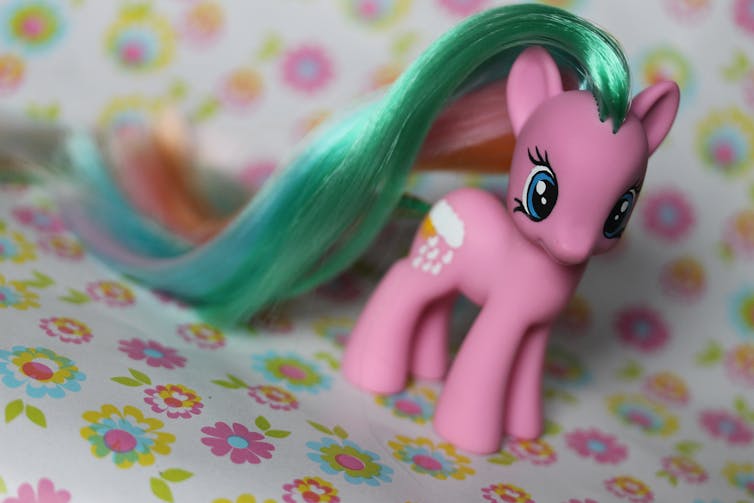 Public broadcasters have a role to play in disrupting feedback channels to points of sale. Not just content commissioners, they also provide delivery platforms that are in important senses "ring-fenced" from some of the more harmful aspects of marketing to children. Children's content on ABC platforms, for example, is not surrounded by advertisements for energy-dense, nutrient-poor (EDNP) foods.
Health
In the light of recent debates on the economic costs of public broadcasting it might be time to look at other kinds of modelling – namely the long-term costs imposed on the health system because of obesity. The total health costs associated with obesity in Australia, not including overweight, in 2008 was estimated to be around A$8.3 billion.
And money is not the only story. By age 20, many of the current generation of young children will have lost approximately two years life expectancy because of being overweight.
Unfortunately, as children's time spent with media increases, so does their consumption of EDNP foods, while they exercise less. In the US, this association has been shown to be true for commercial television but not for non-commercial television.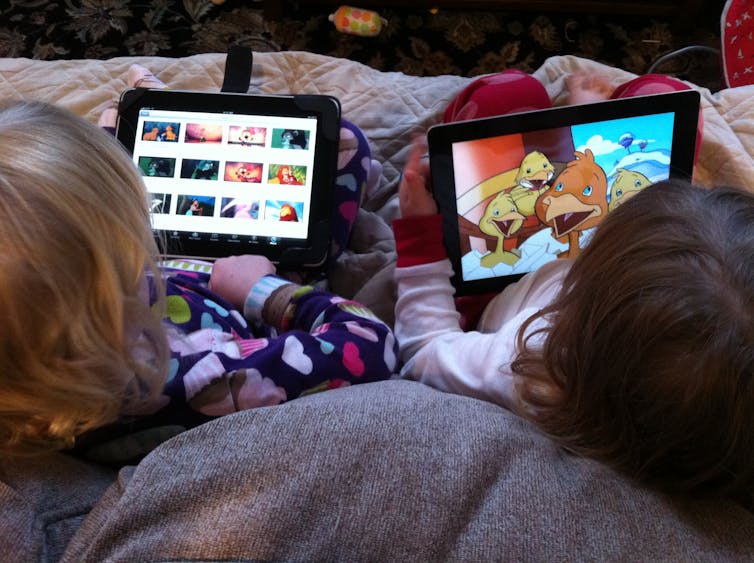 Children become targets for advertising of unhealthy foods in a variety of guises across different media, including TV, the internet, magazines, in-school marketing, sponsorship, product-placement and point of sale promotions.
Websites associated with certain commercial children's channels host ads with links to direct purchase opportunities. Many encourage children to enter information that can facilitate direct company-to-user communications.
While the Abbott government is looking to cut back expenditure on public broadcasting, the previous Labor government used its funding of ABC3 to argue against calls by doctors and public health advocates for a ban on screening ads for unhealthy food during times when children were likely to be watching TV.
The National Preventative Health Taskforce established by the government had recommended the phasing out of "marketing of EDNP food and beverage products on free-to-air and Pay TV before 9pm within four years", but these were ignored.
Instead the Department of Health and Aging argued industry self-regulation and public broadcasters were the answer. The ABC's children's channel was cited as "giving parents a commercial free choice for their children".
While no government of either flavour wishes to take on the powerful food and advertising industry lobbyists, there is a case to make for public service broadcasters' role as a preventative health initiative, as well as curators of diverse content that the market is unlikely to provide.
Read more articles in The Future of Public Broadcasting.