The announcement of S. Kidman & Co's intention to sell their pastoral business and 11 leases marks a new waypoint in South Australia's progress towards a post-colonial world. From the time when Sidney Kidman first cohabitated the bush with Billy the Aboriginal to the agistment of stock in the Anangu Pitjantjatjara-Yankunytjatjara (APY) Lands in 2014, Kidman's history has been interwoven with Indigenous Australia. Not surprisingly the announcement has sparked interest across Indigenous social networks.
The company's success has generated spectacular interest ever since Kidman's first Kapunda horse sale in 1900. Kidman's biographers Idriess (1936) and Bowen (1987) provide fairly romantic pictures of the man and his early colonial success, which can be corroborated in Aboriginal accounts.
Kidman relied on good judgement of people, animals and land. At a time when others in industry were struggling to affirm terra nullius and Social Darwinism as necessities in the settler legal fiction, Kidman was recruiting indigenous "boundary riders" in places with no boundaries, branding cleanskin cattle and ensuring flows of cattle were heading to market.
Land-holding was secondary to maintaining flows and relationships. At his retirement dinner in 1927, Kidman quoted a reputable authority:
"he never saw blacks happier or better cared for than at Macumba".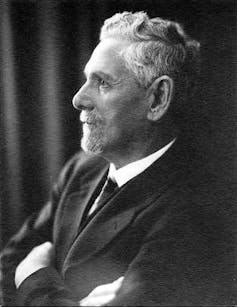 Under successive Kidman managers, the station went on to devise strategies preventing a Macumba stolen generation. Multi-racial communities survived at Macumba until the late 1950s and at Anna Creek till 1979. Rain-makers were paid on productivity bonuses and aspects of customary law were easily maintained on Kidman stations.
Kidman stations became havens for those fleeing poor treatment elsewhere. In 1980, when I first arrived at Oodnadatta, I soon learned of stockman finding skulls with bullet holes in the dune country north-east of the Macumba. Not until 2014 did I learn that some of the same men were actually descended from Wangkangurru survivors who fled the killings in the Kalakoopah around 1884.
A long struggle for land rights
The passing of the Pitjantjatjara Lands Act in 1981 generated a sense of betrayal in Oodnadatta. Senior Yankunytjatjara men living at Oodnadatta had supported the bill, knowing that under customary law their own interests to the north-west would eventually be recognised. Those of Lower Southern Aranda and Wangkangurru descent had missed out.
My employers at the time, the men called me to a meeting:
How come that mob get their land back first? We work hard on stations and speak English. They don't speak English and sit down all day and they get their land back first!
It was a question I could not really answer, but I knew that somehow black, spear-carrying Pitjantjatjara symbolised "real Aborigines", empowering a politic within the settler mythology. A month later, in April 1981, the men confronted the land minister, Peter Arnold, at the Oodnadatta airport. According to one department official, "the minister was sorely embarrassed".
About the same time, Labor MLC Frank Blevins and the future deputy premier, Don Hopgood, met the Oodnadatta Aboriginal Housing Society chairperson, Aboriginal lawman and former Kidman employee, Sidney Stewart, on the police station lawn. (Two-and-a-half years later, in custody again, Stewart would die pushing the lawnmower.) Blevins and Hopgood looked out on streets paved with broken glass and vowed to do something about it.
Once in government, they did; Mt Dare station was purchased to become a national park. The pastoral leases that would have terminated around 2000 were converted into rolling 28-year leases, the closest thing to perpetuity for Kidmans. As early as 1983, the government began informal recognition of native title on non-indigenous pastoral leases, with the first attempts at mining industry "site clearances" to protect Aboriginal heritage in the Arckaringa basin.
In 2012, after a 14-year claim process, the Arabana were granted native title to almost a fifth of South Australia. The determination remains controversial, with a lack of clarity as to who is really represented.
Indigenous land use agreements (ILUAs) signed by the claimants and other parties transfer most future rights to the State of South Australia and other persons. The United Nations Declaration on the Rights of Indigenous Peoples (UNDRIP) provides for future economic development by Indigenous people, something expressly ruled out in the Arabana consent determination.
The Arabana Aboriginal Corporation (RNTB) reported assets of around $3.3 million in 2014, a paltry sum compared to what may be realised in the Kidman sale and the "future acts" of the colonising government. As a result of native title, Kidman leases gained additional certainty.
While Western Australia's resumption of pastoral leases for tourism and closure of Indigenous communities as a "lifestyle" change make news, the 2013 Arabana Climate Change Adaptation Project found Arabana people already living in cities and co-management with mining companies as two manifestations of climate-change adaptation.
'How do we get the land back?'
When I returned to the north of South Australia last year, I discovered people still putting the same question: "How do we get the land back?" They are still sharing a vision of a post-colonial world that has yet to arrive. Despite the outlawing of colonisation by the United Nations in 1960, a second wave of colonisation has proceeded with increasing land enclosure masked by native title.
Coming as it does in a boom market, Kidman's deserve to get a good price for the business; however, what will Central Australia's future be like under new, less-related owners? While South Australia continues to be supported by settler legal fictions, whose country is really up for sale?
Any sale is more likely to involve the Foreign Investment Review Board than the Indigenous Land Corporation. I cannot help wonder when the bones of Wangkangurru ancestors will stop surfacing east of the Macumba.