"Kodachrome, it gives the nice bright colours, it gives the dreams of summer, it makes you think all the world's a sunny day." (Paul Simon, Kodachrome, 1973, from 'There Goes Rhymin Simon.)
Eighteen months ago, the only colour Eastman Kodak (better known simply as Kodak) was seeing was red. Kodak filed for Chapter 11, the notorious "rescue" procedure used for many US airlines, defendants in tort litigation and more recently motor manufacturers such as General Motors. Billy Crystal was making jokes about the "Chapter 11 theatre" as Kodak was forced to withdraw its sponsorship of the Oscar venue. Last week, however, Kodak "emerged" from bankruptcy after a court confirmed its rescue plan.
A pioneer and worldwide household name in film and printing, Kodak is often credited with bringing photography to the masses with its Instamatic camera. But the digitisation of photography, mobile phones and photo-sharing applications such as Instagram took its toll, as well as increased competition from giant competitors such as Fuji and Hewlett-Packard.
Kodak did develop a range of other products, as well as pioneering new technologies such as touch-sensor modules which will revolutionise the way mobile devices operate. But ironically, while one of its key assets was its patents, the cost of litigating their infringements was also one reason for Kodak's financial problems.
Kodak has now emerged relatively speedily from bankruptcy. However, this doesn't come with a guarantee of success or solvency. While it has taken full advantage of the opportunity to streamline its business, restructure its balance sheet and cut costs, people are printing less these days. So, it will still prove to be a tough future environment.
The benefits of bankruptcy
Nevertheless, we should consider the limited purpose of Chapter 11, and compare it to the closest Australian equivalent, Voluntary Administration (VA).(Incidentally, VA celebrated its 20th anniversary this year, and at Adelaide Law School we held an international seminar to commemorate this). One of the key differences between VA and Chapter 11, apart from the debtor in the US staying in control rather than an outside expert coming in to run the business, is that Chapter 11 can be triggered before a company is in the red. The culture there is to encourage debtors to be rehabilitated and try again, and the sooner that is attempted, the better.
Under our VA system, a company has to be insolvent, or on the brink. One of the major criticisms here is that companies are pushed into VA too early, when a rescue might have been achievable without the inevitable loss of value. Another reason this happens is because of the impact on directors of insolvent trading laws, and the risk of personal liability to the ATO if directors don't appoint an administrator. Regardless, Government committees have decided against having a Chapter 11 procedure here. It is very expensive and court-driven, so certainly not suitable for smaller companies (which are the majority).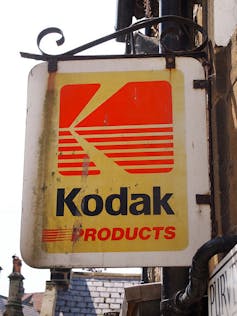 Returning to Kodak, the purpose of Chapter 11 (and VA) is to provide a "breathing space" during which no action can be taken against the debtor, so it can try to negotiate a restructuring plan without distraction or further cash-bleeding. The debtor also has power to reject contracts and force suppliers to continue supplying.
In contrast to VA, "ipso facto" clauses, which trigger termination of contracts, are void. The terms of a "turnaround" are negotiable, since Chapter 11 is just an umbrella for the parties to negotiate in the shadow of the rights which bankruptcy and contract law would give them on a liquidation.
The idea of Chapter 11 is to maximise value for creditors and shareholders, so that they are better off than in liquidation. Businesses, jobs and community interests might be preserved which would otherwise fail. Everybody loses on insolvency; shareholders come last and get nothing.
So if Chapter 11 can bring about a better outcome, that could be measured a success. True, the business may eventually fail, and even enter Chapter 11 again, but does this mean the original procedure was a "failure"? Besides, though many companies entering Chapter 11 or VA do go into liquidation, these umbrella procedures might still produce better outcomes due to in-built advantages of the procedure. That's particularly true in the US, where Chapter 11 doesn't carry the stigma of insolvency.
The Kodak plan
The plan confirmed for Kodak contains some pretty common restructuring elements, but one unusual feature.
The Kodak plan focuses its business on commercial printing. In terms of recapitalising its balance sheet, as well as shedding costs and selling many patents to competitor Brother Inc., it has had to deal with pension liabilities in the US and the UK. Chapter 11 has been used to deal with escalating and unaffordable long-term liabilities under retirement plans. Existing shareholders in Kodak will get nothing. Unsecured creditors, including US retirees, will take a cut and get some new equity plus some cash back.
The new Kodak will be owned mostly by its creditors. The unusual aspect of the deal is that the camera film business, with which Kodak is perhaps most associated, has been handed over to the UK pensioners to compensate them somewhat for their claims. They are apparently going to try to run the business for a while to salvage some or all of their entitlements.
So Kodak and its great name has survived for now. Jobs will be preserved that might have been lost and creditors, including pensioners, will salvage something. Its existing lenders are prepared to lend further funds, and investors or traders will pick up some of the distressed debt if they feel the new Kodak has a strong future. If things go well, new shareholders might even make a profit.
While a company may emerge from Chapter 11 with different owners and products, these days businesses, especially where technology is central, have to move with the times to keep up with the competition. Some tech-based companies have nothing behind them but their name, a few key boffins and some licences and patents. Re-inventing themselves while preserving core skills and brand identification is vital and will become more so, as the nature of assets evolves.
Although procedures like Chapter 11 and VA can't guarantee survival, it's important to remember: that's not their purpose. They provide an opportunity, backed by law and majority voting, to achieve a more constructive outcome than the alternative, i.e the point of no return. Kodak is a perfect example of why it's worth a try. It might not be back on a roll, but we may not have seen the last 'Kodak moment'!