Political historians are likely to treat the Rudd and Gillard governments far more kindly than many contemporary commentators have - and certainly more kindly than the Murdoch press has. The passing of time and the benefit of hindsight will dull the memory of strategic errors, destabilisation and in-fighting, while highlighting the governments' legislative and policy record.
In particular, it will be noted that the Rudd and Gillard governments did recognise and engage with key challenges facing Australia in the first two decades of the 21st century - including the global financial crisis, the Asian Century and climate change.
Rudd rightly argued that the Asian Century posed both great opportunities and great challenges for Australia. Like Paul Keating before him, he emphasised the export opportunities opened up by the burgeoning markets and growing middle classes of Asia. It was a point further emphasised by the Gillard government, including in its white paper Australia in the Asian Century.
However, Rudd was more aware than some of his predecessors that Australia could not afford to be complacent about the challenges Australia would face from other economies in the region. In particular, he had long been concerned that Australia was falling behind some Asian countries technologically.
The National Broadband Network was seen as essential in ensuring that Australian industries could compete internationally and in ensuring that education and services could be delivered throughout the country, including in the regions. Both the Rudd and Gillard governments also emphasised the need to develop a diverse Australian economy that would prosper beyond the mining boom. Indeed, the mining tax was partly meant to redistribute profits from the miners to those sections of the economy that were more vulnerable.
Despite public perceptions that both governments were dysfunctional, the legislative and policy record of the Labor governments is in fact extensive. The minority Gillard government alone successfully passed over 500 pieces of legislation. Great credit needs to be given to Gillard's negotiating skills.
To list just a few, major Labor government initiatives over the last six years have included: dismantling WorkChoices and establishing Fair Work Australia, paid parental leave, disability care, reforming secondary education and expanding tertiary education, improving the pay of low-paid workers (largely women), removing over 80 forms of discrimination against same-sex couples, the apology to the stolen generations, instituting a carbon price, establishing the Royal Commission into Child Sexual Abuse, reforming Murray River water management, transforming federal-state hospital funding arrangements and improving relations with China and India.
Some of the perceived failures of the Rudd and Gillard government were old dilemmas faced by social democratic governments attempting to manage capitalist economies. Both governments struggled with the power of private business over opposition to carbon pricing and the various iterations of the mining tax, just as Ben Chifley had come up against the power of the banks and Gough Whitlam against the power of multinationals.
In particular, the concessions the Gillard government made to the mining industry over depreciation of assets and state government royalties had disastrous consequences for government revenue. Both governments faced opposition from a powerful media magnate, although The Australian had initially been sympathetic to Rudd. Both struggled with the impact of a capitalist global economic crisis on the economy and on the government's bottom line.
Both governments also faced issues arising from the ideological crisis of social democracy in the 21st century. Rudd had argued that social democratic governments had a major role to play in fixing issues of market failure, ranging from improving Australia's poor information technology to introducing financial disincentives for producing carbon via a carbon price. His government was therefore ideally placed ideologically to introduce the Keynesian stimulus package that helped Australia weather the GFC so successfully, as compared with most other western countries.
However, it proved hard to sell the need for deficits - even ones that were so low by international levels - to the Australian electorate. This was a difficult pill to swallow for those who had been repeatedly told - from the Bob Hawke and Paul Keating years on - that government debt was bad and that governments should minimise their role in the economy and leave as much as possible to markets. Arguably Hawke and Keating's economic rationalism had undermined a key justification for social democratic governments – namely their role in addressing market dysfunctions.
Nonetheless, despite the problems selling their message (and Wayne Swan's poor communication skills combined with virulent opposition from the Murdoch press didn't help), the Rudd and Gillard governments could claim to have left the Australian economy in a relatively good state compared to most other western economies. The very favourable IMF and OECD figures and Australia's AAA credit rating were cited by Rudd in his July 2013 National Press Club address as evidence of this.
The budget cuts the Gillard government did introduce were relatively mild ones compared with the harsh austerity measures in so much of the western world and attempted to use targeting to minimise the impact on those who were most vulnerable. However, some groups - such as single parents - were significantly disadvantaged under welfare-to-work measures.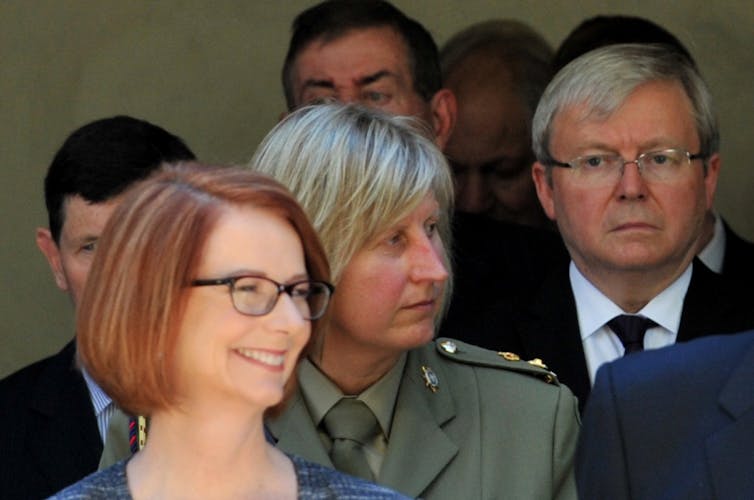 This is not to say that the Rudd and Gillard governments didn't make major mistakes, only some of which can be listed here. Despite Rudd's acknowledgements of market failure, the Rudd government's stimulus package failed to regulate adequately either private sector builders of school halls or installers of insulation. The resulting excessive costs and tragic deaths overshadowed memories of the thousands who had been successfully employed under the programmes at a time of economic crisis. Rudd should also not have backed down on the Carbon Pollution Reduction Scheme after it was rejected by the Senate.
Rudd had vision but suffered a form of prime ministerial "meltdown" during 2010 when it came to implementing many measures. More effort should have been made - by all ministers - to try to get Rudd functioning again. Gillard suffered permanent damage from removing a first-term prime minister who had been elected in the "Kevin 07" presidential-style election. This was particularly the case given Rudd's history of undermining previous Labor leaders such as Simon Crean and Kim Beazley – experience he then used against Gillard.
Labor politicians, staffers and factional powerbrokers seemed ill-prepared for the way in which her gender was used against Gillard, including the opprobrium that would adhere to a female leader seen to have "knifed" a male one. Furthermore, Labor overemphasised aspects, such as Gillard's toughness, that reinforced common dilemmas female leaders have - including how to balance toughness and compassion in the context of being seen as neither too feminine (weak) or too unfeminine (hard and uncaring).
The Gillard government should not have made the concessions it did in regard to the mining tax or kept promising specific timelines for returning the budget to surplus when it was clear that revenue was dropping drastically due to the ongoing impacts of the GFC and falling commodity prices. Peter Slipper should not have been made Speaker of the House of Representatives.
Gillard should never have conceded that a period of fixed carbon price leading to an emissions trading scheme (as under Rudd's CPRS) was effectively a tax after she said she wouldn't introduce one. Additional mistakes included the aborted East Timor asylum seeker solution and the media regulation debacle.
Nonetheless, key Rudd supporters dissatisfied with Gillard's performance should have exercised party discipline and kept their criticisms behind closed doors. Instead, they publicly trashed Labor's brand in ways that seriously undermined attempts to run on Labor's record in the 2013 election campaign.
Coalition supporters will no doubt remember the Gillard government through the prism of debt and dysfunction. This is despite the Coalition's own belated acknowledgement in its costings that returning to surplus is no easy task in a time of falling government revenue.
By contrast, the Labor faithful will remember the Rudd and Gillard governments as ones that did attempt to deal with key challenges of the 21st century. They did have a substantial record of reforming legislation and did attempt to sustain growth with fairness in immensely challenging economic times. Yet they were also governments that spectacularly sowed the seeds of their own destruction.
We now wait to see how successful the Coalition will be in governing in such difficult and challenging times.