After nearly nine years down under doing his own thing with Illyria, Network Ten and Nova, Lachlan Murdoch's return to the family business as non-executive co-chairman of News Corp and 21st Century Fox has been widely reported as an "end" to Rupert Murdoch's succession dilemma. The first-born son has returned to the position of preferred heir to the throne.
That seems like a fair reading of the news, even as younger sibling James is promoted to co-chief operating officer of the company alongside Rupert's trusted lieutenant Chase Carey. "Co-chief operating officer" in one of the world's largest media empires is a position of power and authority, no doubt. But it smacks of the mundane, day-to-day stuff, pursued under the watchful eye of the older, more trusted Carey.
It was Carey who, in the immediate wake of the UK phone hacking scandal that brought James Murdoch down, was mentioned by Rupert as a possible future chairman of the company. Now, it seems his role is to keep James out of trouble by immersing him in the operation and administration – rather than strategic direction – of News Corp.
That's not such a bad outcome for the younger son, who testified himself into a corner at the 2011 UK Commons select committee hearings on phone hacking.
Then, in the white heat of public outrage about Milly Dowler, and with the US regulatory authorities keeping a close eye on proceedings and what they revealed about the fitness of the Murdochs for corporate governance, James denied that as News International chairman since 2007 he had direct knowledge of phone hacking or other illegal newsgathering activities.
James also insisted that he had authorised a large out-of-court settlement to a celebrity victim of phone hacking solely on legal advice, and not in any way to avoid further damaging publicity around the emerging criminality of elements in the News International operation. He was innocent of impropriety, he pleaded, and guilty only of not knowing enough about what his subordinates were up to. This was also Rupert's line before the same committee.
The committee members found this to be a case of implausible deniability, and said as much. James avoided criminal prosecution, but had to resign his UK News International positions. He oversaw the closure of the News of the World and the collapse of News Corp's potentially lucrative takeover bid for a 100% stake of BSkyB.
But if James avoided being further embroiled in the phone hacking scandal by claiming in essence to have been elsewhere at the time, he thereby revealed himself to be a recklessly hands-off executive. He became a tainted figure, far removed from the "clean hands" management style required by a post-Rupert News Corp in the United States. His defence strategy was at the same time his downfall.
To this day, as the court cases against former News International executives and journalists continue to trundle through the English courts, the Murdoch and News brands are deeply tarnished in the UK.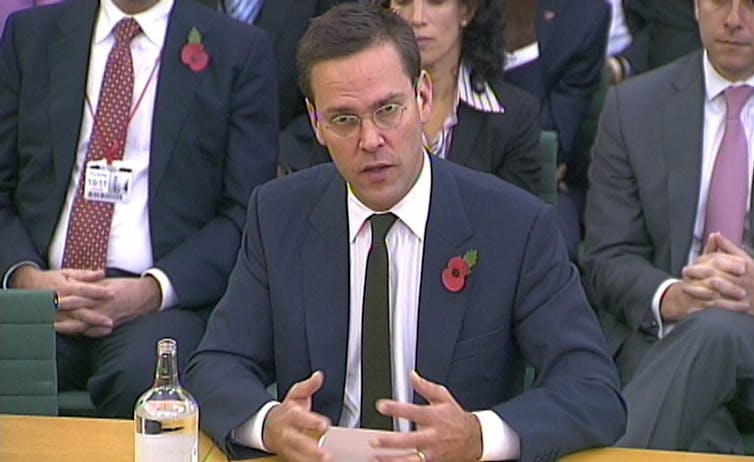 Lachlan, on the other hand, was clean, free of any involvement in News' UK excesses. Having asserted his independence by walking away from a senior News Corp role in 2005 for a future in Australia, he rushed to his father's side when the hacking scandal broke. This added to his reputation for independence and business propriety, plus he demonstrated the virtue of family loyalty and a readiness to stick up for his dad.
From that moment, and assuming the continued absence of daughter Elisabeth Murdoch from Rupert's succession plans, Lachlan became the man to watch.
But being made co-chairman doesn't necessarily mean Lachlan will succeed his father at the helm of News Corp and 21st Century Fox. Post-hacking, the board of which he is now co-chairman view the Murdochs with far less deference.
Lachlan Murdoch's future at News Corp will be determined not by his father's desire to keep the company in family hands, but by business success the shareholders can dine out on.
In that context, it may or may not be significant that Lachlan's recent period in Australia has been spent not in the news media, but with entertainment-driven companies such as Nova and Network Ten. He would appear, on the basis of that record, to be more suited to running 21st Century Fox than News Corp. The former is the real cash cow and the most important to shareholders. The latter is Rupert's baby, and he will go to the grave ruling it with an iron fist.
If that is a fair prediction, then the new division of executive labour at the top of the Murdoch empire will see Rupert retaining control of News Corp, while Lachlan takes 21st Century Fox into the digital future.
As for Elisabeth, who has previously made clear her personal distaste for the more rabid sectors of News Corp journalism, the time may be coming when she can return to a more visible role in the company.
If and when Lachlan becomes the only chairman of the board, Elisabeth may feel it is safe to go back to the family business. She could perhaps even work to restore the reputations of those news divisions whose standing Rupert and James allowed to become so comprehensively trashed.