By using performance-enhancing drugs, even before he was diagnosed with cancer, it would appear Lance Armstrong was obsessed with becoming and staying a winner early on.
Indeed, in his two-part interview with Oprah Winfrey over the weekend, Armstrong admitted that, following his comeback from cancer treatment in 1998, he wanted to "win at all costs" and "control the narrative".
So how much control did the drugs and other performance-enhancing procedures give him?
Secret's out
Armstrong's performance in the Oprah Winfrey interviews lifted the lid on the worst-kept secret in world sport. As an integral part of his preparation to win seven consecutive Tour de France titles (1999-2005), the American used a cocktail of performance-enhancing drugs (EPO, blood transfusion and testosterone).
In doing so, he followed something of a tradition for some athletes and their coaches in elite and professional sport.
Blood transfusion was already used by the US cycling team to win nine cycling medals during the 1984 Los Angeles Olympic Games after it was shown that autologous (i.e. taken from the same body) blood transfusion could improve physical performance by 23%.
Then, the recombinant human erythropoietine (rhEPO) became the preferred method of blood testing.
Take away the illegality and the appeal is a no-brainer. It has been shown that the use of rhEPO can increase cyclists' performances during a time-to-exhaustion test by about 10% in trained subjects.
Interestingly, such tests last around 10-15 minutes, which corresponds roughly to the duration of the key efforts produced by the most recent winners of the Tour de France during the decisive moments of high mountain stages.
Are drugs the only way?
The incredible performances produced by Armstrong were not powered only by sport science and training, as he'd previously argued. Instead it was the addition of performance-enhancing drugs that made him the most complete cyclist. Let's not forget that the drugs Armstrong was taking can be – and on occasion have been – lethal.
Indeed, aside from the well-known tragic death of English cyclist Tom Simpson on Mont Ventoux in 1967, no fewer than 18 cyclists died from the side effects of rhEPO (pulmonary embolism, heart attack, stroke) between 1997 and 2000.
Armstrong's comments about the infamous cycling doctor Michele Ferrari ("I viewed [him] as a good man and I still do") may reflect his respect for someone who helped him use performance-enhancing drugs without negative health effects, and who, ultimately, allowed him to accumulate seven Tour de France victories.
Interestingly, Armstrong said the the doping program he used was very conservative and that it took advantage of the weaknesses of the anti-doping system by using an appropriate "scheduling" of drugs use.
But even if no officials from the UCI (cycling's governing body) were able to stop Armstrong's doping at this time, the public strongly protested in 2004 with some Tour de France spectators spitting at him and insulting him during the individual time trial on the slopes of the Alpe d'Huez.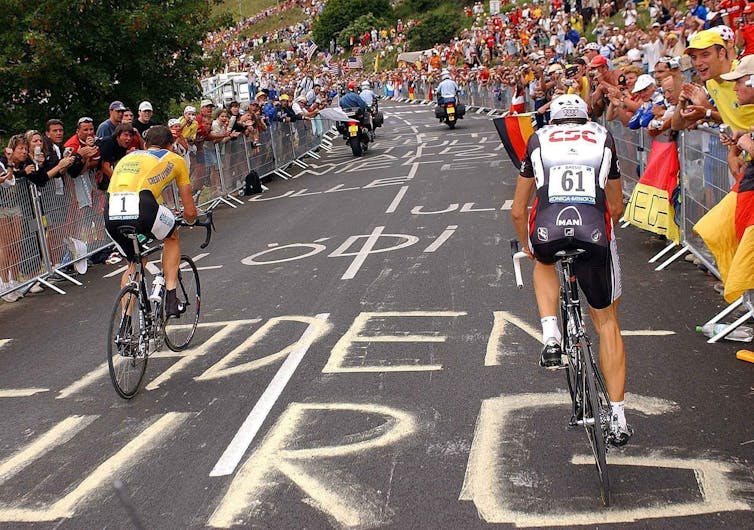 Leading by example
Of course, Armstrong wasn't just taking performance-enhancing drugs himself.
Even if it was less sophisticated than the doping programs previously organised in Eastern Europe – as Armstrong claimed in part one of his interview with Oprah – he clearly took structural doping to a new level by organising the use of performance-enhancing drugs for all members of the US Postal and Discovery Channel teams.
How did he make it happen? According to him, he was simply leading by example – an example that helped to build what was probably the strongest team in the history of cycling.
It would be interesting to know if, as suggested by three-time Tour de France winner Greg LeMond, Armstrong won because he controlled the doses of performance-enhancing drugs his teammates were taking.
If Armstrong really wants to make amends, he should provide the scientific community with clear information about the doses and cocktails of drugs used by the different riders of his team so we can get a better understanding of the relationship between dosage and performance.
When added to all the other factors at play, performance-enhancing drugs gave Armstrong the edge to become the athlete and businessman we all know. They were central to his ability to control the sport and his place within it.
But now it's time for Armstrong to accept he can't control the way people think about what he did.
Further reading: