This article is part of a series, On Happiness, examining what it means and how it might be achieved in the 21st century.
The problem with contemporary ideas about happiness is their intolerance of discontent. Happiness has morphed into a personal responsibility to avoid negative, critical responses to the external conditions of our lives, lest we court depression, anxiety or disturb the tranquility and happiness of others. If we are unhappy, the problem lies with us, and not our job, family situation, neigbourhood or rulers.
In this individualised but mass-marketed therapeutic iteration, happiness is too often construed as a form of quiescence, of contentment, acceptance of social norms and conformity to the status quo.
I want to recast happiness as a form of carnival, a subversive, rambunctious style of happiness derived from trangressive art and "art of the self", a comedic disruption to conformity that destabilises complacent authority, producing new ways of seeing and being.
In Australia from its beginnings, humour and irony have been small weapons in the armoury of the oppressed, the outcast, or those simply fed up with cultural uniformity.
This fightback begins with Aboriginal people, who have long used wry and ironic humour against authorities as a form of resistance to colonisation. Indeed Australia's sense of humour may well owe more to its original inhabitants than to the undoubted anti-authoritarian mockery of the convicts – many of whom were also victims of dispossession in the Old World, seeking happiness in the New.
These early influences shape an Australian style of cultural subversion that, in my book Dancing with Empty Pockets (2012), I call the "larrikin carnivalesque". It is where rabble-rousing lefties meet a style of libertarianism that can also be associated with right-leaning contrarians.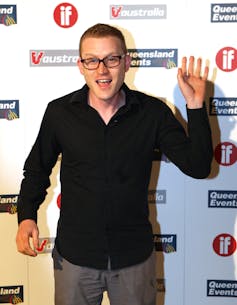 It has a long pedigree in the arts, stretching from groups of bohemian writers, journalists and cartoonists gathered around the early Bulletin in the late 19th century, to Kath and Kim, prankster John Safran, The Chaser, Chris Lilley and Housos in this century.
The term "carnivalesque" was coined by Soviet literary academic Mikhail Bakhtin to refer to a topsy-turvy spirit of riotous festivity, famously unleashed in the carnivals of Europe in the 15th and 16th centuries, in which the lower orders deployed misrule, play, humour and vulgarity to subvert authority – if only temporarily.
By crossing arbitrary borders and disrupting expectation carnival could stimulate new ways of thinking, and radically transform culture. This type of dissent has deep roots in Australia's folk memory where it's often referred to as our "larrikin streak".
One of Australia's great colonial satirists was journalist and writer Marcus Clarke. A celebrated wit, he drank, argued, and scandalised his way through Melbourne in the 1870s, setting up a string of bohemian clubs, outraging respectable society and trying to keep one step ahead of the creditors.
Scalpel in one hand and rapier in the other, young Marcus carved out a journalistic niche for himself as the "Peripatetic Philosopher", a slightly bemused, cynical observer of the (mock) heroic goings on of Melbourne society, producing sketches that anticipate Humphries' character monologues a century later.
Few were exempt from his barbs, including sharebrokers, "new chums", "our boys", the working man, politicians, squatters, art connoisseurs, journalists, sporting men, ladies and larrikins, all accompanied by their own peculiar slang or jargon.
Archibald's Bulletin
At the Bulletin magazine, founded in 1880, a radical, democratic, grassroots Australian carnivalesque humour flourished.
Its early editor JF Archibald made a virtue of tapping the energies of bush and urban workers, the shearing sheds and city pubs, and from this interactive community emerged writers with a gift for the vernacular as diverse as Henry Lawson, CJ Dennis, Miles Franklin, Steele Rudd, Banjo Paterson, Joseph Furphy and Norman Lindsay.
The Bulletin drew on the language of the streets and the shearing sheds to mock those in authority, from the capitalist "fat man", "squatters", parsons, "wowsers" and magistrates to plutocrats, governors and the Crown.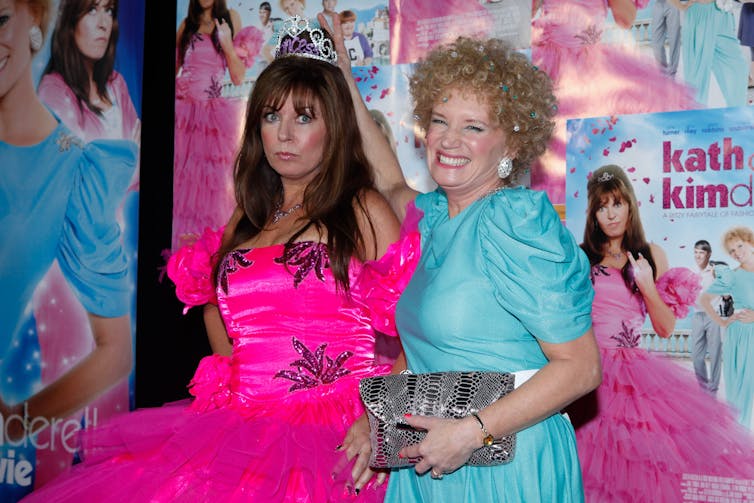 A particular target was the "wowser", slang for a pious, Christian proselytiser of either gender who was vigilant in policing others morals, skilled in the tut-tutting of others' happiness.
Nothwithstanding a nasty strain of sexism and racism in its humour, the Bulletin was radical in its championing of causes such as republicanism, unions, the new Labor Party and female suffrage. But as Sylvia Lawson has argued in her contribution to the 1999 collection Journalism: print, politics and popular culture, it was in the magazine's disruption of expectation — its mockery of authority, genre-blending, the interplay of short comic pars with cartoons — that the Bulletin was most subversive, helping to create a cultural naissance distinguished by its appeal to both salon and saloon.
Post-war larrikins
The postwar expansion of universities provided a stage for young bohemians such as Humphries, Germaine Greer, Clive James and Bob Ellis to hone the larrikin carnivalesque – literally in student revue, and also on campus newspapers such as Honi Soit and Tharunka, where Richard Neville, Martin Sharpe and Richard Walsh rehearsed a new wave of libertarian satire that went off-campus as Oz.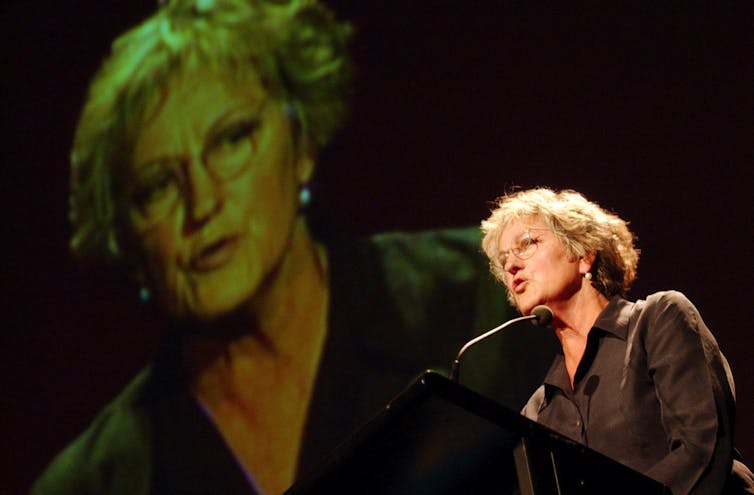 Neville's Play Power, published in 1971, makes clear that his brand of counter-cultural satire was not just hostile to the right, but also to the left, for being too dismissive of the revolutionary possibilities of pop culture, humour and media.
I grew up in working-class Port Kembla in the 1970s, where we cheered on Bazza McKenzie, the gormless young Australian larrikin in London, comic-book brainchild of Barry Humphries, translated to feature film The Adventures of Barry McKenzie (1972) by director Bruce Beresford and producer Phillip Adams. Self-described as an ordinary "working man", Bazza was one of us, a life-affirming foil against smug trendies, snivelling officials, puffing pollies in a film caricaturing the xenophobic of all classes.
The people behind the "ocker cycle" of plays, films, television – Stork, Don's Party, Alvin Purple (1976), The Aunty Jack Show (1972) - were far from mere commercial showmen. They smuggled into them all sorts of critical insights and visceral pleasures from bohemian subcultures like the Sydney Push and the Melbourne Drift of the 1950s, and the experimental avant-garde projects at which they laboured in the 1960s.
Self-satire was epitomised in the 1974 sequel Barry McKenzie Holds His Own, famously climaxing in a cameo by Prime Minister Gough Whitlam, where he regally Dames Bazza's Aunty Edna Everage. The scene recalls a colourful period where the larrikin carnivalesque moved to the centre of our political culture, an era where leaders laughed along with us at our foibles, engendering a healthy national happiness. Not for nothing did Whitlam once observe "the fun is where I am".
Larrikins in the age of bureaucrats
Today we live in an age where bureaucrats are drafted as politicians, where managerialism, focus groups and gaffe-spotting take the place of wit, passion and ideas. But perhaps because of this political tedium, the larrikin carnivalesque has thrived.
The Anglo-Celts lost their monopoly on larrikinism in the 1990s as "wog humour" emerged from the suburbs with another popular movie where the naïve but vulgar innocent triumphs in Nick Giannopoulos' Wog Boy (2000). Kath and Kim have confirmed Edna's secret that women indeed rule the childlike men of the suburbs, and they now do so not by shushing male pleasures but by out-ockering them.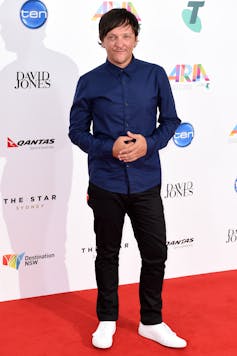 Paul Fenech's Pizza franchise (2000-2005) and its latest iteration Housos (2011), demonstrates how hip-hopping homeboys of Middle-Eastern appearance have the power to offend and shock. Through the long haul of the Howard, Rudd, Gillard and now Abbott years it has been the Chaser team who channel the subversive elements of the larrikin carnivalesque - anarchic anti-authoritarianism, pranks, the parody of other media, and flirtation with obscenity and offences against good taste.
Humphries' gift for dark, ironic social observations has passed to Chris Lilley, whose We Can Be Heroes (2005), Angry Boys (2011) and Ja'mie, Private School Girl (2013) dared to puncture the myth of Australian goodness. Lilley leapt into the hypocrisy of race relations in Australia: from cruel schoolyard taunts, to the struggling Tongan boys, confined to the gum nut cottage and forced to appreciate their culture through the creepy "Polynesian Pathways" — offensive to those who believe such programs promote civic happiness, but an important truth about regulation of ethnics in this country.
Today's guerrilla satire is driven by the new technologies of digital cameras and internet distribution via Facebook, Twitter or YouTube, but the big difference is that the interactivity of these mediums allow a participation by consumers not seen in this country since the hey days of the Bulletin.
Meanwhile a somnolent bureaucracy built of metrics, key performance indicators and compliance that enlists a coercive homogenising notion of "wellbeing" is smothering dissent in so many of our great public and commercial institutions, even in those creative spaces such as universities and the media where troublemakers traditionally pushed back for the freedom to experiment, take risks and have fun.
But out in the "burbs", online and in the back-blogs, funny young people are busy self-curating extreme carnival to smuggle a sense of what former Prime Minister Paul Keating called "vaudeville" into our otherwise utilitarian politics.

This article is based on an essay in the collection On Happiness: New Ideas for the Twenty-First Century (UWA Publishing, June 2015).

On Happiness: New Ideas for the Twenty-First Century will launch this evening at Dymocks, George Street, Sydney. Details here.
You can read other articles in the series here.