South Korea's scandal-plagued president, Park Geun-hye has been forced from office. Park was impeached by the country's constitutional court over accusations that she helped a friend win bribes from Samsung and other South Korean conglomerates.
The impeachment follows swiftly on from the arrest of Lee Jae-yong, the de-facto head of Samsung, the country's biggest conglomerate. He is on trial for a string of corruption charges, including bribery and embezzlement, linked to Park's impeachment. He has denied any wrongdoing.
Prosecutors allege that Lee donated 41 billion won (US$36m) to non-profit organisations linked to Park's close friend and advisor, Choi Soon-sil, to secure government support for a merger that would help him to the top of the Samsung group.
Choi, meanwhile, is in detention, accused of using her personal ties with the president to meddle in state affairs and encourage local firms to also donate millions of dollars to non-profit foundations under her control.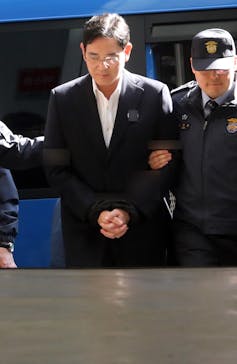 All parties deny having done anything wrong. But for a country that ranked the 37th least corrupt out of 167 nations in the Corruption Perceptions Index 2015, this is a major blow. And South Koreans are up in arms – hundreds of thousands have protested over the reports of corruption and called for Park's impeachment.
The mechanics of corruption
Extensive conflicts of interests, intricate webs of connections and widespread clientelism – where goods or services are exchanged for political support – are the distinctive features of corruption. And they are all too common in the political world across the globe.
In the absence of proper regulations and corporate governance measures, intimate relationships between economics and politics can lead to corruption. The mechanics is simple and intuitively understandable: through the exchange of favours between business and government, the former can distort political outcomes as a result of the undue influence of their vast wealth.
Besides the devastating effects that corruption may produce on the poor and the economic growth, the distortion of political outcomes may also exert a series of adverse effects on daily business practice. The advantages that a company may gain from a corrupt political system can harm competition. Not only is it bad for competitors, it tends to harm consumers too, as lack of competition typically drives up prices.
Culture change
To counter a distorted relationship between business and government, it is not enough to wait until criminal prosecutions are possible. Not least because there is a whole grey area in which businesses can legitimately influence politics – through lobbying.
Instead, we need to change the way in which companies operate and enhance a culture of anti-corruption. For instance, it could be possible to impose on corporations a transparency rule where they must publicly declare if they or their lobbyists, directly or indirectly, have on the payroll former politicians or public officials' close relatives.
The way that corporations are structured is also an important factor in how open they to corruption. Most companies are organised according to a military model, which is incredibly hierarchical. They adopt a logic of control, which encourages loyalty and obedience to superiors and the company as a whole, but dissuades individualism. These kinds of tyrannical structures foster a culture that passively accepts misconduct.
A recent example of this is Rolls Royce, which recently paid £671m to settle bribery claims that dogged the company for years. An investigation by the UK's Serious Fraud Office into the company revealed that it had an extremely hierarchical and disciplined structure, which ensured high levels of internal confidentiality and facilitated corrupt practices for several years.
If this is true, the particular corporate structure of Samsung could well have played a role in the present scandal. Samsung is a business conglomerate characterised by the concentration of economic power. In fact, in South Korean culture it is called a chaebol, which means dynasty.
Chaebols have been central to the success of South Korea's development and economy today. Each one is controlled by a founding family that, although typically holds only a small portion of the total equity, exerts an unchallenged power within the group. The chairmen are absolute rulers and key managerial posts are almost always given to their relatives. It is this kind of culture of unswerving loyalty that research indicates makes it easy for a company's top management to be enmeshed in corrupt practices.
If we want really to fight corruption in the business world we must also have the courage to transform the internal structure of big companies. Their efficiency must be safeguarded, but the individualism and accountability of employees must be enhanced at the same time.