Today's complex global economy has brought new forms of worker exploitation. And globalisation has made workers ever-more precarious. For example, factory workers in Bangladesh toil long days in buildings that could very possibly collapse and kill them. Foreign guest workers in the Arab Gulf have no legal protections from physical abuse.
Overwhelmed by the injustices they face, many workers feel helpless and apathetic. But the Anti-Apartheid Movement reminds us that ordinary people can make a difference in the fight for workers' rights – even halfway across the planet.
The movement was one of the most impressive global social movements of the post-second world war era. What is often forgotten is that it was also a struggle by workers for workers.
Global solidarity
Among the workers who mobilised against apartheid were unionised dockworkers and seamen far from South African shores. In collaboration with Peter Limb, I researched the history of Australian and American dockworkers' mighty contribution to the global movement against apartheid.
Our research compares the transnational solidarity activism of maritime unions in Australia and the US. Strategically positioned, dockworkers exerted real influence on the South African state. They did this principally by refusing to unload South African cargo. In both places, their actions helped drive the local and national anti-apartheid movement.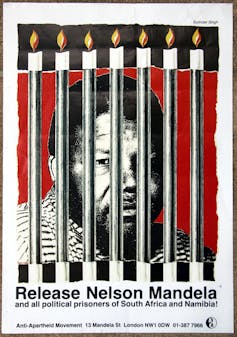 In Australia, we examine the Waterside Workers' Federation, the Seamen's Union of Australia, and related unions. In the 1950s, the two unions contacted the South African Congress of Trade Unions through international labour and peace networks. Over the next three decades, they repeatedly responded to appeals for boycotts by South African unions and the country's liberation movements, notably the African National Congress.
Thanks to a combination of politicised union leadership and grassroots activism, these organisations undertook numerous boycotts. They also raised and donated significant money to support people struggling in South Africa and in exile.
On the US side, we examined the International Longshore and Warehouse Union (ILWU), especially Local 10 in the San Francisco Bay Area. In the aftermath of the 1976 Soweto students' uprising, some ILWU Local 10 members, predominantly Pan-Africanists and leftists, formed a rank-and-file committee to support the anti-apartheid movement as well as struggles in Mozambique and then Rhodesia.
Hitting apartheid where it hurt
Their greatest effort was an 11-day action in 1984 when they refused to unload South African cargo. This action came hard on the heels of the apartheid state's repression of striking black gold miners who belonged to the National Union of Mineworkers, notably the imprisonment of some leaders.
With the support of thousands from the Bay Area committee who rallied in solidarity, San Francisco longshore workers galvanised the region's commitment to this cause and expanded the struggle.
This activism had a huge impact. Shipping remained an Achilles heel of apartheid because the South African economy was both export-driven as well as dependent on foreign oil. Maritime unions fully understood this reality, so they boycotted the unloading of South African cargo.
They were also positioned to gather information on South African imports, particularly oil, and contribute to the squeeze on South Africa's industrial economy by denying it oil. South Africa's lack of oil is why the then-state-owned company Sasol invested so heavily in converting coal into oil, with all its attendant noxious and polluting side effects.
Marine transport workers, part of one of the most heavily unionised industries in the world, contributed to the tightening of the noose around apartheid's neck. After his release from prison in 1990, Nelson Mandela singled out dockers, in both Sydney and the San Francisco Bay Area, for their contributions when he visited each country.
The power of transnational solidarity
This forgotten history of transnational solidarity in the anti-apartheid movement reminds us that workers, in our increasingly connected global economy, still possess power and exert influence.
For instance, in 2008 dockers in Durban refused to unload weapons aboard a Chinese ship that were intended for Zimbabwe. The provincial leaders in the South African Transport and Allied Workers Union, whom I later interviewed, explained that they did not want to see the weapons used by the government to gun down Zimbabwean workers.
The Durban dockers also knew that many Zimbabwean workers had supported the liberation struggle in South Africa.
Dockworkers in San Francisco and Sydney lifted their voices and downed their tools on behalf of the oppressed in South Africa. They showed that people had power when committed and organised. They also demonstrated a related lesson that is increasingly easy to forget: unionised workers can be central to the struggle for both labour rights and broader political change.
We can and must do the same on behalf of workers and others suffering today. While we might not have the power to boycott a ship, dockers provided a blueprint for action, a useable history for us to adapt to contemporary struggles. We can – as citizens, consumers, and particularly workers – exert political pressure, including in foreign lands.