The election of Ontario Premier Doug Ford has brought major changes to the province's climate change file. His government has scrapped Ontario's cap-and-trade program and has vowed to fight a federally imposed carbon tax. But he has yet to unveil his climate plan.
For those of us with an interest in climate policy, these choices are difficult to understand. And yet they should not be a surprise. Indeed, politicians continue to showcase their clear reluctance to accept climate change and economic modelling.
In a March 2018 interview with CBC, Ford said he "absolutely, to a certain degree" trusted climate science. That's better than Goldie Ghamari, now the member of provincial parliament for Ottawa-Carleton, who publicly rejected the science and then won by nearly 30 points.
The unwillingness to act on climate change partly reflects the political divide in Canada. A 2018 Abacus Data poll showed 79 per cent of those on the left, but only 41 per cent of those on the right, trusted the idea that humans were the cause of our warming planet.
---
Read more: Why some conservatives are blind to climate change
---
Rigorous research on climate change opinions in 56 countries showed political orientations and ideologies are more powerful forces than education, gender and experience with extreme weather. The real-life conclusion? It's difficult to overcome partisanship's impact in shaping continued climate denial and inaction.
Wind energy bias
My own recent research investigated whether similar political divides applied to wind energy developments in Canada. Our team looked at how partisanship and political discourse shaped public opinions of local wind energy in Ontario and Nova Scotia from 2014 to 2015.
We expected support to fall more or less in line with left-to-right patterns of environmentalism: those on the left would support wind farms and those on the right would not.
Instead we found that in Ontario, the split occurred between those who backed the government (Liberal), which supported wind developments, and those who stood behind one of the opposition parties (New Democratic Party and Progressive Conservatives).
The Ontario residents surveyed were three times more likely to oppose local turbines than those in Nova Scotia. One Ontario resident said a local member of provincial parliament had been elected on a platform to "stop the turbines."
The fact that residents who aligned themselves with the NDP and PC parties opposed local turbines says something about the way the Liberals presided over major turbine developments.
Nova Scotia, on the other hand, saw no significant divide. Non-partisan support for wind energy was driven by the fact that Conservatives had brought forward wind energy in the first place. As one policy expert stated, it was difficult for subsequent NDP and Liberal governments to oppose such progressive policies, and thus renewable energy never was "really an election issue."
Policy breeds opposition
My past research shows that wind-energy development can suffer from a lack of fairness when it comes to local decision-making and who benefits financially. In both provinces, not having control over the outcome led to opposition to wind energy.
In Ontario, the list of "unwilling host communities" continues to grow. At last count, the number was 90.
This anti-wind sentiment has influenced the past three Ontario elections, including this year's. The election of Ford's majority government in June led to the cancellation of 758 renewable energy projects and the dismantling of the Green Energy Act.
And while the cancellation of renewable energy projects constrains our ability to attract green businesses, the Conservatives are correct that the Green Energy Act silenced community voices.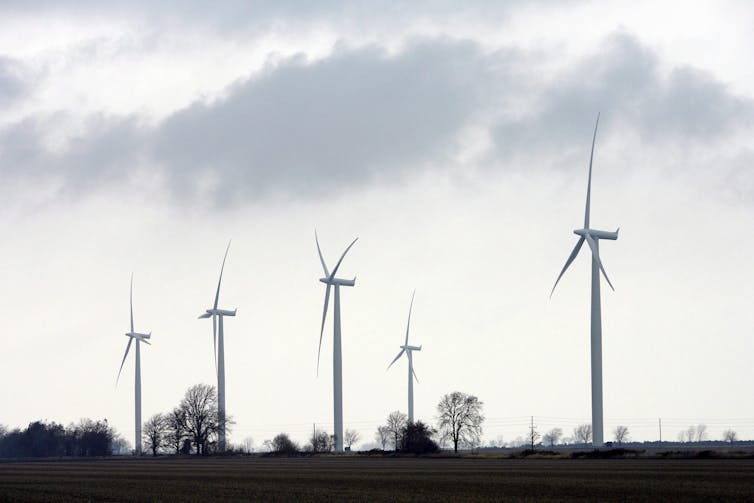 Almost a decade ago, former Ontario premier Dalton McGuinty touted the legislation as a way to stop the "not in my backyard" (NIMBY) attitudes that he saw as the major impediment to wind energy acceptance. This approach only helped fuel what has become well-organized, anti-wind coalitions in Ontario.
A long-term, low-carbon pathway
So where do we go from here? Should we learn to live with the dismantling of climate policy when those on the right are elected?
Places like Nova Scotia and Texas show there are alternatives. In the Lone Star State, politicians and residents of right-leaning, wind-turbine communities have embraced low-carbon energy. Republicans there fight for wind turbines because of economic benefits and the promise of low-cost energy for the future.
A compromise between poorly designed renewable-energy policy and a complete lack thereof can exist. This "middle ground" can be found via the promotion of community-based and Indigenous ownership structures that promote autonomy and keep financial benefits in the pockets of nearby residents.
---
Read more: More than carbon taxes, we need wholescale energy transitions
---
Given the power of partisanship in our current political climate, environmental policies must work within existing socio-political settings. These policies need to stress the jobs and improvements in public health that come with them.
If governments truly want their initiatives to last, they need to appeal to the entire political spectrum. Conservatives were able to achieve this in Nova Scotia, when they took leadership in renewable energy. Where and when the left is in power, they must keep in mind how the right may find fault.
We need bold climate policy. If its long-term viability is blown down by changing political winds, its effectiveness will be short lived.
---
Read more: Climate change is making cities sick and we need to act
---
We don't have to look too far to see examples of where this approach could be applied. Justin Trudeau and his federal carbon tax may be "Exhibit A." Major policy shifts on electric vehicle adoption, high-speed rail and transformations in renewable energy will follow.
As we were reminded by the United Nations in October, the clock is ticking when it comes to climate action, and education alone will not change the minds of the voting public. I hope politicians are listening, so that the outcome of the next election is more climate-friendly.