Around 1,000 teens and young Australian adults are diagnosed with cancer each year. It's well known the disease has an immense physical and psychological impact on these young people. But the ongoing challenges of life after cancer treatment are less well recognised.
While they vary depending on cancer type, overall survival rates for young people are good and improving over time. The relative rate of survival for all cancers five years after diagnosis increased from 80% in 1983-1989 to 88% in 2004-2010 for teens and young adults.
This is great, but it also means more young Australians face the daunting task of trying to live a "normal" life while dealing with cancer's often long-term physical, psychological and social after-effects. Working with young people to help them make sense of their world is essential to optimise their future wellbeing.
Life after cancer
Close to 50% of young cancer survivors will have at least one major adverse health outcome as a result of the therapy that cured their cancer. Two-thirds will experience one or more chronic health issues, while one-third will experience a life-threatening complication of their cancer treatment.
Health issues include risks of heart problems, respiratory disorders and hormonal issues. It is common for cancer survivors to deal with ongoing pain, fatigue and body changes such as hair loss, weight gain, scarring, reduced bone density or loss of limbs from amputation.
The increased risk of chronic conditions is exacerbated by unhealthy lifestyle behaviours, genetic factors and other health conditions. Unhealthy behaviours include poor diet, physical inactivity, smoking, alcohol use and sun exposure. The impact of these behaviours is likely to be higher for young cancer survivors who are already vulnerable to long-term health problems.
Cancer treatment can also cause cognitive difficulties later in life, in areas such as impaired concentration and memory. This can restrict education and work opportunities, leading to increased emotional distress and reduced quality of life.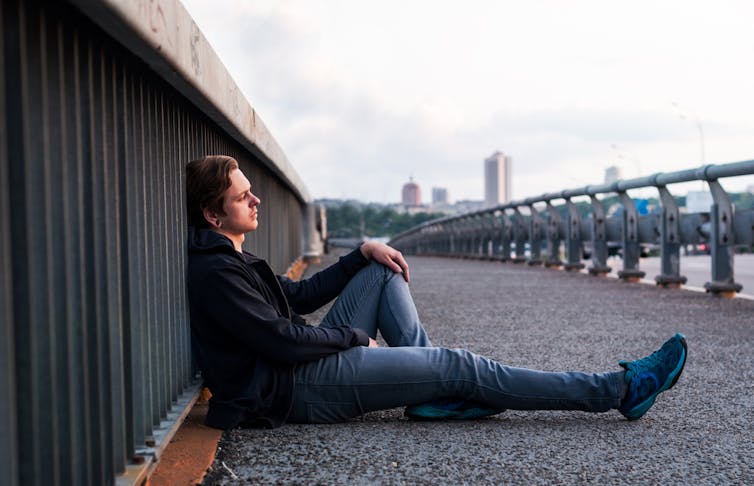 A significant proportion of young adult cancer survivors report experiencing clinically relevant symptoms of anxiety, depression and post-traumatic stress. More than 22% have reported mental health symptoms, compared to 14% of those who haven't had cancer – a statistically significant difference. Anxiety about cancer recurrence is also common and persists for many years after treatment.
Research conducted by CanTeen – an Australian organisation for young people living with cancer, where I'm the general manager of research and youth cancer services – shows almost 40% of survivors aged 12 to 24 report high or very high levels of psychological distress at the time of accessing support.
This percentage is much higher than the national average. According to other national Australian samples using the same measure, only 17% of those aged 11 to 15 and 9% of those aged 16 to 24 reported high or very high distress.
There are complex interconnections between physical and psychological effects after the cancer goes away. For instance, the psychological fear of cancer returning can persist due to the real increased physical risk of second-cancer malignancies.
Romantic relationships and family planning are complicated by possible sexual dysfunction and fertility loss due to treatment. Physical changes can restrict participation in activities the young person previously enjoyed. This can further increase social isolation, loss of confidence and poor body image.
Many young adults also face an ongoing financial burden from cancer treatment, its associated costs, and missed education and employment opportunities. Previous research shows significantly fewer young cancer survivors report being employed than peers without cancer.
It isn't all bad news though. Many young adult cancer survivors have also reported improvements in supportive relationships, compassion for others and positive world views. These become important building blocks in helping survivors develop coping skills, while supporting them to manage the negative impacts of cancer and its treatment.
How services in the community can help
The impact of cancer means it is common for young survivors to need ongoing care across their life, involving both medical monitoring and psychological support. CanTeen and its specialist, hospital-based arm Youth Cancer Services recently reported on the opportunities and challenges of developing care models for young adult cancer survivors in Australia.
That report highlighted the need for better coordination and consultation between hospital staff and community based providers such as GPs, community mental health services, and cancer support organisations, to assist young people and their families as they navigate the complex post-cancer treatment environment.
Models of wellness – the preferred approach to understanding and working with people surviving cancer – emphasise the importance of integrated care involving survivors, community and health professionals. Integrated care breaks down a silo approach and improves referral pathways across the cancer journey.
Appropriate integrated approaches with hospitals can enable GPs to work with young people along their cancer trajectory and into later life. GPs have a role in monitoring and managing potential late effects, fertility planning and providing referrals for lifestyle management, nutrition, physical activity, and substance abuse.
But we also need survivorship programs that target lifestyle choices for young Australians that can exacerbate long-term physical and psychological treatment effects. Strengthening referral pathways to community support organisations can also help young people and their families receive psychological and peer support.
This professional support can be bolstered by ongoing support from friends and family. Young people may be hesitant to let others know they still need help even though their treatment has finished. CanTeen's "Now What" resources provide useful information for friends and young family members about how to provide ongoing support to their friend or sibling impacted by cancer.
Friends and family should also be mindful of how their loved one's cancer journey can impact on them and should seek support if they need it.