Australia has a proud history in the field of organ transplantation: we delivered the world's first successful living liver donor transplant, the world's first single segment liver transplant in an infant and the world's first kidney-liver-pancreas transplant. But when it comes to organ donation, our record dismal.
In fact, Australia has one of the lowest rates of organ donation in the world, with only 13.8 donors per million people. Spain has the highest rate of organ donations (34.3 donors per million), followed by the United States (26.6 donors per million).
So why the huge discrepancy? How can we be so accomplished in transplant surgery and so lagging in donation when the two matters go hand-in-hand? To find answers it's important to look at the successes of other countries. It's also important to identify steps in the process of donation that can be optimised.
While signing up to be an organ donor is a critical step, its value in Australia is diminished by the next of kin having the right to override and thus nullify this registration if they personally disagree with your values. Compare this with the United States, which has regulations to protect the autonomy and values of registered donor candidates.
Even in Spain, where families have the right to override their relative's donation wish, they rarely do. Societal support for donation is very high – 85% of families consent to organ donation when approached, compared with only 58% of Australian families.
The chance for missed organ donation opportunities is also very low in Spain, due to its highly organised system of patient referral and management.
Similarly, the United States requires organ procurement organisations to be notified of all patient deaths, as well as those patients who are likely to die within 24 hours (regardless of patient age or diagnosis). This gives the organisation time to search the donor registry, review the medical chart, and talk to families about the concept of organ donation.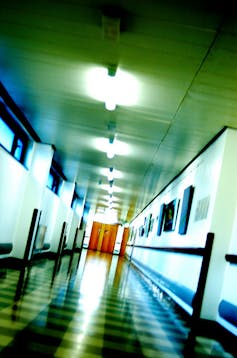 For patients who have not registered to donate, the organisation educates families about the donation process and seeks their consent on the patient's behalf.
For patients who have registered to donate, the organisation advises the family of their loved one's authorisation, and the next steps that will be taken in order to honour the registrant's wishes.
So what is the impact of a family refusal or a missed referral? Every donor has the potential to help up to 50 patients with their organ and tissue donation, so the clinical impact can be significant.
Living organ donation can provide transplants to those with various types of organ failure – kidney, liver, lung, pancreas, and intestine.
While living donation is a proven technique, there are many barriers to the donation process. Potential donors must seriously reflect on the potential medical and surgical risks to themselves, which includes infection, bleeding, pain and even death.
Other factors can also prevent adults from live donations. Some employers don't provide paid time off work for the procedure and recovery. What if a donor loses his or her job while away from work recovering from the procedure? Other costs associated with travel, meals and lodging while undergoing outpatient testing may deter potential donors.
Regions of Canada and the United States have provisions for expense reimbursement, wage continuance, and job protection. And there's no reason why Australia can't do the same. Expense reimbursement is not the same as "organ selling", so the associated ethical problems are left out of the process and altruism remains the motivator.
No donation system is perfect but any system in place should benchmark against the successes of others and attempt to optimise their own system accordingly. Even Spain isn't satisfied with their stellar results and is aiming for a new goal: 40 donors per million.
Australia has a long way to go to reach Spain's level of success but surely we could pilot a few programs modelled on systems in Spain (patient referral and management), the US (honouring the donor registrant's wishes), and Canada (expense reimbursement). We don't know if these pilot programs would mirror the successes seen elsewhere, but we'll never know unless we try.