Over the last 100 years there have been countless outstanding athletic performances, such as Ed Moses, Daley Thompson, Michael Johnson, Emil Zatopek, Roger Bannister, Fanny Blankers-Koen and Cathy Freeman – the list is endless.
But one event perhaps stands out: the blue ribbon event of not only athletics but also of the Olympic Games, the men's 100m, the race that determines the fastest human on Earth.
Why has this event captured the imagination of the public? After all, a marathon run in 02:03:38 is just as phenomenal. Why did one million people apply for 2012 Olympic 100m final tickets – for an event that lasts less than 10s?
The showman must go on
It's because we are witnessing the fastest human being on the planet and, in current times, one man has turned this sub 10s into an astonishing sporting spectacle - Usain Bolt.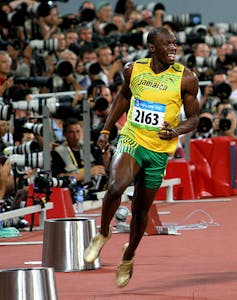 Prior to 2008, the starting line-up for the men's 100m was a very serious affair - the tunnel vision stare of Linford Christie, the prowling of Maurice Greene – and then came Bolt. All of a sudden, everyone (or so it seems) is performing for the camera and the crowd before they are called to the their marks – but Bolt was the first.
In short, not only is Bolt a phenomenal athlete, he is also a showman – and this adds to the hype/interest around the 100m. This interest has no doubt increased since Bolt lost to his training partner (Yohan Blake) at the recent Jamaican trials.
In the UK, we have the BBC Sports Personality of the Year competition. Sometimes this may seem an oxymoron but Jamaican Bolt really is a sporting personality, one of the biggest on the planet, and will undoubtedly be the main draw at the Olympic Games.
Running to the past
The men's 100m has a fascinating and illustrious history which only adds to the cachet of the title "fastest man on Earth". Some 25 men prior to Bolt have been crowned Olympic champions and have therefore laid claim to the title.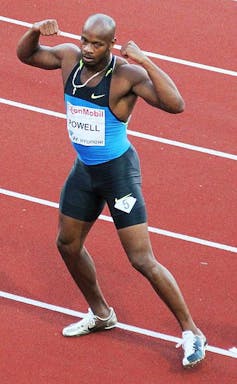 Past Olympic champions include Harold Abrahams (of Chariots of Fire fame, Paris 1924), Jessie Owens (Berlin 1936), Jim Hines (first sub 10s in Mexico City 1968) and Carl Lewis (multi-gold medallist 1984 and 1988) to name a few.
But what makes Bolt such a phenomenon? Having a personal best of 9.58s helps (set at the 2009 World Championships). Not only did Bolt smash his own world record from Beijing 2008; he was, and still is, in a different time zone to the rest of the world's best sprinters.
Bolt knocked 0.14s off the 100m world record in just two years (2007-2009) – a margin of improvement that previously had taken 16 years!
Jim Hines first broke the 10s barrier in 1968 and this is still seen as the benchmark for sprinting. From 1999 to 2007 this barrier was broken about 20 times a year by, on average, seven sprinters.
From 2008 to 2011 this barrier was broken about 50 times a year by, on average, 15 sprinters.
It's perhaps fair to say the resurgence of Jamaican sprinting has played a large role in this surge in sub 10s times. And one man, Asafa Powell, has certainly played his part by running sub 10s more times than any sprinter (as of June 2011 he'd broken the 10s barrier 80 times).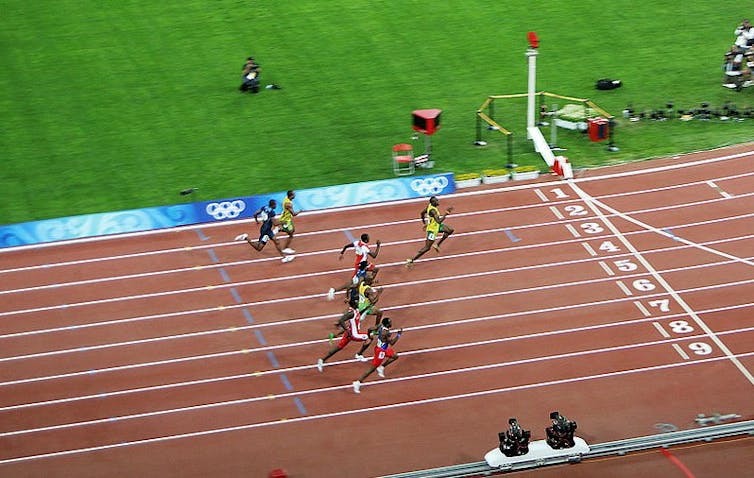 What we, as spectators, expect from sprinters such as Bolt is at the very least a sub 10s performance – our expectations have been raised so much by these performances we are in danger of taking them for granted. But these sprinters aren't machines and running sub 10s is, by definition, not normal.
To illustrate this, early in 2012 Bolt ran 10.04s – his slowest time for three years. That statistic alone speaks volumes – 10.04s isn't slow!
This lead to headlines such as No Lightning Bolt! and Pedestrian Bolt.
The following week in Rome Bolt ran 9.79s – service resumed!
On the record
We are in a golden age of sprinting. Races are regularly run under 10s and this year alone six sprinters have run under 9.90s.
The 100m final at 2012 Olympics looks as though it will again be the highlight of the Games – the BBC even plans to broadcast the event live in 3D.
Will there be a new world record? Possibly. Bolt has stated that 9.4s is possible.
If he is at the top of his game (and that's a big "if" given he pulled out of a Grand Prix event recently) a world record is possible.
Certainly, the race will have the four fastest men in history in the field – but the British summer may have a hand in scuppering any world record.
Will lighting strike twice and will Bolt defend his title as the world's fastest human?
It won't be a stroll in the park, but I wouldn't bet against it.