Michelle Grattan's live updates on a dramatic day in Canberra.
2:10pm:
The federal opposition leader Tony Abbott moves to suspend standing orders for a vote of confidence. The fate of the government in this vote hangs on what the crossbench MPs do.
Abbott told parliament this was an "incompetent and chaotic government that just gets worse with each passing hour."
"Senior members of [Julia Gillard's] own government no longer have confidence in this Prime Minster.
"This is a government in crisis."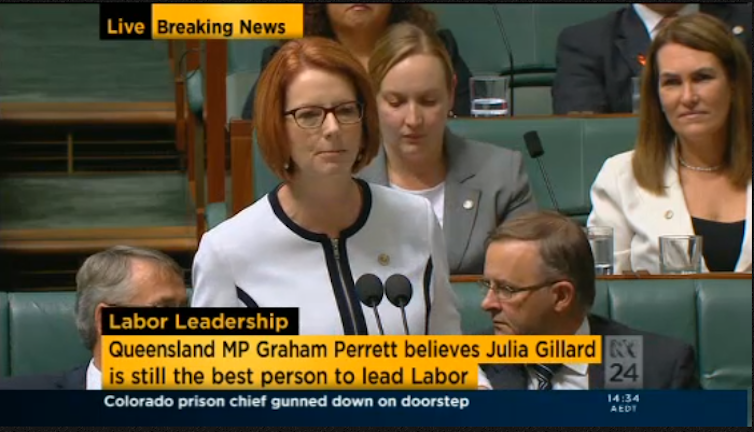 In reply Gillard accused the opposition of continuing the "dummy spit" that had gone on since the election. She accused Abbott of "negativity, bitterness and the politics of personal assault."
"We are continuing to govern well," Gillard said.
"We are not done yet. We have got more to do to bring opportunity and fairness," she said.
"When the election is held in September, we will prevail."
2:35pm:
House starts to vote. Motion to suspend standing orders needs an absolute majority of 76 votes to succeed.
Motion passes 73 to 71 but does not get the required absolute majority.
Crossbenchers Tony Windsor, Rob Oakeshott and Andrew Wilkie voted with the opposition. Craig Thomson and Peter Slipper voted with the government. Bob Katter was not in the chamber.
2:50pm:
Gillard calls off the rest of Question Time.
One Rudd supporter predicts a close vote. "You wouldn't put your house on it one way or the other. But if Rudd doesn't win the Labor party will be a laughing stock."
3:10pm:
Crossbencher Bob Katter explained he had not voted because his chief of staff had told him "it was party games".
Katter, a friend of Rudd's, said his attitude in any post ballot no confidence move by the opposition was "I don't want to be rushed." He would not want to see a vote until he had had the chance to discuss with whoever won the Labor leadership and with Tony Abbott the 20 demands he put up after the 2010 election.
3:15pm:
Simon Crean's office confirms has been sacked from the ministry.
Gillard dismissed him after his press conference in which he called for a spill and before he went into Question Time.
Crean was one of Gillard's loyal supporters when Rudd challenged for the leadership a year ago. He has been Minister for Regional Australia and Minister for the Arts.
3:30pm:
Tweets are beginning to flow in:
@SteveGibbonsMP: For anyone interested I will be voting for Gillard today.
@KateLundy: @JuliaGillard has my full confidence and ongoing support.
@SwannyDPM: As I said yesterday, @JuliaGillard is as tough as they make them- she'll win today & on 14 Sept because she's got the reforms for the future
3:32pm:
Steve Gibbons tells The Conversation "you can't reward treachery."
But says he can't predict the outcome "I didn't know it was coming. Crean bowled a hand grenade. Nobody saw that."
3:33pm:
The wits around the place keep reminding everyone that this is harmony day.
3:38pm:
One minister will miss the vital vote. Foreign Minister Bob Carr is overseas - ironically, a story claiming Carr had lost faith in Gillard was one of the destabilising influences this week despite Carr denying the report.
Backbencher Dick Adams is also overseas.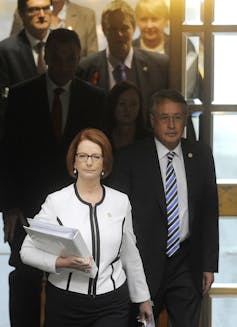 3:40pm:
Journalists are already gathering outside the caucus room.
3:45pm:
Still no statement from Kevin Rudd on whether he will nominate when caucus convenes at 4:30. It's a high risk situation for Rudd if he is uncertain of his numbers - a defeat would be disastrous for him, given the campaign his supporters have waged.
3:50pm:
Rudd supporters are in his office. A lot of confusion around parliament house about the numbers.
Gillard hopes to get an advantage by giving the Rudd forces minimum time for lobbying between the calling of the ballot and the actual vote.
3:55pm:
Kevin Rudd's personal security is under control - parliamentary guards are in the corridor near his office.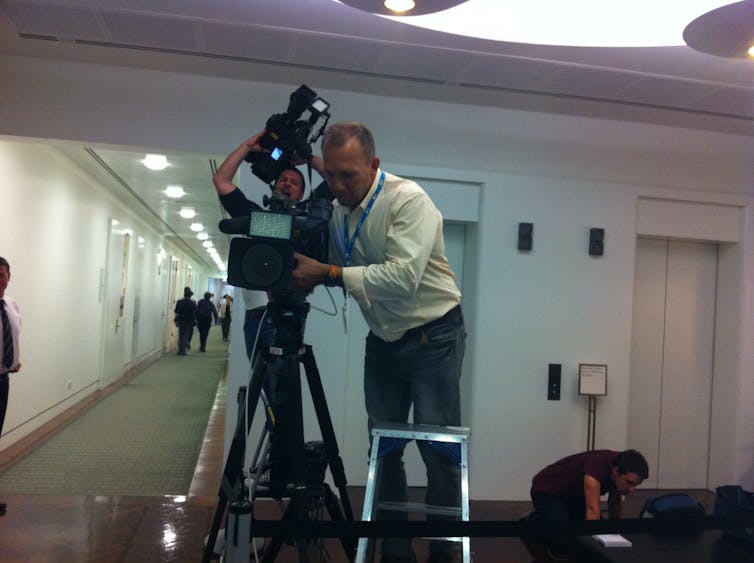 3:59pm:
The world really is a global village - Vanuatu's Prime Minister has just resigned ahead of a no confidence motion.
4:00pm:
Leader of the house and senior left minister Anthony Albanese reported to be in Rudd's office.
Albanese was one of the ministers who supported Rudd in his 2012 challenge. If Rudd became PM, Albanese would have strong credentials for Deputy Prime Minister, but would have to run against Simon Crean.
4:05pm:
With 25 minutes before the caucus meeting, tension mounts with no declaration yet from Rudd.
Former Labor powerbroker Graham Richardson, who has been a strong critic of Gillard, tells Sky News: "If she wins, she is dead in the water anyway."
4:10pm:
Abbott's office distributes three pages of criticisms from Labor figures of Gillard and Rudd in the February 2012 struggle. Behind the scenes, there's intense work on the tactics for after the ballot - and nervousness about what a Rudd prime ministership might mean for the opposition.
4:15pm:
Powerbroker Bill Shorten, the Workplace Relations Minister, reported to be in Gillard's office.
Shorten a key figure in installing Gillard in the 2010 coup.
4:25pm:
Kevin Rudd emerges from his office to declare he will not run. He said he had previously told his party colleagues that he would not challenge, and he intended to keep his word. He had said that the only circumstances he would consider being a candidate for the leadership were if there was an overwhelming majority request, those circumstances do not exist.
"I will be adhering absolutely to the commitment I gave. I take my world seriously," he said.
He called on all in the party to unite to fight Tony Abbott.
4:27pm:
Albanese: "I believe Kevin Rudd has made the right decision in the parties interest."
4:31pm:
Albanese tells journalists who are peppering him with questions, "I've got a caucus meeting at 4:30" but the caucus meeting now seems to have little to deal with. As things stand there is no leadership contest. Simon Crean who earlier announced he would run for deputy, is now out on a very long and awkward limb.
4:35pm:
Julia Gillard flanked by Wayne Swan arrives for the caucus meeting. The PM has outmanoeuvred her opponent, after the Rudd forces overreached this week in their desperate effort to install their man. It's a repeat of sorts of what happened last year, but this time Rudd decided retreat was better than defeat. After a chaotic week, however, Gillard faces the immense problem of trying to have her government regroup and regain some credibility.
4:46pm:
The position of leader and deputy were declared open, Julia Gillard was the only nomination for leader and Wayne Swan the only nomination for deputy.
4:55pm:
Chief government whip Joel Fitzgibbon who has been one of Kevin Rudd's main numbers men, says it is now a "time for healing". Fitzgibbon says that if his resignation from chief whip would help this he would be "happy to tender it."
The chief whip's position is elected by caucus, and Fitzgibbon will stay in the job while parliament is not sitting. He will consider whether he should resign when the house resumes in budget week.
Meanwhile, "you'll be hearing very, very little from Joel Fitzgibbon between now and the election. It's time Fitzgibbon kept some of his views to himself," he said to reporters.
5:00pm:
One immediate issue confronting the Prime Minister will be a reshuffle of her frontbench, after her sacking of Crean. Sources close to Crean said the PM had accused him of being selfish.
5:20pm:
Gillard and Swan gave statements to a joint press conference.
Gillard says "the leadership has been settled in the most conclusive way possible, the whole business is at an end."
Swan says "today's result does end these matters once and for all."
Both said they now had lots of work to do and left without taking any questions.
5:34pm:
Tony Abbott with a touch of uncharacteristic understatement said this had been "a remarkable, even bizarre day."
He wanted to reassure the Australian people that "it doesn't have to be as bad as this."
And that's it for this blog, thanks for following on this dramatic and rather peculiar day.