It's estimated that 2.1 million people are currently living with long COVID in the UK. Symptoms can include breathlessness, fatigue, chest pains, loss of taste and smell, and "brain fog". These symptoms continue to develop and fluctuate over time after the initial COVID infection has passed.
Being a fairly new illness, medical understanding of the condition, guidelines and pathways to recovery are developing, changing and often unclear for sufferers. Earlier research has shown that many people with long COVID have faced barriers getting health support, care and recognition of their condition.
We conducted a study where we talked to 40 people with long COVID and 12 healthcare professionals providing long COVID support in Bradford. The respondents with long COVID were largely drawn from deprived areas and 75% came from ethnic minority backgrounds.
We recently published our findings in the journal Health Expectations. Our research shows people with long COVID in Bradford are facing significant systemic barriers to accessing healthcare support.
We identified five different ways in which people with long COVID engaged (or didn't engage) with the healthcare system.
First, some people reported difficulties accessing GP services. Already exhausted from long COVID, they found themselves waiting on the phone for long periods. If they eventually did get through, often no appointments were available.
Many were able to get through but described receiving inadequate support from GPs, leaving a sense of frustration, hopelessness and neglect. Long waiting lists for secondary care, such as specialist ENT (ear, nose and throat) services, didn't help.
People were left to navigate fragmented services on their own. This is unhelpful particularly for an illness like long COVID which affects various systems in the body, and therefore requires a multidisciplinary approach. One participant described feeling uncertain regarding how to find out about the cause of her symptoms.
I'm anxious, I don't know what's happening… I don't know what to do or where to go… nothing is easy access.
Third, several participants decided to self-manage their symptoms rather than accessing mainstream health services (for example, by using home remedies) sometimes due to the problems outlined above.
Fourth, certain participants exercised high levels of persistence to access the healthcare they needed. These were more likely to be participants with high health literacy, from professional backgrounds or with extensive previous experiences of navigating healthcare. They spoke of having to insist on being put through to their GP, and achieving success in this way.
Fifth, a small minority of people had an overall positive experience. They described "continuity of care", speaking to the same healthcare professional over time, as being helpful.
---
Read more: Long COVID stigma may encourage people to hide the condition
---
Only one out of 40 participants had access to a specialist long COVID clinic. At the time of the interviews, from November 2021 to March 2022, a multidisciplinary specialist long COVID service was being set up in Bradford. However one clinician told us it was "lagging behind", with a growing waiting list, and workforce shortages leading to recruitment struggles.
An additional barrier: mistrust and fear
Some ethnic minority participants expressed mistrust and fear around engaging with healthcare services, a phenomenon called "medical mistrust". This can be rooted in experiences of historical, contemporary and structural racism when engaging with healthcare and in society generally. It has been further exacerbated by disproportionate COVID exposure and deaths among ethnic minorities.
One participant feared being hospitalised, put on a ventilator and dying, reflecting his own experience of knowing someone who died from COVID. This left him too scared to call an ambulance when he was having chest pains.
Previous encounters of not being believed by healthcare professionals prior to long COVID, which were reported particularly among Pakistani women and men in their 20s and 30s in our sample, also prevented people from seeking help. There was a lack of confidence that they would receive adequate healthcare support.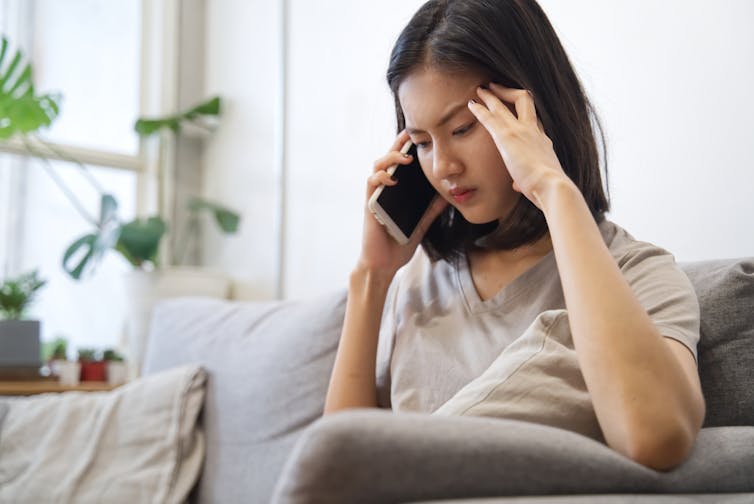 A systemic problem
Access to healthcare in the UK is difficult because of the wider context of a decimated NHS. Over recent years we've seen insufficient funding to meet demand, increasing backlogs, workforce shortages, and austerity measures which have impacted the NHS and widened health inequalities.
These deep-seated structural issues affect all patients, however they particularly create a bottleneck for people with long COVID who are trying to both understand a complex new illness and access healthcare.
World Health Organization chief Dr Tedros Adhanom Ghebreyesus has described long COVID as "devastating" lives and livelihoods. Yet we would argue there's dwindling public attention towards the condition as the national focus moves away from COVID.
We need to see more investment in long COVID healthcare support, such as funding for specialist services and public health campaigns to raise awareness of the condition, alongside improved access to GPs for long COVID patients. Healthcare staff are doing the best they can but in an inherently broken system. We also need to address medical mistrust.
The findings in this study focus only on one time point and place. But they're part of a wider study in which we're interviewing 80 people with long COVID (40 in Bradford, and 40 spread across the UK) at different time points. We've found similar experiences of healthcare access among the 40 people with long COVID elsewhere in the UK. Over time we will further explore whether participants have managed to access healthcare support.