Popular media forms, from Oodgeroo Noonuccal's poetry to the dystopian sci-fi television series Cleverman, have often been used by Aboriginal Australians to inform and entertain. The latest example of this type of political and artistic endeavour is Wiradjuri author Anita Heiss' new work Barbed Wire and Cherry Blossoms.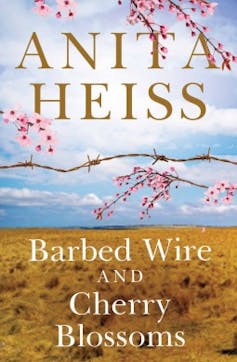 Set in Cowra during the second World War, her novel recounts a love story between a young Aboriginal woman, Mary, and an escaped Japanese POW, Hiroshi.
Hiroshi has been given food and shelter by Mary's family, despite the considerable risk their kindness involves – they live on Erambie Mission under the Aborigines Protection Act 1909, with no rights, scraps for clothes and barely any food. Their very existence depends on the whim of the station manager, King Billie.
Heiss is well-known as the author of five "choc"-lit novels and her writing takes inspiration from the genre made famous by Bridget Jones's Diary (1996). What sets Heiss apart are the avowedly political ends to which she puts her popular fiction. She wrote in Am I Black Enough For You? (2012):
I want people to be challenged, to think about their role in the world and how their behaviour impacts on other people, particularly Aboriginal people. I want readers to learn…
The importance of Heiss' fiction as an educational device should not be underestimated: the recent example of Bill Leak's cartoon in The Australian is simply the latest of many shameful examples that highlight mainstream Australia's ignorance of Aboriginal culture, politics and people.
This cultural illiteracy is neither abstract nor theoretical: as Chelsea Bond (and the hashtag #IndigenousDads) argue, it hurts Aboriginal people, it hurts communities and it hurts Australia.
It's a pretty dismal picture. Heiss is a realist, but an optimist. On one hand, her popular fiction aims to instruct the reader in Aboriginal culture, history and politics. On the other, it captures the day-to-day life of Aboriginal women, whether they live on the mission or in the Big Apple, in a style that is entertaining and accessible.
Barbed Wire can, and should, be read as a romance. Heiss' sensitive portrayal of Mary and Hiroshi's growing attraction is one of the novel's chief pleasures:
their first kiss is full of everything the war lacks: love, compassion, respect. It lasts only seconds but will linger with them both for a long time after.
With deftness and a lightness of touch, Heiss accords her protagonists privacy in their intimate moment. The war is unshakably present, but it recedes into the background without overpowering the shy advances of her two protagonists.
Heiss' strengths as a writer are on full display: the blossoming romance between Hiroshi and Mary refuses an "us vs. them", "goodies vs. baddies" mentality, instead presenting a complex view of cross-cultural relationships. Japanese, Italian, Aboriginal and white identities are brought into sometimes uncomfortable proximity.
It would be selling Heiss short to say that love erases race, but she goes to great pains to show that respect and trust, patience and compassion far outweigh skin colour in matters of the heart.
The genre of popular romance, long associated with female readers, also allows Heiss to make a broader point about similarities between women. Commentary on her 2014 novel Tiddas still rings true:
As women what makes us the same is that we value our friendships, we treasure the relationships with our mothers and our sisters, and so forth. … It's about being human beings. When we think about it, we've got more in common than we haven't.
But Heiss refuses to sugarcoat the past for the reader. Questions of enmity and friendship are snarled and unpleasant: who is fighting whom?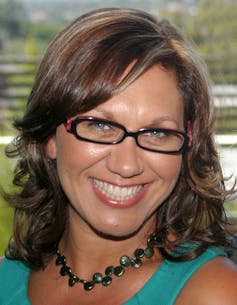 If white Australia has declared war on its First Peoples at the same time as enlisting Aboriginal men to die for the British Empire, where should Mary's loyalties lie? With the nation? With her people? And, more disquieting still for the white reader, are the Japanese and Aboriginal Australians united by a common enemy?
These questions are designed to unsettle the non-Aboriginal reader, destabilising conventional historical narratives and challenging the reader to learn their country anew through the eyes of its First Peoples.
Re-learning the nation, though necessary, comes at a cost. It is worn on the bodies of Aboriginal women, who frequently (and not always willingly) find themselves cast in the role of educator. Over seven pages, Mary explains to Hiroshi the degradations and deprivations of living under the Protection Act. When she stops, finally, "she takes a deep breath, exhausted by what feels like schooling".
The psychic toll extracted by this "schooling" is immense, wrought firstly by living through the Protection Act and secondly by explaining it to others. Heiss' fiction comes with a warning to the non-Aboriginal reader: don't expect Aboriginal people to do the hard work for you. But it is also offers hope for the future: education can create change.
Although Barbed Wire is set in 1944, it presents an unerringly apt commentary on contemporary Australian society, because it precisely identifies the racism that sits at the heart of the Australian psyche. Heiss recently wrote, referring to Manus Island, Nauru and revelations of abuse in Don Dale:
I wanted Australians generally to realise that while we treated the POWs here in the 1940s as we were meant to under the Geneva Conventions, we have gone backwards as a nation today …
Work in the same vein as Leak's will continue to be produced, printed and defended, and Indigenous youth will continue to be disproportionately incarcerated, until something fundamental shifts in Australia.
For that shift to happen, it's incumbent upon non-Aboriginal Australians to educate themselves about the past and present of Australia's First Peoples. A vital first step is listening to Aboriginal voices.