I shot my first film on you. A bunch of awkward high school kids, an abandoned warehouse and a badly written horror script called Reigning Terror. I cast from my local church; we caught the train in to the city on a Sunday. I carried you in that dark grey plastic case; a more well defined briefcase that made me look interesting. I had purpose: hell, I was making a movie! I felt mature.
I stayed late after school editing you all together. You captured my vision, you finished my vision – you were my master… tape. You were solid, real and fun to carry and put in the machine. I understood you. I made other movies with you too before I graduated and moved on to more mature models, like Super VHS and Betacam. But I never forgot you. You were my first.
I collected you on my shelf; you held pieces of my late youth complete: the short films, music videos; later the show reel and those awkward acting pieces. I took you from house to house. Ten houses in ten years – you came with me. I would show you to each new partner, sharing scenes from my life. The more I played you, the worse you seemed to get, but it didn't matter. On one machine, I remembered Reigning Terror had all the dialogue stripped. Oh well, I thought, you were getting old. I hadn't really looked after you that well through the hot summers and many moves.
Fast forward and the age of digital has arrived. DVDs are the new thing, then Blu-Ray and now just an online file and a hard drive. It all happened so quickly and I migrated from one medium to another with little thought as to who you once were. I wasn't particularly nostalgic; rather I was modern and fickle. I jumped from one thing to the next, making, mastering, moving on.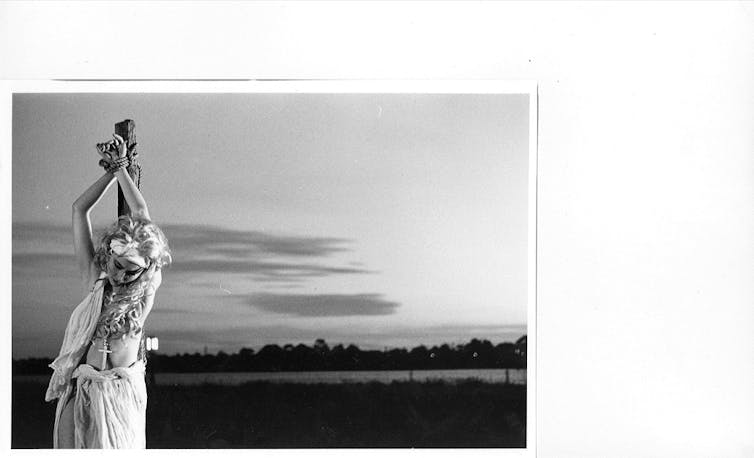 I started working at that film school I studied at. Amongst other things, I took over the distribution of short films that had generated a buzz beyond academic doors. The filmmakers started to share with me that they felt the films they once made went into the film school vault and died. I sympathised.
Someone suggested we should just release all of our films online in our very own YouTube channel. I ran with the idea. It became my master's project, now PhD. The challenge: to digitise and preserve 50 years of audiovisual material from Australia's oldest film school. I moved house again and decided to bring you to work with me and store you on my shelves. A reminder of the early work I made – my journey.
One day I decided it was time to transfer you to DVD. I was worried you wouldn't be there, but you were – as tough as ever. This time the playback decks were good and I could still hear the badly recorded dialogue in Reigning Terror. I sat watching my work from 16 to 19 years old – a true blast from the past. It had been years since I had seen you. The images spoke of an unconscious grappling with the trauma I was now working on in therapy. I was using you as an early recovery tool; a healing tool – albeit clumsily.
I skipped to the collection I was now embarking on digitising. What made these films unique and worth salvaging? Were the makers like me? Did they use the moving image to convey their unknown truths or secrets? Did they know it at the time? Was the question of knowing your audience too abstract at such a young age?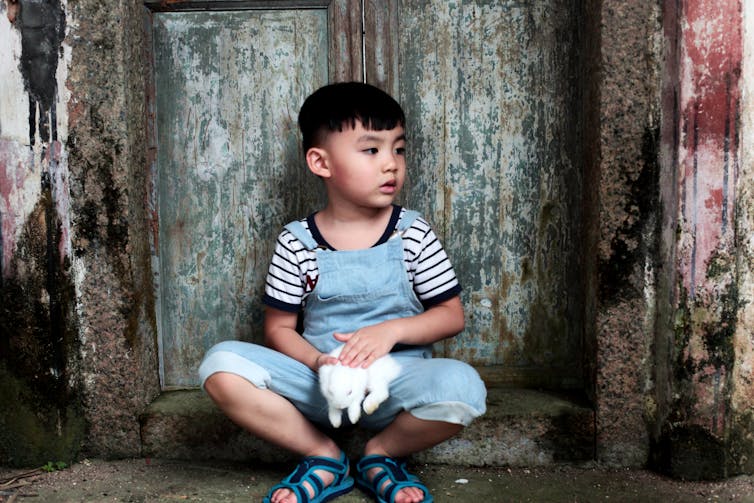 The stuff I was making in those years was solely about me; a deep drive to connect with self; self that had been terrorised and dissociated. I had the power and control to edit my hidden suffering into some sort of narrative – whether good or bad, it didn't matter. Reaching an audience beyond my film crew and me, served to only give me back a smattering of self-esteem.
Now I was responsible for digitising and making accessible 1,700 student films – 1,700 slices of memory and explorations of identity. I discovered recurring themes exploring sexual identity, abuse, family, migration to Australia, gender politics, refugees, disability, grief and death. Indeed, many filmmakers toyed with ideas and interests that would later play out in their later work and reach a far greater audience in mainstream cinemas.
Robert Luketic's highly camp and stylised musical Titsiana Booberini (1996) scored him the directing job on the classic Legally Blonde (2001). Jamie Blank's student horror film Silent Number (1993) was reminiscent of his later work in Hollywood with teen horror flicks like Urban Legend (1998) and John Hillcoat's experimental western Frankie and Johnny (We're Lovers) (1982) foreshadowed the setting and the story world of The Proposition (2005) on which he collaborated with his film school colleague production designer Chris Kennedy, and worked with screenwriter Nick Cave.
There were hidden gems such as Emma Kate Croghan's Sexy Girls, Sexy Appliances (1991) that spoke directly to a historically distinctive period of second wave feminism that explored representation of women on screen. Animation films, such as Uncle (1996) by Oscar winning filmmaker Adam Elliot (Mary and Max (2009), Harvey Krumpet (2003)), highlighted the strong aesthetic vision and significance of films in the archive, merging claymation with the touching subject of family illness and death. We started to digitise stills associated with the films and realised that Toni Collette, Rachel Griffiths and Sigrid Thornton had once starred in the short films as a way to break into the business. I had only just touched the tip of the iceberg.
I was beginning to learn the true value of preserving a hidden collection – in terms of how it could contribute to conversations around our cultural, social and historical heritage. The graduate's work was a fresh voice in contemporary culture, a cry of our times. Film was a vehicle in which the students explored their identity and raised concerns about their place in society and it enabled them to enter a political, religious or intercultural discourse.
I started to learn that many archivists believed that to digitise was to make accessible. Digitisation wasn't about preservation; it was about making a decision to move onto a new medium, with the view that the material would need to be migrated every three to five years. Just like you, who came with me from rental to rental, so too would the moving image continue to do just that – keep moving – from reel to reel, tape-to-tape, codec to codec, if we didn't keep migrating with you, you would be lost forever. I feared the moving image was ephemeral, yet unlike the deliberate ephemeral nature of performance art in the 60s and 70s, I thought the moving image was meant to be stable, fixed, permanent – classic.
It was soon after this that I heard the news; it even got a slot on The Project. The last known maker of VHS had stopped production and within seven to ten years the tapes would be unreadable. There would be no more machines to play you because they weren't going to make them anymore. The people who knew how to fix them would be dead soon, the machines would become obsolete, the trade knowledge and experience lost. Another job that wouldn't exist anymore, like the milkman and the switchboard operator. Will the social media expert die a similar death?
What would happen to all the stories on these tapes now that they could no longer be played? What about all the other people who have recorded on you? Where will their memories go? Do they care? Would you give them insight into their own behaviour, personality and faults, the way you did with mine?
The thing was, I knew you were going to deteriorate one day. Even if I had of stored you better in the hope of increased life expectancy, it seems my efforts would have been futile. I am glad I got to transfer you to another medium, even if it is DVD and you are just shelved in my top drawer. I will put you online one day my friend, in my own little digital storage vault, password protected. You will be safe.
I'm trying my best to spread the word though. To tell others that the only way to save you and all you hold is to transfer you, before it's too late. That they must choose a digital medium (like ProRes 422) and keep transferring you from drive to drive. Only then will you be safe.
Like our film school shorts', perhaps there will be a new wave of VHS and magnetic stories hitting our small screens; historic film shows, collections from the 70s and 80s or mash ups. There could be a richer stock of moving images for historians and researchers to give value to, and from which to understand our cultural heritage.
I thank you Mr VHS for inspiring me, trusting me and helping me learn more about who I am. You were my first true love. May your magnetic existence live on in codecs and bits.