The emerging conventional wisdom around the United States-Mexico-Canada Agreement (USMCA) seems to be that it's a mediocre deal for Canada, driven by an American president who mostly cares about the agreement's name.
However, the emerging wisdom goes, the deal "essentially represents the status quo with a few wrinkles" and could have been much worse: It's "a good deal for this country, especially given the circumstances."
The underlying assumption is that "the circumstances" are U.S. President Donald Trump, and that things will get back to normal once he finally departs.
American, not Trumpian, interests
This perspective dramatically misreads our current situation. The famously ignorant Trump may not understand trade policy, but in all the ways that matter, this deal was driven by American interests, reflecting many longstanding bipartisan U.S. objectives related to the knowledge economy.
Far from maintaining the status quo, the USMCA, if ratified, would fundamentally alter North America's political and economic structures, increasing American dominance over its neighbours.
To understand why the USMCA is more than just a name change, consider the political and economic reasons why Canada negotiated for free trade in the first place.
First, the politics.
Guaranteed access weakened
Canada negotiated the original 1988 free-trade agreement to insulate our access to the U.S. market from domestic American interference. By opening the agreement to a mandatory review after six years, the USMCA weakens this guaranteed access.
Those who think that the six-year delay is a safety valve because the review would take place in the post-Trump era should reconsider. As I detail in my book, Copyfight, the presence of a trade agreement actually increased Canadian copyright-policy autonomy. Given this opening, American businesses and American governments of any political stripe would be crazy not to use it to pursue further changes in their own interests.
The other important aspect of free-trade agreements is their limited nature: They're only supposed to be about tariff and non-tariff issues among the signatory countries.
When they deal with non-trade issues, such as labour and the environment, they tend to do so in a limited manner. That's because countries usually want to preserve their ability to set domestic and foreign economic policy without outside interference.
During the NAFTA era, the three countries were ever conscious of their sovereignty as they attempted to manage the complexities of economic integration.
Sovereignty at risk
In contrast, and unlike normal agreements, the USMCA would interfere in the countries' sovereign monetary and treaty-making powers. Chapter 33 addresses domestic monetary policy in ways that may not limit our action now but could in the future: Economic policies do fall in and out of fashion, after all.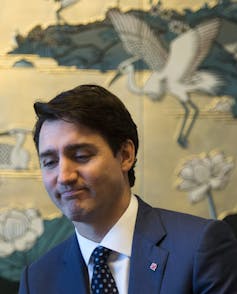 Article 32.10, meanwhile, would make it extremely difficult for any of the three countries to sign a trade agreement with a "non-market" country (translation: China). This includes the right to review the treaty prior to its signature.
Maybe, as the University of Toronto's Andrew McDougall suggests elsewhere on this site, this article is just meaningless American posturing. And a Canada-China trade agreement may or may not be a good idea.
But there's no question Article 32.10 commits Canada to much more than is typical of a free-trade agreement, reinforcing an emerging with-us-or-against-us regionalism. Article 32.10 could end up being the first articulation of a 21st-century Monroe Doctrine.
A new, and injurious, economic model
If USMCA's politics are problematic, its economics are worse. Trade agreements aren't just about market access: They implement specific economic-development philosophies.
Embracing the theory of comparative advantage, Brian Mulroney's Progressive Conservative government won the 1988 election on the argument that free trade (low trade barriers between countries) rather than protectionism would deliver economic prosperity.
Here's where the USMCA's biggest problem emerges. Proponents who claim that the USMCA only incrementally changes NAFTA completely miss the fact that its intellectual property and e-commerce provisions lock Canada into a fundamentally new, and likely injurious, economic development model.
Missing in this non-debate is the realization that we are moving from an economy based on comparative advantage, in which prosperity comes from reducing trade barriers, to one based on innovation, in which economic success depends on the control of data and intellectual property.
Data and intellectual property rights are not just a single-sector issue like, say, dairy —they are becoming embedded in pretty much every economic sector.
Digital economy comprises all sectors
Their regulation isn't a "digital economy" issue. As machine learning permeates the entire economy, "digital economic development" and "economic development" will become increasingly synonymous.
The USMCA's data and intellectual property provisions, the genesis of which predates Trump, were largely copied from the Trans-Pacific Partnership, where they were key U.S. demands.
They are part of a long-term strategy to preserve U.S. global dominance in this vital area. These provisions — especially stronger IP protection and broad data-localization prohibitions — are designed to benefit disproportionately dominant knowledge-based companies and countries (especially the United States). They are not in Canada's interest.
As University of Ottawa law professor Teresa Scassa argues, tying Canada to the USMCA will inhibit our participation in the knowledge economy, even as it expands to include more and more of the entire economy.
The USMCA is not a status quo agreement that can be reset once Trump is gone. It is the new normal. It reflects a new economic logic. The sooner we start debating realistically the consequences of this new model for Canada's future development, the better.