In the latest press conference on missing Malaysia Airlines flight MH370, Malaysian prime minister Najib Razak has said there is sufficient evidence that the airliner crashed in a remote part of the Indian Ocean. The authorities are confident there are no survivors.
It took 17 days to reach this conclusion, and now the investigation is likely to enter a new phase. Discussions about the search for MH370 are likely to shift in focus from satellites, weather systems and ocean currents to the more human vortex of politics.
The press conferences — usually delivered by a trio consisting of defence and transport minister Hishammuddin Hussein, Department of Civil Aviation director General Azharuddin Abdul Rahman and Malaysia Airlines chief executive officer Ahmad Jauhari Yahya — have done much to reveal patterns at work in Malaysian public life.
Unaccustomed to accountability
The first of these patterns concerns how the government handles its relationship with the public. Domestically, print and broadcast media are tightly regulated. The government lacks strategies for using a liberal media to explain its actions, or to argue a case for continued public support.
Under pressure now to satisfy a news-hungry global public, the Malaysian government has contradicted its own statements repeatedly. It has appeared unprepared to share information with relevant international agencies. Several western media outlets have openly criticised the government's apparent unwillingness to explain and account for its decisions.
The government has clearly tried to professionalise its approach in recent days. Nevertheless, it cannot shake off accusations from grieving relatives that delayed data releases and mixed messages caused days to be wasted searching the South China Sea. Protesters, including family members, outside the Malaysian embassy in Beijing have claimed this cost lives that could otherwise have been saved.
In Malaysia too, distrust of the government is increasingly likely to be vocalised. Cover-up accusations are circulating widely on social media platforms, alongside an impressive variety of conspiracy theories. In response, an organised backlash is gathering momentum as nationalist organisations claim that western media outlets are determined to give Malaysia a bad name.
Tougher political contest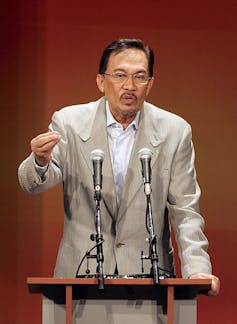 The second pattern relates to the conduct of politics in Malaysia. The very same weekend that MH370 was declared missing, the leader of the parliamentary opposition, Anwar Ibrahim, was sentenced to a second prison term for the crime of "sodomy". The conviction was highly contentious.
Anwar remains free on bail but the court verdict disqualified him from running in a by-election on Sunday in the Selangor state seat of Kajang. Selangor is one of two wealthy, urbanised states held by his coalition, the People's Alliance.
Anwar was reportedly using the by-election as a tactical defence. The intention was to quell state government infighting, create a "model state" and protect Selangor from government efforts to reclaim it. He would not have had to give up his federal seat in return.
Anwar's wife, Wan Azizah, stood instead and won comfortably, gaining 60% of votes cast. Her move, too, was tactical. Azizah has previously contested and won parliamentary seats, which she has later given up for Anwar when he has requalified to stand in a by-election.
Such tactics aside, repeated sodomy sentences are widely believed to be a tool for curtailing political competition. They not only disqualify the candidate but tarnish his image before the Malay Muslim majority public by associating Anwar with homosexuality.
Yet there is no evidence that the sentence will work to reduce Anwar's public support. This new conviction, unlike his previous one in 1998, comes after the People's Alliance won the popular vote in last year's general election. Malaysian politics is more competitive than ever before in the nation's 57-year history.
MH370 opens new political front
MH370 is a new element in the contest. Pilot Zaharie Ahmad Shah was a member of the People's Justice Party – one part of the People's Alliance and the party led by Anwar himself.
Zaharie had built a flight simulator at home, which police have seized. Newspaper reports have claimed that police suspect him of deliberately switching off the aircraft's communication systems. Reports also suggest that Zaharie made a phone call from the cockpit before take-off.
The People's Justice Party has refuted a claim that Zaharie was a "political fanatic" who might have been motivated by the Anwar court verdict.
Yet the Inspector-General of Police has confirmed that investigations are being carried out under Section 130C of the penal code, which deals with hijacking, terrorism and sabotage. He has also cited the Security Measures (Special Offences) Act, related to security and public order, and the Aviation Offences Act.
Claims of political motivations could begin to surface in connection with Zaharie and, by extension, the People's Alliance and Anwar. MH370's loss has just raised the stakes in Malaysia's domestic political contest.