Last week's announcement that English Premier League club Manchester City, backed by a mega-rich Arab businessman and member of the royal family, had bought a majority stake into the bottom dwelling Melbourne Heart shocked the A-League.
The Heart went from laughing stock to title favorite for the coming season, and football commentators around Australia started predicting a golden era for Australian soccer with guaranteed riches for the club and the league.
But these expectations are not necessarily realistic, and while international money will prove a fillip for the quality and appeal of the A-League, it won't overcome the popularity of the dominant football codes. And it will also not lead to a Premier League down under.
The mega-rich flock to football clubs because international football has become a global language in much the same way that English is the principal language of trade. Football, however, communicates even more effectively and more broadly across all borders of the world.
It offers, as Franklin Foer argues in his book, How Soccer Explains the World, a unique window into the cross–currents of today's global political economy.
Nearly everyone will see at least one football match in their lifetime. The powerful simplicity of the game, and the inherent excitement of not knowing who is going to win the game – the uncertainty of outcome – is what makes this game so commercially attractive.
Combining this with simple rules and an easy to view flow of play is football's recipe for sustainable global success. It is on the back of this sustainable success that the interest of the powerful new owners of football needs to be assessed.
It's a long way to the top
The story of Manchester City's purchase of Melbourne Heart began nearly a decade earlier in Abu Dhabi, where Mansour bin Zayed bin Sultan Al Nahyan – better known as Sheikh Mansour – was steering his Al Jazira Sport and Cultural Club to sporting success in the Asian Champions League.
It was the first sign that Sheikh Mansour had set his mind on global football success. Success in Asia was not enough and in 2008 Sheikh Mansour bought the struggling Manchester City.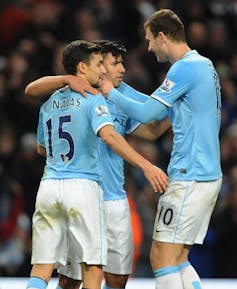 It was a club that offered the possibility of high-profile exposure alongside European powerhouses like Real Madrid, Bayern Munich and hometown rival Manchester United. In 2011, Manchester City qualified for the UEFA Champions League, and the following year it won the Premier League.
Why then, 6 years later, would Sheikh Mansour be interested in an A$11 million Australian football team? The A-League isn't exactly a football competition watched by millions every week. The attraction lies in that it is well organised and offers access to something that Sheikh Mansour and his Manchester City club are competing for with other mega-rich club owners – talent.
However, the reality for football in Australia is that the country is too far removed from major markets to become a much more successful football competition than it is today. Its population is too small to deliver a critical mass for a domestic football market in an already very crowded marketplace.
AFL is the dominant spectator code with a distinct competitive advantage: nobody else in the world plays AFL at the elite level. There is no market for AFL footballers overseas, which ensures that the best competition will for a long time be played in Australia. And that is what consumers want to see – the best at work.
More Amsterdam than Arsenal
The A-League will probably not take the reigns from AFL for the simple reason that the most talented soccer players will play outside Australia, in the Premier League at Manchester City or in Spain at Real Madrid.
The A-League may well be vibrant, successful and well attended like, for example, the Dutch Eredivisie in which former European powerhouses Ajax Amsterdam and PSV Eindhoven play. But like the Dutch competition, the A-League will remain an incubator of talent, feeding to the English, Spanish and German top competitions.
Melbourne City FC will become a rich but subservient provider of opportunities for its owner club in terms of player talent and brand extension. If the club delivers on the talent promise, it may well lead to further high profile foreign ownership of Australian clubs. The principle, in that regard, of big clubs partnering with clubs in smaller foreign competitions is not new.
In Australia though, Melbourne Heart owners, in collaboration with A-League management, have closed one of the most high profile deals in Australian football.
As a result, the club is likely to become a magnet for Australian-based talent because aspiring youngsters will know that the club will be their best chance to make a move to European competitions.
And for its new owners it has already delivered on a less overtly stated objective – it shows the world how powerful and successful those who own football really are.