A life magnificently lived in the service of humanity. This is why there is such a simultaneous outpouring of grief and celebration with the passing of Nelson Mandela, or Madiba. He has brought South Africa and the world together like no other.
Perhaps his widow Graca Machel put it best to me when she said:
This is his final gift to South Africa.
He could have just passed on and we would have mourned. But he lingered on for six months and in the process got us to think about what it means to lose Madiba, what he stood for, and most of all, how to unite across the social boundaries that separate us.
South Africa has been united in grief and celebration across race, class, generation, party, and ideology. The real challenge for all of us is how to make it sustainable going forward.
South Africans, of course, are not the only ones that are mourning. The world has also come together at Madiba's passing. This is because he is a global icon. In part, this has to do with his ability to come out of prison after 27 years without any sense of rancour. It also has to do with him having pioneered reconciliation, especially at the moment when South Africa faced its greatest threat: the assassination of Chris Hani in 1993.
But it also has to do with the fact that Madiba gave up the presidency after only one term. He could have been president for life, but he chose to walk away from hard political power. In the process, he became the personification of soft power.
No president in the world had what Madiba had. He could have phoned any one of them at any time of the night and they would have taken his call. He could berate any one of them, and they would have politely listened. He dined with kings and presidents, but walked with the common man. He was one of the rare few that could claim the mantle of being a truly global leader.
But as the world mourns this great human being and leader – this icon of our age – an intellectual battle is underway to define his legacy and his message to future generations. The global and national press have trumpeted his message of reconciliation. This is important, even essential to his political character, but Madiba also stood for more.
Some valourise him for his pragmatism. Madiba was pragmatic, but he was also more. Madiba stood for non-racialism. He was an advocate for democracy and political participation. And he was a fighter for economic inclusion.
Madiba abhorred not only poverty, but also inequality. And he truly believed that before you ask poor people to sacrifice, rich people must do the same. How else do you explain why he took a cut in salary as he ascended to the South African presidency?
To truly honour him, one must not caricature him. One must be responsive to his entire political message and legacy, not only the aspects that we find convenient. World leaders who want to honour Madiba can only do so if they respect the rule of law and do not engage in extra judicial action, either against their own citizens or foreign nationals.
Madiba was intractably opposed to political assassinations of opponents, to armed invasions and attempts at regime change. Honouring him means to respect his views in this regard and not to ignore or make light of it. It also requires one to stand firm against pressures to go to war, to assassinate political opponents, even when it may seem so much simpler to do this.
South African leaders who want to honour Madiba need to remember that he stood against corruption and for service delivery and economic inclusion. These must become priorities in our struggle for a new society.
This requires action to be taken against the corrupt, even when they are close to political power. It requires prioritising the struggle against inequality as much as it does acting against poverty. And it requires that delivery to our citizens must be prioritised even when it means acting against errant and lazy party cadres.
Leaders in the corporate sector that want to honour Madiba must learn not to caricature his message. Yes, he was a pragmatist. But he was also for economic inclusion. He did abandon nationalisation, and he was president when a conservative macroeconomic program was implemented. But he saw this as a compromise born of political necessity.
Madiba also bemoaned how the Growth Employment and Redistribution Strategy was implemented and he was appalled at the increase in economic inequality and at the political and social polarisation that subsequently ensued. To truly honour Madiba requires one to recognise this.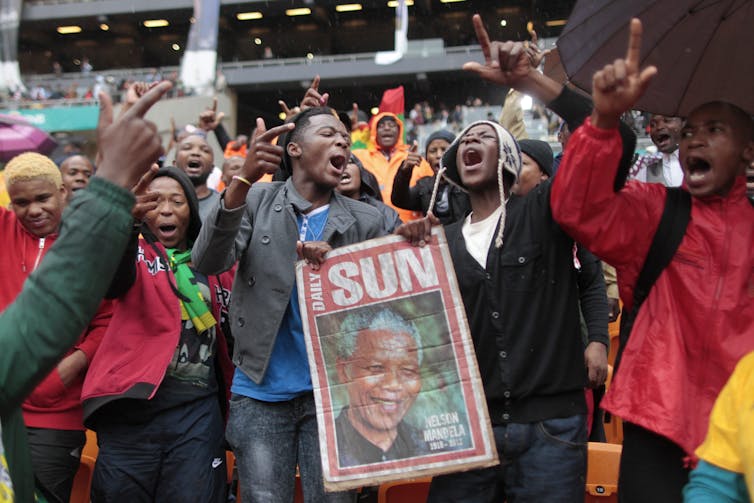 Honouring Madiba also requires us to make the collective sacrifices required to address this economic inequality. This need not mean an abandonment of a market economy. But like in Europe and Asia, it does mean that such a market needs to be regulated and individual investment decisions need to be made with one being mindful of their social costs.
A similar obligation is required of union leaders and activists in civil society. Too often we speak of Madiba's core values – democracy, non-racialism and economic inclusion – and yet we ignore his message of how to realise these goals. Madiba was an astute political entrepreneur who understood the importance of pragmatism in a struggle for equality. He recognised that we live in a world that is, and not in a world that we wish existed.
Madiba recognised the importance of the realities of power and the need to engage and sometimes compromise with those who wielded power. But he believed that such compromises must ultimately enable a break through to a better world.
This is why it behoves us not to conduct debate in political extremes. It requires us to understand that pragmatism and progressive outcomes need not be mutually exclusive. It requires of us to understand how to compromise, what legitimate compromise involves and how to use it as platform for further advancement to a progressive end.
Madiba's legacy is a complex one. It behoves all of us not cheapen it. If we truly want to honour him beyond the platitudes, then we must become responsive to his entire political message.
If we do this, not only will it allow him to once again shower us with that generous smile from the heavens and beyond, but it also will give us our very first shot at building the society envisioned in the Freedom Charter, the very program that Madiba had a hand in crafting all of those years ago when he was still a young man in the 1950s.