China manufactures an enormous amount of consumer goods. Its value to the global economy is estimated to be around US$7 trillion. But stigmatised as low cost, low quality products, Chinese brands have yet to make inroads into international markets.
And because they have not been very successful at developing reputable international consumer brands they are unable to reap the rewards – customer loyalty, premium pricing, inoculation from competition, preferential distribution – that come with branding.
Chinese firms have, for some time, preferred to leave branding – and thus "ownership" – of their products to others along the value chain, focusing instead on a business-to-business model.
But as the Chinese economy matures and integrates further into the global marketplace, it is inevitable that Chinese firms will spend more time, and money, working on this highly lucrative value-adding activity.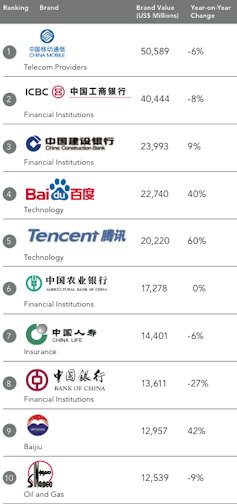 As Australia's trading relationship within China grows, most likely with a free trade agreement in place, it's likely more Chinese brands will come to Australia. There is already some movement, and evidence suggests Australian consumers have an appetite for some Chinese brands.
Great Wall Motors and Tsingtao – catering to two of our most favourite of pursuits, driving and drinking respectively – have gained a respectable foothold in the Australian market. Other notable brands include Haier (appliances), Geely (cars), Lenovo (laptops and tablets), Huawei (telecommunications) and Li Ning (sports equipment).
Successful branding requires resources and a devotion to brand building that is often regarded as too risky for many Chinese firms that originate from a conservative corporate culture that abhors grandstanding.
To a large extent branding requires such show-ponying so it is little surprise many Chinese firms have refrained from branding and have adopted a wait-and-see or "copycat" approach – a strategy that potentially stifles brand building.
If brand recognition is an indication of how successful Chinese firms have been performing, then they are not doing well. A recent US study found 94% of Americans are not even able to name at least one Chinese brand, but the battle isn't lost.
It's not so much that Chinese brands are disliked, but rather consumers are not aware of them and thus have little inclination to try them. Chinese firms are yet to be proactive in getting their brand to market. Awareness and attitude towards the brand can be mouldable through precisely targeted marketing tactics as evident by the many Korean and Japanese brands that were once shunned by Australian consumers.
Chinese brands being sold through Australian retailers require this kind of commitment because the adage of "build it and they will come" does not work particular well for unknown brands.
And whilst brand awareness is important it is only the starting point. Persistence is another key component. Many Japanese and Korean products were initially disliked by Australian consumers, but are now regularly on our shopping list.
There are no better examples at making poorly perceived brands successful than Toyota Corolla and LG (formerly Lucky GoldStar). Success of these brands stem directly from their firm's devotion and persistence so there is no reason why Chinese brands cannot replicate this and become similarly successful.
There is some evidence of this occurring within Australia. Geely, for example, is heavily promoted through the reputable dealer John Hughes in Western Australia. On another front, Huawei's sponsorship of the Canberra Raiders indicates Chinese companies are willing to take their brands to the grass roots.
Chinese firms are yet to become fully proactive in getting their brand to market but if these examples are any guide then Australia's branding landscape is clearly changing.