This longer read is an edited excerpt from a speech given by Margaret Gardner at the National Press Club in Canberra.
When Australia decided in 2009 to uncap university places, educational opportunity was to be matched to the knowledge demands of the future. It was a bold advance – and one supported by both sides of politics.
Since that time, we have seen 55% growth in enrolments from the poorest fifth of Australian households, 48% growth for regional and rural students, 89% for Indigenous students and 106% growth for students with a disability.
---
Read more: Universities get an unsustainable policy for Christmas
---
This expansion of opportunity is why we cannot accept the freeze on university funding inflicted last December. That freeze inflicts a cut of A$2.2 billion on Australia's universities and the communities they serve.
The university funding freeze is really a cap on opportunity. And it will limit the share of the highly-skilled, well-paid jobs in our economy that can be done by qualified Australians in the decades ahead.
The transformative power of a university education
Chris spent 13 years working in Whyalla's iconic steel plant, doing countless shifts in the distinctive rust-coloured buildings of the local steelworks. But he knew – given the toll it was taking on his physical and mental health – that he couldn't stay in that job until he was 65.
So he decided to retrain. First, he tackled a foundation course to acquire new study skills. Then he enrolled in a bachelor's degree at the University of South Australia.
Chris plans to use what he has learned in his social work degree to help others in his regional community to cope with the vast economic transition they are facing. And to help men in regional communities open up about anger and depression and mental illness, and to tackle male suicide and family violence.
As he explains himself, keeping the doors of universities open matters even more acutely in regional Australia, and for Australians like him.
Keeping open these doors of opportunity is not only important to all Australians, or to universities and the communities that we serve. It should also be a priority for governments and the business community. Fostering the conditions for social cohesion is squarely in their interests too.
When our society is less fractured, we can find more of the common ground that enables societies to advance. Our universities are powerful vehicles for social cohesion. This is all the more reason why – having opened the doors of opportunity – our nation cannot afford, socially or economically, to slam them shut once more. We should close gaps – not widen them.
We need a plan for the future
Securing our future prosperity is an urgent task. We live in a time of leaps in knowledge that both defy and spur the imagination. This is illustrated in the choice of one of Australia's many brilliant university researchers as the 2018 Australian of the Year. Professor Michelle Simmons, who heads the quantum computing team at UNSW, is leading the race to build the world's first quantum computer.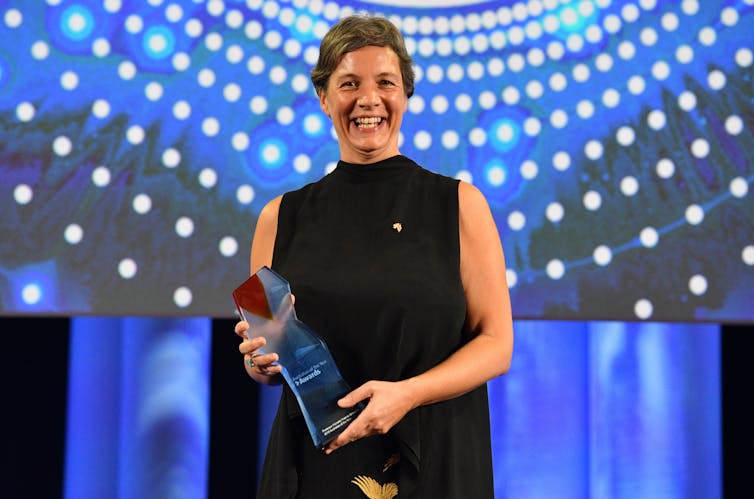 Such a leap could revolutionise everything from drug design to weather forecasting, from self-driving vehicles to artificial intelligence.
Crucially, Australia has decisions to make about where we can and should be ahead in the global research races before us. And where we should create chances to be key to new global industries that will create new jobs in our country.
This is why research being done today in Australian university laboratories and simulators, and on university precincts where we collaborate with business, is critical. A vaccine developed today in an Australian university lab or in a partnership between a business and a university won't just save precious lives right around the world. It's also the source of Australia's future growth.
This won't happen by chance.
University-industry link are key to success
Both China and Singapore have ambitious national plans and funding growth to enable their universities to be at the forefront of global discovery and innovation. In these countries, research investment from industry per researcher is high compared to what is achieved in Australia.
Lifting collaborations between industry and universities is important to their nation's plans and their future success. Because there is evidence that when businesses tap into the expertise of universities and their researchers, it boosts the organisation's bottom line – but also, importantly, national economies.
New modelling by Cadence Economics has found collaborations between Australian businesses and universities generate an impressive A$10.6 billion a year in revenue directly for the firms who partner with universities.
---
Read more: How universities can make graduates employable with connections to industry
---
By the time that flows through the economy, these collaborations are contributing A$19.4 billion a year to Australia's income. And all of that economic activity supports an estimated 30,000 Australian jobs.
The data confirm 16,000 Australian businesses partner formally with a university. Yet the benefits could be even greater if we could lift that number to 24,000 – a 50% increase.
Not only would that benefit those companies' operations, balance sheets and shareholders, it would benefit Australia's economy even more substantially, lifting that A$19.4 billion a year contribution closer to A$30 billion a year. And that would lift Australia's rate of business-university collaboration to that of innovation powerhouses such as Israel and the United States.
Cadence calculated the return on investment to business is around A$4.50 for every A$1 they invest in collaborative university research. The benefits they can tap are enormous.
Some clever companies are already realising those benefits
One is a 13-year collaboration between Boeing and the University of Queensland. This collaboration has helped the firm identify talented engineers and research students to recruit after graduation.
It has enabled the company to work with the university's brilliant research teams on incremental sheet forming, a more efficient manufacturing technique that could also be used in the biomedical and engineering industries.
Last year, the firm moved 30 staff onto campus so they could work closely with the University to tackle the next frontiers in aerospace technology.
At Monash, we have signed a multi-year research and commercialisation deal with one of the arms of global pharmaceutical giant, Johnson & Johnson. This collaboration is on the early detection and prevention of rheumatoid arthritis – a debilitating autoimmune disease that affects more than 400,000 Australians and nearly 25 million people worldwide. It has vast potential not only to alleviate pain and suffering – but also to generate income for Australia from the medicines or treatments that we hope could result.
In Geelong, a collaboration between Deakin, GT Recycling and carpet manufacturer, Godfrey Hirst, has created a new, lower-maintenance product from recycled polymer textiles to reinforce footpaths and roads.
Universities don't only collaborate with business. We also collaborate with many community organisations, health organisations, not-for-profits and charities – and all of that activity is helping to advance Australia.
It includes the University of Wollongong working to triple the number of foster carers recruited in the Illawarra, Curtin University sending thousands of students each year, for the last 19 years, to volunteer in bush communities in Western Australia, and universities delivering free dental care to pensioners in regional towns across the nation.
These are the collaborations that build community cohesion and help us find common ground.
The public sees the benefit of collaborations too
The Australian public also sees the benefit of collaboration. Late last year, Universities Australia commissioned research to give us a clearer sense of what the public valued about universities and their contribution to society. What we found was heartening.
A representative sample of more than 1,500 Australians surveyed by JWS Research found four in five Australians thought it was valuable for university students to do work placements with business or community groups as part of their degrees.
There is strong public support for the placements Australia's universities increasingly offer students during their study. It also underscores the importance of business and community organisations being willing to host students for such placements.
There is also strong public understanding of the benefits that flow from research undertaken in partnership between universities and other organisations. Seven in 10 Australians said university research could deliver most for the nation when it was done in partnership with business – or through a combination of fully independent university research and collaborative research.
Interestingly, the Australian public also think university education will continue to be just as important tomorrow as it is today. Almost four in five Australians believe the jobs of the future will be every bit as likely – or indeed more likely – to require a university qualification.
So when we hear commentators suggest that university education is now extended to too many people, we should be clear such views are really about reducing opportunity for some Australians.
Whose children, relatives or partners are they suggesting should not have this chance? Not only are such views out of step with our global economic competitors, they're also out of step with the views of the overwhelming majority of Australians.