This season, some sports commentators and footy fans have argued that the investigation into the supplements regime at Essendon has brought the club, the AFL and "the code" to their knees.
From a branding perspective, however, no-one could have dreamt of a better story for both the AFL and Essendon to use for their brand narratives. Indeed, the tale of villain and hero played out around AFL boss Andrew Demetriou and Essendon coach James Hird is what leading European branding academic Stephen Brown might call a "ripping yarn".
Brand narratives based on heroes and villains are some of the most successful around. Consumers love to love brands with adversarial characters. They motivate them to consume and become loyal consumers. And they can motivate them not to consume, even become anti-consumers, of opposing brands. In marketing, there is no hero without a villain.
Australian rules football has never had a shortage of heroes and villains. Norm Smith, for example, had a turbulent relationship with Melbourne. At one stage, Smith was the villain accused of letting Barassi head to Carlton to secure his own place as coach for Melbourne. But with the passage of time and in recognition of his contributions to the code, Smith was valorised and had the prestigious medal for best afield in the Grand Final named in his honour. And so Melbourne's villain became AFL's hero, and enriched the brand.
Similarly, in 1989, Peter Gordon was Footscray's hero. The villain - Ross Oakley, former CEO of the VFL/AFL – wanted to merge the club with Fitzroy as part of the league's expansion strategy and whisk the club off to another state. But this villainous plan only ignited Gordon and Footscray's fan base to rise up against the AFL. It was here when Footscray was rejuvenated as a brand, starting off with a name change (to the Western Bulldogs) and eventually retaining its home ground in Melbourne.
So how does the hero-villain narrative work for branding? Staying close to consumers and building relationships with them is integral to the branding process. It is only when consumers become emotionally attached to a brand that they can show it any form of loyalty. But with brands being inanimate objects, brand managers aim to humanise them to elicit emotions for the consumers. Positive emotions usually bring about loyalty in the form of repeat purchases and recommending behaviour.
The hero-villain narrative is a fairly easy one for consumers to digest when it comes to branding. It's a narrative we've become accustomed to through mediums such as literature, politics, comics, cartoons and movies.
And so step in Hird and Demetriou for Essendon and the AFL respectively. Regardless of who we think is the hero or the villain, the opportunity arises for both Essendon and the AFL to humanise their brands through the all-too-familiar narrative. What's so powerful about the opportunity is that this is a real story, or as Demetriou stated, a "sorry saga". It's not fake, not fabricated and the characters are real.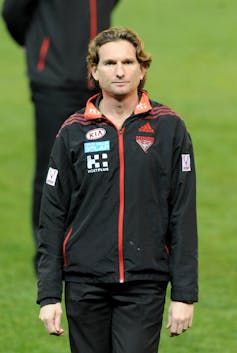 It's fairly obvious, regardless of which side of the fence you are on, which way each brand strategy will head.
For the AFL, Demetriou will be the hero, standing up for the integrity of the code's reputation. For Essendon, on the other hand, Demetriou will be the villain because of his doggedness in relation to Hird, their "golden son".
Both narratives are strong and will incite emotional responses in consumers. Fans will, however, find themselves in a dilemma because the AFL and Essendon are inextricably linked through co-branding. Truly buying into the Essendon brand narrative will mean some shying away from the AFL and vice versa.
So step in other AFL teams and other sporting codes. There is no doubt that some other AFL teams and other codes will use this ripping yarn in Australian rules football to their advantage. And for the other AFL teams, there is no time like now to recruit new members. The "ripping yarn" may not entice diehard supporters to defect, but for those in a dilemma or in their formative stages of fandom, defection to another club may be enticing. Other sporting codes might also take advantage of the hero-villain brand narrative to demonise the AFL and make their own code the hero.
Branding is one of the most complex and difficult parts of marketing. Some businesses get it right straight away, but for most, it's a continual process of refinement. The smarter brand managers in the sports sector will use this real-life, hero-villain narrative to refine their brand narratives and develop loyalty in their existing fans and grow their fan base for their clubs.