The joint Commonwealth-NSW review into the Martin Place siege in December has released its report. The sawn-off shotgun wielded by gunman Man Haron Monis on that fateful day, the report authors said, was probably from the "grey" market: firearms that entered Australia legitimately but which were not handed in at the time of the 1996 buyback or 2003 follow-up and were subsequently made illegal.
The review's recommendations include asking CrimTrac, in co-operation with all Australian law-enforcement agencies, to prioritise bringing the National Firearms Interface into operation by the end of 2015. The Standing Council on Police and Emergency Management initiated the interface as a means of tracking illegal firearms and eliminating the markets for them in 2012. Then-home affairs minister Jason Clare adopted the proposal in May 2013.
The joint review also urged Australian police to continue an audit of their firearms data holdings ahead of the interface, and to seek ways of simplifying the regulation of the legal firearms market.
A 25-year journey to fewer gun deaths
It is useful in this context to recall the report of the National Committee on Violence 25 years ago. The federal government commissioned this inquiry as a result of two atrocities only months apart in downtown Melbourne: the Hoddle Street massacre of seven people in August 1987 and the gunning down of eight Australia Post workers only four months later in Queen Street.
The committee despaired that firearms data of any kind was almost non-existent. The inquiry chairman, Professor Duncan Chappell, quipped at the time that we knew more about the numbers of rabbits in this country than about the number of guns.
The national committee published its report in 1990. It made more than a dozen recommendations regarding firearms, including uniform legislation, a national gun-control strategy, a computerised firearms registry and a permanent amnesty for those surrendering unauthorised firearms.
The reaction from governments was lukewarm. All of that changed on April 28, 1996, in Port Arthur, Tasmania. On that day, a disturbed loner, Martin Bryant, used a high-powered semi-automatic weapon to gun down 35 innocents. At the time of his legitimate purchase of this gun, there was no requirement that he be licensed to use it, or that it be registered.
One month later, the Australasian Police Ministers' Council agreed upon a strategy designed to ban specific firearms. A large-scale buyback of all semi-automatic rifles and pump-action shotguns took place. By August 1998, more than 640,000 guns had been surrendered to Australian authorities.
That initiative was accompanied by laws tightening licensing requirements, regulating gun registration and mandating safe storage of firearms along with training requirements for all gun owners.
Not all guns were surrendered, however. The Australian Crime Commission estimates that there may currently be as many as 250,000 illegal long-arms and 10,000 handguns in this country.
US is a tragic example of lax gun control
The NSW Coroner will examine the origin of the specific firearm used in the Martin Place siege in due course. A relevant question for the coroner is whether Australian legislators should hold the line and continue their strong record on gun control, or relax restrictions. The latter would move us closer to the position being adopted by a growing number of legislatures in the United States.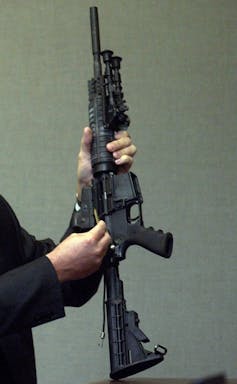 Some US legislators appear to believe that if guns could be placed more readily in the hands of private citizens, gun violence would be less likely because would-be assassins could be stopped in their tracks. Their citizens appear to agree. In the weeks after the Sandy Hook school massacre in December 2012, there was a massive upsurge in gun purchases.
This view should be rejected out of hand. The US gun homicide rate is more than ten times the Australian rate. It is also significantly higher than the rate in all other modern industrialised democracies. Theirs is hardly the model that we should be following.
The National Homicide Monitoring Program operated by the Australian Institute of Criminology reports that homicides resulting from the use of a firearm have decreased in this country since the restrictions came into place. In 1989-90, 25% of homicides were known to have involved the use of a firearm. By 2010–12, firearms were used in only 14% of homicides.
In a study published a decade after the laws took effect, researchers Christine Neill and Andrew Leigh concluded:
We find reductions in both gun homicide and gun suicide rates that are statistically significant, meaning that they are larger than would have been expected by mere chance … Our best estimates are that the gun buyback has saved between 128 and 282 lives per year.
Following a global analysis of the available evidence, Dutch academic John van Kesteren similarly concluded:
In high-gun countries, the risks of escalation to more serious and lethal violence are higher. On balance, considerably more serious crimes of violence are committed in such countries. For this reason, the strict gun-reduction policies of many governments seem to be a sensible means to advance the common good.
Australians would do well to pay heed to these words. Australia's gun genie must stay well and truly in its bottle.
Quite coincidentally, in June 2014, the Australian Senate referred to the Legal and Constitutional Affairs References Committee for inquiry and report:
The ability of Australian law enforcement authorities to eliminate gun-related violence in the community.
The reporting date has been extended to March 26. We await their deliberations with great interest.