The Tate Modern's incredible new exhibition brings together more than 130 works by the French artist from public and private collections worldwide. It is a once in a lifetime show that focuses on Matisse's vibrantly coloured paper cut-outs. He first experimented with this seemingly simple technique of cutting pre-painted paper to create works during World War II, when he was in his late seventies and suffering from ill health and limited mobility. The method was to become his chief form of production until his death in 1954, aged 85.
The range of vividly coloured work on display includes Matisse's studies ("maquettes") for commissions for publications, stained glass window designs, tapestries and a large-scale ceramic mural, alongside the vast array of independent forms and assemblages that filled the walls of his studio and living spaces in Paris and the south of France.
A number of artists had of course experimented with the use of paper collage in the early 20th century, using found, appropriated or torn fragments of paper – Picasso and Braque in their early cubist works of the 1910s and the Dada artist Hans Arp, among others. But Matisse alone developed the specific process of cutting into specially painted paper as a means of creating colour and form in one process. Matisse called it "painting with scissors". Sometimes creating single colour silhouette forms, sometimes building up overlapping planes of paper, Matisse's cut-outs push the boundaries of painting and drawing, and display the power of his invention and imagination.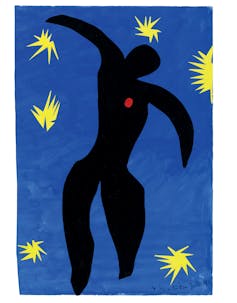 Broadly arranged chronologically, the Tate Modern exhibition extends over 14 rooms. The prelude room opening with the painting Still Life with Shell of 1940 and its related gouache version shows Matisse's first use of cut-outs to test out different object arrangements. Alongside, a one minute silent film in colour from 1945, by Adrien Maeght, sets the dynamic tone for the exhibition: a seated 76-year-old Matisse, recently recovered from a serious operation, is shown in his studio holding up the pre-painted paper which he cuts into shape in mid air.
With this vivid image in mind the exhibition opens onto his early series of cut-outs made between 1943 and 1947 for his book Jazz, published by Tériade in 1947. Shown for the first time together outside of France are the 20 cut-out marquettes, alongside the final book with its 20 plates and over 146 pages of large, flowing handwritten text by Matisse consisting of his reflections on art and life during its making.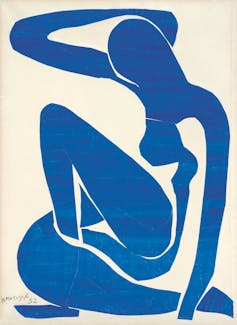 From here, the exhibition moves into the spaces of Matisse's studios. First, we see the two full wall assemblages of gouache painted paper cut-outs from his 1946 Paris studio, featuring white fish, birds and foliage mounted on sand coloured canvas. Allegedly begun by pinning one paper swallow to cover a mark on his studio wall, Oceania, The Sky and Oceania, The Sea are based upon his intense memories of a visit to Tahiti sixteen years earlier. Then there is a partial reconstruction of works from his Vence studio in the south of France from 1945 where he filled his environment with brightly coloured organic forms, "a little garden all around me where I can walk".
Each successive display provides insights into Matisse's working methods and inventiveness. Among them are the quiet dignity of the four blue nudes of 1952, brought together for the first time, and displayed alongside his sculpture. Then there are his cut-out designs and drawings for the stained glass windows, ceramic panels and priests' vestments for the Chapel of the Rosary commission at Vence, and the vast Large Composition with Masks of 1953 from the National Gallery of Art, Washington. This was a first response to a ceramic mural commissioned by the Los Angeles art collectors Frances and Sydney Bondy.

A photograph of Matisse's studio in 1953 shows that the Tate's cut-out The Snail, a courageous purchase for 1962, was initially created as a part of the same commission, which hangs reunited with its companion the Memory of Oceania.
This movement from the modest sized cut-outs of the early 1940s through to the monumental scale of his late maquettes, completed just before his death, highlights the striking ambition and scale of the work. At a time when Matisse was increasingly becoming limited in his own physical movements his works became larger, more exuberant and open to possibilities.
This is brought home by Frederic Rossif's compelling film Rushes in the latter part of the exhibition. Shot in Matisse's last studio at Hotel Regina in Nice in 1951, the exactitude and certainty of his actions are clear as he cuts the paper forms and with his stick, directs their placement by his assistants. If the late cut-outs represent Matisse's remembrance of past experiences and places, and the associated intense sensations of the body, they are also the embodiment of his skills, informed by over half a decade of drawing and painting, and sculpting.
Henri Matisse: The Cut-Outs runs from 17 April to 7 September 2014 at Tate Modern, London