US colour swatch giant Pantone has picked a soft, rosy purple by the name of Radiant Orchid as the colour of 2014, displacing their 2013 choice, Emerald Green.
According to Pantone marketing-speak the colour is:
an enchanting harmony of fuchsia, purple and pink undertones, Radiant Orchid inspires confidence and emanates great joy, love and health. It is a captivating purple, one that draws you in with its beguiling charm.
It's a tall order for a little blob of colour, but just you watch. Soon, high-street fashion giants such as Zara and Top Shop will be filling up with Radiant Orchid-hued handbags, shoes, nail polish and make-up. You will also soon see Radiant Orchid-toned products in high fashion stores as well, even though these products were designed and commissioned months before the announcement.
So how does Pantone pick their colour of the year? And why do some fashion retailers scramble to produce purple products after the announcement, while others seem to know months in advance?
The answer may lie in Pantone's clever use of its own data.
Colour integrity
For more than 50 years, Pantone has provided colour services for designers in fashion, homewares, paints and a range of other fields. Their colour swatches are used to ensure continuity of colour for firms that manufacture a range of products in different materials, different factories and in many different countries.
Let's say I am a fashion designer producing a spring range in, for example, Radiant Orchid. I may be producing stretch cotton wear, shoes, handbags, nail polish and knitwear. I need all of those products, produced all over the world in different factories, to hit the same tone. That's the key service that Pantone provides: their colour chips help ensure the integrity of colour.
Leading or following?
By naming a Colour of the Year, Pantone is attempting to both identify and influence the zeitgeist, but that's becoming increasingly difficult in fashion.
Back in the 1970s, one colour or one length could be the colour or length of a season. Now we see a myriad strong trends in any one season. In a world where firms such as Zara drop fresh merchandise into their stores every two weeks, the idea of a colour of the year, or even of a season, is increasingly difficult to pin down.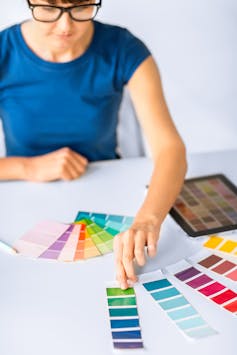 But that doesn't mean naming a colour isn't a smart marketing move, a way to promote products on that theme and cut through some of the noise.
Pantone promotes the idea that the Colour of the Year selection is made through a highly secretive colour committee that considers influences ranging from films in production, as well as:
traveling art collections, hot new artists, popular travel destinations and other socio-economic conditions. Influences may also stem from technology, availability of new textures and effects that impact color, and even upcoming sports events that capture worldwide attention.
But in truth, Pantone need only look at its own product order data to see which colour trends are emerging.
We may well see high fashion chains such as Chanel stocking Radiant Orchid-coloured clutches and pumps in the coming months, but those colour decisions would have been made many months ago. Chanel was making their decisions for colour for Spring 2014 in January of this year.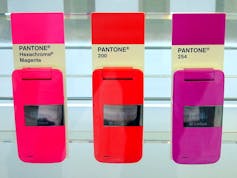 You will see those colours come out, but for most retailers outside the fast fashion world, it will not be as a result of Pantone's announcement. Rather, the announcement reflects the trends Pantone has seen emerging in product orders of their colour chips and swatches.
This announcement is a clever use of the company's own data for Pantone's marketing purposes that also allows it to move the myriad products it can spin off the Colour of the Year announcement: Radiant Orchid-toned iPhone cases, mugs and notepads, to name a few possibilities.
It's a way for Pantone to raise awareness of the services and products it can provide and, with Christmas approaching, comes just in time for the biggest period of retail turnover of the year.
It's not really forecasting something; it's having a pretty safe bet on a winning horse.