Earth is distinguished from all other known planets by the presence of a warm, salty ocean that covers over 70% of its surface. The ocean puts food on the table, provides jobs, and underpins trillions of dollars of economic activity worldwide.
In a new report for the WWF, we looked in particular at how Melanesia's ocean economy is fairing. Melanesians - the people of Fiji, New Caledonia, Papua New Guinea, Solomon Islands and Vanuatu - have a strong social and cultural dependency on the sea.
Faced with looming global challenges such as climate change and food security, the region is a now at a crossroads.
Why is Melanesia's ocean important?
Based on conservative estimates, the annual "gross marine product" of the Melanesian region – the equivalent of a country's annual gross domestic product (GDP) – is estimated to be at least US$5.4 billion. This is broadly equivalent to the combined GDPs of Fiji and the Solomon Islands, making it the third largest economy in the region.
Melanesia's ocean assets, including fisheries and marine habitats, as well as "services" such as coastlines and carbon absorption, are valued at a minimum of US$548 billion.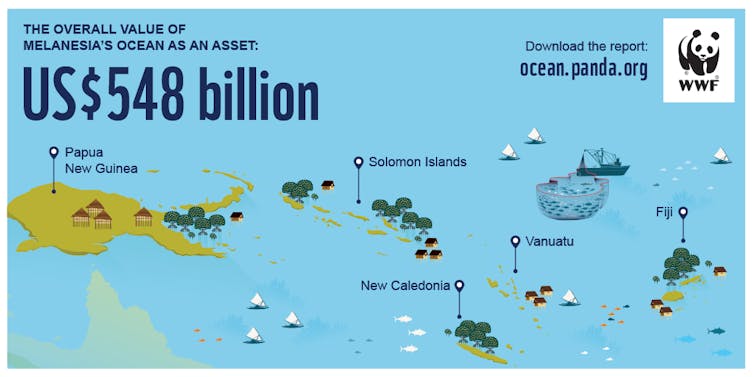 Ocean assets provide a range of valuable goods and services, including food and raw materials, income, energy, tourism, recreation, cultural practices, protection from storms, and climate regulation. Maintaining healthy ocean assets is therefore vital for the future of the Melanesian region.
However, it is becoming increasingly clear that Melanesia's ocean and its precious assets are under mounting pressures. These changes will have implications for the environment, food security, employment and the well-being of human communities both within the region and beyond.
In some isolated circumstances, eroding the ocean assets of Melanesia may lead to short-term benefits for certain places and people. However, any positive changes are likely to be short lived and specific to one country or another. For instance, declining catches for some species of tuna are already predicted for Papua New Guinea and the Solomon Islands by 2035.
Climate change will add to the challenge. Future climate projections include rising air and sea surface temperatures, increases in annual and seasonal rainfall, increasing intensity of tropical cyclones, rising sea levels and increasing acidity of the ocean.
Reports of coral bleaching, fish kills and severe Tropical Cyclone Winston that affected the Melanesian region this year, coupled with high rates of sea-level rise are a clear reminder of the difficulties the region faces amid a rapidly changing climate.
Melanesia at the crossroads
Melanesian leaders are now faced with two pathways for the management of its marine resources and securing ecological and economic prosperity.
The first is the current trajectory of increasing pressure on ocean assets coupled with inadequate policy and/or action. This pathway will lead to a degraded future in which opportunities for the inhabitants of the Melanesian region will be significantly diminished.
The second trajectory is to move towards a sustainable and inclusive blue economy. Such an approach will ensure that coastal assets contribute to the true prosperity and resilience of the Melanesian region long into the future.
The oceans and coastal ecosystems are vital to life on Earth, and achieving the UN's Sustainable Development Goals (SDGs) without the services the oceans provide will be challenging, if not impossible.
While Goal 14 focuses specifically on the ocean, a sustainable and inclusive blue economy will incorporate and build strategies that are important to meeting many of the other SDGs. This priority is interlocked with other international priorities, such as achieving a safe climate through the recent Paris Agreement.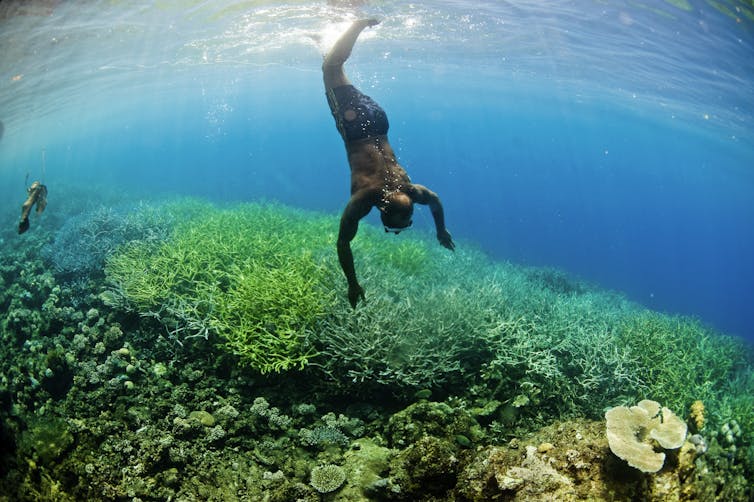 It would also provide social and economic benefits for current and future generations by contributing to food security, reducing poverty, livelihoods, income, employment, health, safety, equity and political stability.
In addition, it would also restore, protect and maintain the diversity, productivity, resilience, core functions and intrinsic value of marine ecosystems – the natural capital upon which its prosperity depends.
Ways forward
Pacific leaders have already generally acknowledged the importance of working together across the region.
Examples include work on inshore fisheries management and sustainable development.
There have been some successes such as the Vessel Day Scheme, which limits the number of days that fishers can fish, and community coastal management such as locally managed marine areas. These are helping to guide spatial planning and integrate conservation and sustainable use of marine resources.
In light of Melanesia's eroding ocean asset base, the new report acknowledges the commitments already made and sets out a clear set of measures that Melanesian leaders can adopt. These build on traditional environmental stewardship to protect the region's natural coastal and ocean assets.
While our new report puts the spotlight on Melanesia and presents an economic case for greater management, the perspectives are equally applicable to the Pacific region as a whole, given that the ocean connects the island nations, rather than separates them.
The economic analysis for this report was led by The Boston Consulting Group (BCG).
This article was coauthored by John Tanzer (Oceans Leader WWF International), Kesaia Tabunakawai (Representative WWF-Pacific), and Paul Gamblin (Oceans Communications WWF International).