Just weeks after the destruction of another original Banksy stencil in Melbourne caused a stir, Australia's own Banksy – the Melbourne street art Lush – became embroiled in his own controversy.
Lush collaborated with Banksy in his recent Dismaland Theme Park project. Like Banksy, he is a graffiti writer turned street artist who engages in very public pranks and hoaxes while carefully protecting his anonymity.
Over the last few months, a series of murals painted by Lush of celebrities have generated worldwide media attention, while boosting his considerable following. On walls around Melbourne, Lush has painted large portraits of Kim Kardashian, Kanye West, Taylor Swift, Donald Trump, Hillary Clinton and Bernie Sanders, as well as naked selfies sent in by female fans.
Lush's large scale paintings of women's nude selfies in Hosier Lane have had their genitals painted over by Melbourne City Council workers on a number of occasions. And the artist claimed he had been threatened with legal action by Taylor Swift's lawyers over a mock memorial to the pop star in Hosier Lane.
Two weeks ago, Lush painted a mural in Footscray of Hillary Clinton in a plunging bikini emblazoned with the American flag. The image was based on an internet meme that surfaced in 2013 and quickly aroused ire. The local Maribyrnong Council called for the mural's removal due the depiction of "a near naked woman". In response, Lush repainted the mural to depict Clinton in a burqa (the wall was later painted black.)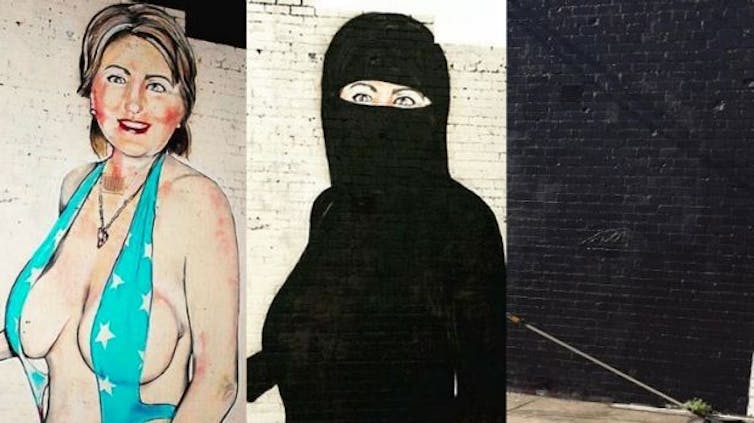 On July 25, meanwhile, after Lush had posted an image of the Clinton mural on Instagram, his account was suspended. After protests by the artist, including direct appeals to Instagram's CEO Kevin Systrom, the account was reinstated three days later.
Most news stories about Lush have referred to the municipal councils' censorship of his murals and the artist's technique of repainting over them. For instance, he replaced Taylor Swift's face with that of the slain gorilla Harambe (another Internet meme) and later, with the singer Kanye West.
However, the suspension of Lush's Instagram account, albeit briefly, warrants further discussion. It makes visible some serious issues about the governance of Instagram and the place of art-making on privately-owned digital platforms.
Not just a digital photo album
My research, which tracks the relationship between street art and digital platforms, shows that Instagram has played a key role in the rise of street art and its connection to audiences.
Lush is one of the most innovative artists when it comes to the use of Instagram and interest in his art has surged over the last year. In June 2015, the @lushsux account had 49,000 followers, ranking it 60th among accounts of graffiti writers and street art. A year later his followers have more than doubled and his ranking is in the mid-30s. Only one other account by a graffiti artist has grown faster over this period.
As of this week, Lush has 132,000 followers, with 23,000 new followers since the account suspension. Only three Australian artists in this field rank higher: the graffiti whiz-kid Sofles (backed by collaborations with video-maker Selina Miles) and the US-based retro-style duo DabsMyla. A more detailed analysis of Instagram data just published shows Lush's unique place in the street art field.
Instagram is not just a giant electronic photo-album or an archive of photographs of artworks that exist elsewhere. In the case of Lush, the format of Instagram is an integral component of his art-making: much of his work is designed to be viewed there and plays with its rules and conventions.
Indeed Instagram offers artists like Lush a unique and direct interface with audiences. Lush even terms his new work "meme art" or "memefiti", suggesting a break with earlier forms of street art.
As with many of Banksy's artworks and much street art, Lush's murals are designed to garner controversy but also to use the reaction of the audience as part of the art work, exposing hyperbole and hypocrisy.
It's not a coincidence that there are a few different postings that could have got Lush into trouble with Instagram. So, was it the presidential candidate, the powerful celebrity or the female flesh that got Lush's account suspended?
Like many Instagram users, Lush's account flirts with Instagram's prohibition on certain forms of nudity (which sparked the #freethenipple campaign). Lush's murals of a Kim Kardashian selfie included the black bars covering nipples and genitals that she had added to her own photo. (Meanwhile, Lush has carved off to a separate account his body-painting practice, in which he paints artworks on naked women.)
While highly sexualised and tasteless, the Hillary mural doesn't appear to breach Instagram's policy on nudity, which is somewhat contradictory. While Instagram's Terms of Use have very general prohibitions on nudity, its Community Guidelines explicitly state that "nudity in photos of paintings and sculptures is OK".
In a post-Snowden era we are well aware of the cosy relationship between the US state and major internet companies. Which leads one to wonder – if Lush's murals of Clinton, Sanders and Trump did not spark a direct intervention, did a bunch of politically-aligned users report the Lush account to Instagram management as offensive?
Celebrity feeds
With 87.8 million followers, Taylor Swift's Instagram account is among the most popular in the world. The role of celebrities like Swift in the Instagram economy is an important one, not just for maintaining and growing its user base.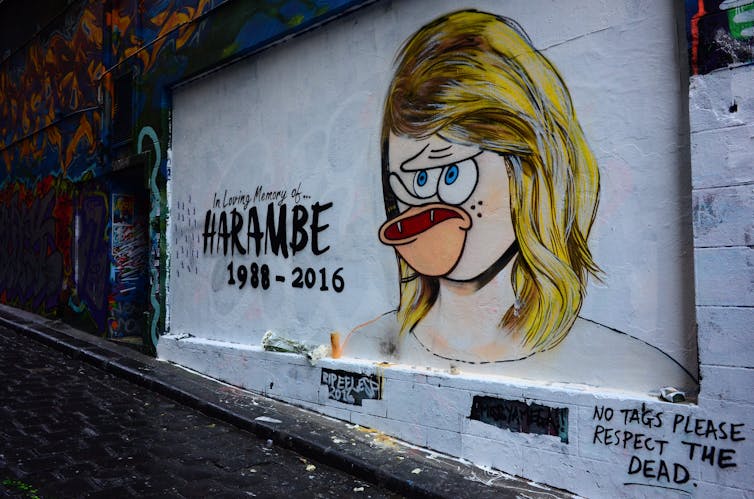 In its initial scaling up phase in 2010, when it went from a small start-up in Palo Alto to a global behemoth, Instagram co-founder Mike Krieger spoke of their "celebrity override", custom code written specifically for Justin Bieber and Taylor Swift's accounts. This allowed the company's servers to distribute their messages to their huge numbers of followers without crashing the system.
More recently, Instagram has altered how its feeds function, so that popular content, such as celebrity postings, appears more prominently in users' feeds. The week of Lush's controversy, Instagram reportedly trialled a new feature that allows its premium users – including Swift – to rapidly delete offensive comments attached to their own posts.
Instagram functions as a (mostly) public archive but is not a public organisation – its governance is not transparent and its accountability is to its shareholders.
Also, its terms of reference are murky, allowing the organisation to "refuse access to the Service to anyone for any reason at any time." So what happens when a privately-owned digital platform becoming valuable public infrastructure? When "street art" becomes "meme art"? Does the the Lush account suspension show the effective working of Instagram's reporting procedures or signal a new phase for tougher and arbitrary Instagram governance?
Lush loves controversy, even appearing to deface his own murals to stimulate it and trolling celebrities for feedback. So we have to take the latest episode with a grain of salt.
Certainly Lush has gained thousands of followers and likely a rise in sales of his artwork (sold via a link from Instagram) as a result of the recent furore. As with Banksy's art, the controversy generated by his recent murals should be seen as part of his art practice.
Still, in the new Instagram economy, fame, attention and reputation are fiercely guarded by legal and other means. And streets and screens are blending as sites for art. This is the game that Lush, Taylor Swift and Instagram itself are playing.