A memorial service has been held in Copenhagen for the victims of the shootings that killed two and injured five in the city on February 14. A crowd of up to 40,000 people gathered just around the corner from the scene of the first shootings, at which documentary film director Finn Nørgaard was killed. He had been attending a debate meeting on art, blasphemy and freedom of speech featuring the controversial Swedish cartoonist Lars Vilks, who had once depicted the Prophet Muhammad as a dog.
Copenhageners paid a unforgettable tribute to the two victims at the memorial service. The programme included a number of guest speakers, including prime minister Helle Thorning-Schmidt, and the French ambassador, François Zimeray, who survived the first attack at the debate meeting.
The memorial was being organised on behalf of all the political parties represented at Copenhagen Municipality, who announced they are standing together across political boundaries to protect freedom of expression, democracy and free speech in the wake of the attacks.
There has been concern that the suspected perpetrator, Omar Abdel Hamid El-Hussein, a 22-year-old man born and raised in Denmark, may have been inspired by the Islamist attacks in Paris a month ago, and decided to carry out similar murders at the debate and at a synagogue. He was known to the police and national intelligence agencies. He has been involved in weapons violations and violence and had ties to gangs in Copenhagen. He was released from prison just a few weeks ago.
When young Muslim men, born and raised in Western cultures, turn to radical interpretations of Islam and lash out at the society in which they live, talk quickly turns to the spectre of the "home-grown terrorist". Questions are asked about what part that society, their community or their parents played in their being drawn to extremism.
Prime minister Helle Thorning-Schmidt has described the shootings in Copenhagen as a "cynical act of terror" but added: "We are not in a fight between Islam and the West. This is not a conflict between Muslims and non-Muslims. This is a conflict between the core values of our society and violent extremists."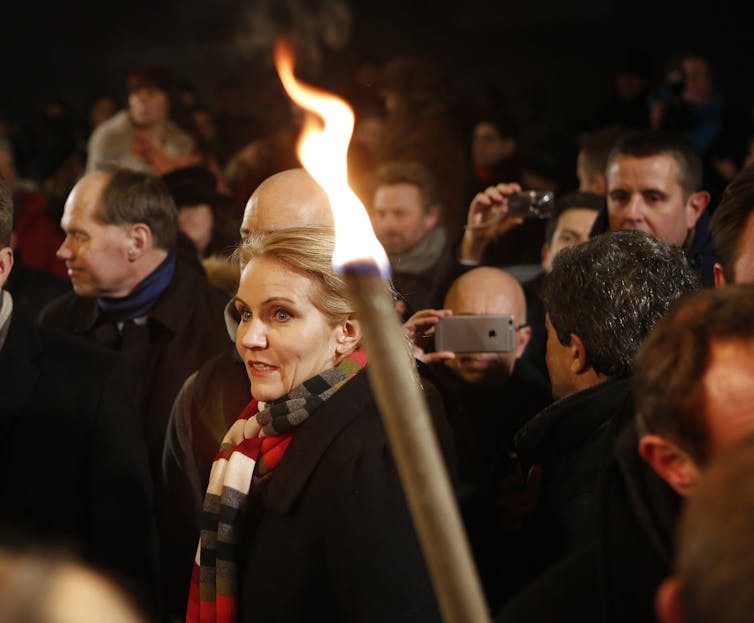 And in fact, surprisingly few politicians have used the attack as an opportunity to articulate resentment toward Islam and the Muslim population in Denmark. The prime minister's interpretation of the event as a "politically motivated attack" has been widely accepted with only a few exceptions.
Denmark is considered an open, free and peaceful democracy. According to political leaders from the government and the opposition, this will not change as a result of these incidents. Debate about freedom of speech is inevitable – especially when it comes to Islam and blasphemy – and there will now probably be more debate about the freedom of assembly too after the attack on a open and free debate meeting. But these debates are not new and were heated long before this attack.
But there is another issue that will need to be addressed after this tragedy. El-Hussein grew up in the social housing complex of Mjølnerparken in Copenhagen. His social background is comparable to the three men who carried out the attacks in Paris in January. Following the horrors of Paris, many asked if the homegrown amateur terrorist is the new face of extremism and the events in Copenhagen over the weekend would appear to confirm that development.
However, given that it is extremely difficult to predict who will carry out a lone-wolf attack or track everyone who has been in contact with the security agencies, a broader approach is needed. We need better anti-radicalisation programmes in public institutions, including prisons, and more focused integration projects in the social housing complexes in which radicalisation can breed. We also, of course, need better gun control laws.
The ability of home-grown terrorists to attain meaningful goals through individual attacks is limited, but as an agent for division, the significance of such events should not be underestimated. They have the potential to destabilise social unity and compound radicalisation.
The former does not appear to have happened in Denmark as a result of this attack. The memorial service showed a city resisting division. The question for the Danish authorities now though, is how to integrate disaffected young people like El-Hussein so that radicalisation no longer appeals.