Angela Merkel's CDU is having a tough time of late. The latest blow came via the Berlin state parliament election, where the party managed to cling on to second place but was dumped out of the city's government.
This was the CDU's worst ever performance in an election in the German capital. It took a meagre 18% of the vote (down from 23.3% in 2011).
The Social Democrats (SPD) also lost votes (down from 28.3% to around 22%), as did the Greens (from just over 17% to around 15.5%). The one consolation for the SPD and Greens is that they are likely to be key players in the next Berlin government – even if as part of a rather broad and unwieldy left-wing coalition alongside the Left Party.
The main winners, as had been widely predicted, were the populist Alternative for Germany (AfD). The AfD was nowhere in sight in 2011, but took around 13% of the vote this time round. A heavily anti-immigration (and particularly anti-refugee) rhetoric has chimed with parts of the electorate beyond Berlin, and the party now sits in 10 of Germany's 16 regional parliaments. It is almost certain to add Saarland, Schleswig-Holstein, Northrhine-Westphalia and the federal parliament to this list in 2017.
Punishment effect
Given the doom and gloom surrounding Merkel, it is easy to assume that the CDU has very little chance of holding on to power after the next federal election, which is less than a year away. However, there are good reasons to believe the CDU will bounce back. Research on voter behaviour suggests most ruling parties take a kicking in mid-term regional elections without losing power nationally.
Over a decade ago Charlie Jeffery and I analysed how parties in the German federal government perform in regional elections. We looked at all German regional elections between 1949 and 1998 – 129 cases in total. We also looked at how opposition parties performed, and how smaller parties (grouped together) tended to fare.
We did this by measuring parties' performance in a regional election against their performances in the national elections that preceded and followed it. If a party managed 40% in national election A and 44% in national election B, the "expected vote" in the regional election in between those contests would be 42%. We were simply interested in whether parties did better or worse than expected.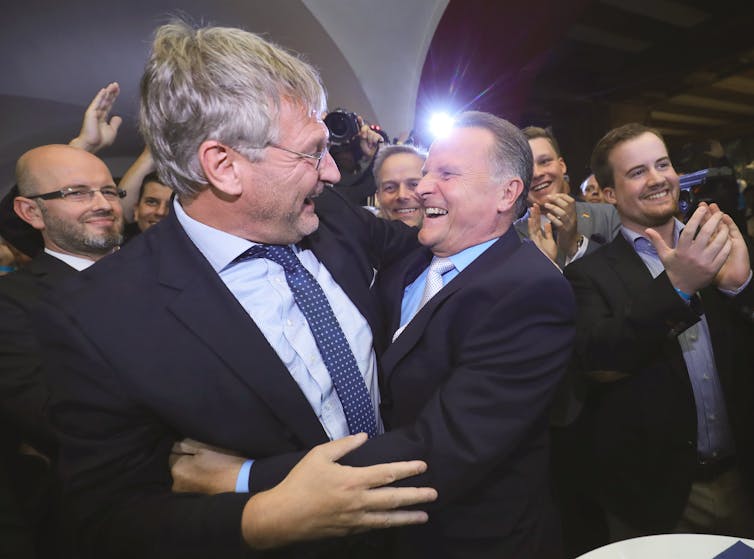 The results should give Merkel plenty of encouragement. We found that up until unification it was almost a cast iron rule of German politics that parties in the federal government performed worse than expected in regional elections. Only in two (out of 103) cases did the governing party in the federal government buck the trend. This pattern changed a little in the first decade after unification, but only in that the performances got more erratic, they didn't necessarily get much better.
Parties in the federal government did particularly poorly in regional elections that were in mid-term (defined roughly as the two years in the middle of the electoral cycle). Smaller, often protest, parties did well across the board in regional compared to national elections. At times, remarkably so.
Context matters
This and later studies have since added depth to our understanding of what underpins this relationship. National politics often sets the parameters, but if you look deeper you see that regional politics also matters.
Merkel's predecessors, Gerhard Schroeder and Helmut Kohl, both saw their respective parties perform badly in a whole series of regional elections, but the nature of that poor performance often had a uniquely regional grounding.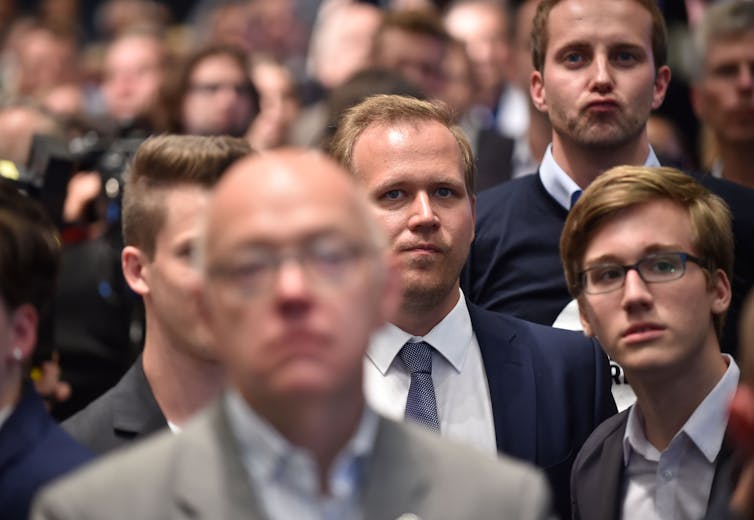 That remains true now. Recently the challenge of integrating over a million immigrants in to German society has overshadowed everything. That has been the key driver of AfD support across the whole country. However, while the refugee crisis appears to have hit Merkel's CDU electorally, it can't explain why in March 2016 Baden-Wuerttemberg re-elected a Green Ministerpraesident Winfried Kretschmann, who was strongly supportive of Merkel's refugee policy. Indeed, the CDU's vote share dropped significantly on its 2011 performance, but the Greens' went up by 6.2%.
It also can't explain why a Social Democratic politician (Malu Dryer), who, again, was supportive of Merkel's migration policies, won another regional election held on the same day in Rheinland Palatinate. Seen like this, then the CDU's poor performance in Berlin and the AfD's striking recent successes look less out-of-the ordinary. It's arguably what we should be expecting.
In Berlin, the lead CDU candidate was widely viewed as underwhelming and the party's whole campaign was seen as uninspiring. What's more Berlin has proved unreceptive to the centre-right for more than a decade. Regional politics matters in Germany, and using results like these to try to understand federal politics is a dangerous game.
Bet against Merkel at your peril
Recent CDU election performances will undoubtedly be worrying party supporters. Furthermore, for the first time in modern German history there is a strong and feisty party to the right of the CDU. Barring something totally untoward happening, the AfD will be entering the federal parliament for the first time in September 2017.
However, Merkel's advisers should realise that the CDU is not actually experiencing anything unusual in these results. Governing parties often perform worse in regional elections than they do in national elections. As the big prize of seats in the national parliament looms ever larger, the empirical record says that governing parties' performances improve.
It may be that voters do their "protesting" in ostensibly less important regional elections or that differential turnout gets supporters of opposition parties to the regional polls more frequently than it does those of parties in government. Come what may, governing parties generally bounce back.
Given that the CDU is still clearly (well) ahead of all other parties in national opinion polls, there's plenty of reason for Merkel to remain optimistic that she'll be Chancellor of Germany for a while yet.