Governing Greater Mexico City – the largest and most populated city in North America – is a great challenge. Its 22m inhabitants are spread out unevenly over an area roughly ten times larger than New York City. It is governed by one federal, two state and 76 municipal governments, each with overlapping responsibilities.
Greater Mexico City's leaders and people have become more aware of the weaknesses and obstacles that can arise from having so many governments. The city's socio-economic problems – including high levels of inequality, and widespread poverty – are difficult to deal with, because responsibilities and resources are split between the region's governments, and there is little coordination or oversight.
This is clearest in times of crisis. Recently, Mexican authorities have had to deal with the fallout from the two massive earthquakes, both of which shook Mexico City in the space of a fortnight during September 2017. The first, on September 8, was the strongest registered to have hit the city in the last 100 years. The second, on September 20, was the nation's most lethal earthquake since 1985, causing more than 270 deaths. According to official estimates, over 3,400 buildings in the city were damaged, and dozens collapsed.
The government response to this devastation was uneven, at best.
Snap decisions
Most of the damage and casualties occurred in the central and western parts of the city, where the main commercial and financial hotspots are located. These areas usually benefit from better public services than the rest of the city.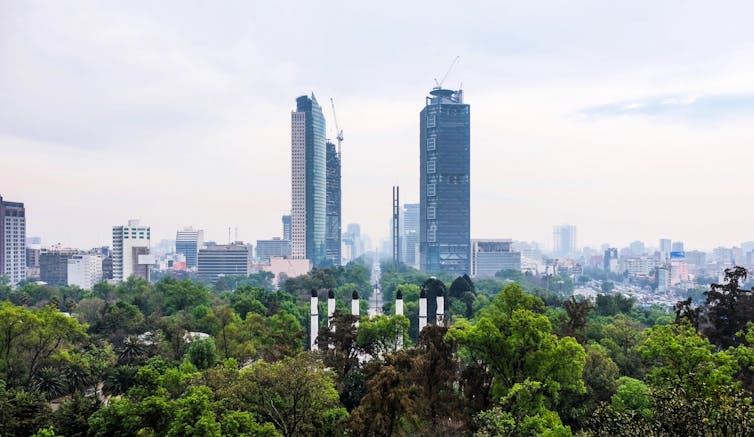 Meanwhile, those living on the city's outer edges typically endure poor public transport links, decreased public safety, less prosperous businesses and a lack of economic development opportunities. These differences have created visible divisions between high- and low-income areas.
---
Read more: Q&A: how cities can recover from natural disasters
---
After the second earthquake struck, these divides became even more striking. The federal government declared 16 municipalities in central Mexico City to be a disaster zone. This allowed local authorities to access human, financial and logistical resources, to undertake emergency measures to protect and preserve human lives and infrastructure, with help from the federal Natural Disaster Fund Trust (FONDEN).
The decision was based on subjective estimates by the federal, State of Mexico, and Mexico City authorities, based on the number of casualties and the amount of damage sustained in each of the two states which make up Greater Mexico City. It did not take into account the immediate and long-term needs of the communities throughout the city as a whole. As a result, municipalities on the outskirts of the city lost out on federal assistance.
Back to normality?
For instance, the municipality of Nezahualcóyotl – a densly-populated, low-income commuter town – requested that state and federal authorities declare it a disaster zone, so that it could access FONDEN funds.
At face value, its request seems unwarranted. There were no casualties, and only four people were injured in the entire municipality. Yet the earthquakes took a heavy toll on local infrastructure. Nearly 3,200 households were affected by the earthquake, about 2,700 of them sustained heavy damage, and some will need to be demolished.
The underground water network also sustained damage, which has prevented locals from getting safe, potable water delivered to their homes. The underfunded local authority – which struggles to provide adequate public services even in times of normality – could take a very long time to rebuild the damaged infrastructure.
The federal government's insistence on using state boundaries to determine which areas need emergency funds after natural disasters prevents a swift return to normal life. Disaster-struck municipalities right across Greater Mexico City initially lost out on federal help. It was only when the State of Mexico government publicly called on the federal government to act, that other affected areas bordering central Mexico City received FONDEN resources to tackle the aftermath of the earthquakes.
Beyond boundaries
Clearly, it's time to look past administrative boundaries, to develop fairer and more efficient policies which improve the city's response to earthquakes, and promote the long-term well-being and safety of its inhabitants.
Instead of relying on a boundary-based model – where decisions to invest in public infrastructure are made with a view to securing returns through increased tax revenue or economic growth – the governments of Greater Mexico City will need to develop a better strategy.
---
Read more: This is not a drill: how 1985 disaster taught Mexico to prepare for earthquakes
---
This will require more cooperation, collaboration and - most importantly - sharing of information at all levels, to connect the city's multiple authorities with its residents and businesses. Government preparedness for, and responses to, natural disasters should not stop at municipal borders.
A good first step would be to approve the Civil Protection General Law for the State of Mexico, which was presented back in 2012 but has not yet been amended or passed into law. This would bring in immediate changes to enhance the readiness and safety of Greater Mexico City.
It would force the State of Mexico governments to install public alert systems, so that all the inhabitants of Greater Mexico City – not just those in the centre – can hear the early warning signals. Currently, such devices are installed in federal buildings throughout the State of Mexico, but not in busy public areas as in central Mexico City.
A step as simple as installing loudspeakers connected to the national early warning systems in public areas across the whole of Greater Mexico City – not just the centre – would be an important step towards ensuring the safety of all residents when the next big earthquake strikes.