Achievements by the ABC to significantly increase levels of local drama, comedy, documentary, Indigenous and children's content, as well as expand partnerships with independent production houses and creative talent, have in recent years been reversed.
The problem lies with a lack of governance, an inadequate, outdated Charter and the ABC's poor relationship with the independent production sector.
Between 2006 and 2009, the Howard and Rudd governments increased ABC TV's budget by almost 30%. The new funding was for additional Australian content.
It was provided by government in support of a clearly articulated policy-based proposal and strategy. The ABC would increase levels of Australian drama, documentary, children's and Indigenous content. It would work productively and in partnership with the independent production sector. Finally, it would engage strategically with federal and state funding agencies to finance its expanded slate of Australian content, including outside Sydney and Melbourne.
The extra funding was provided in the context of Australia's national screen policy framework. It resulted in a significant increase in the volume, diversity and quality of new Australian programs delivered to ABC TV audiences.
In the realm of drama, there were stories about remarkable Australians (Mabo) and intelligent but off-beat comedy-dramas (Rake). For the first time, Australian producers and creative teams worked in the traditionally British-dominated murder-mystery genre, bringing an idiosyncratic Australian flavour to shows such as The Dr Blake Mysteries and Miss Fisher's Murder Mysteries.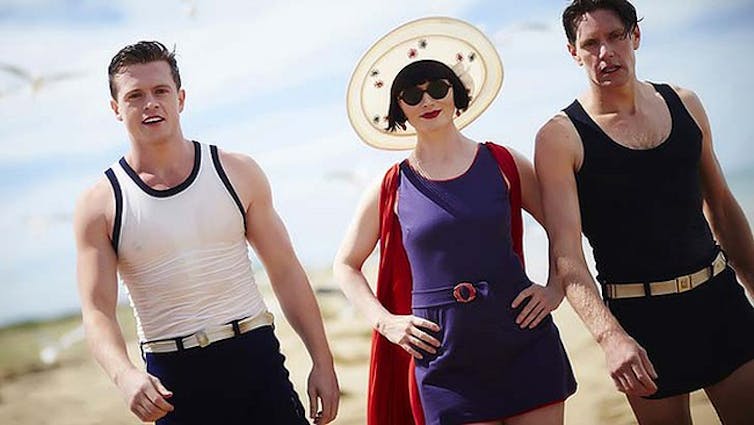 By 2012–13, the ABC was commissioning and broadcasting around 15 hours of high budget history documentaries each year. It also launched a dedicated children's channel and increased the breadth, depth and Australianness of its children's programming. Audiences responded positively.
But in the past few years, it has has become clear that this was a passing moment in the history of the ABC.
Beginning in 2013, before any cuts imposed by the Abbott government, the ABC started and then continued to reallocate funds provided to it by government exclusively for extra Australian adult and children's content.
These changes occurred largely in a cone of silence. The ABC ultimately is not called to account over publicly taking money from government on the promise of 50% Australian content on its children's channel, only to privately decide that 25% is enough.
In the area of natural history, within a few years the ABC had moved from commissioning six to eight documentary programs a year to none. Audiences flock to the ABC to discover the wonders of our flora and fauna, but when nothing is offered they have no choice but to watch another UK import. The last first release, ABC-commissioned natural history program to go to air was the three-part series Life On The Reef, which was originally broadcast almost two years ago.
Similarly, the ABC could bask in positive reviews for its standout Indigenous drama Redfern Now only to quietly shift money away from this area a few years later. In the absence of formal disclosure it is difficult to report an exact figure. But it is likely that the Indigenous commissioning budget has been reduced by at least 10%.
There is little or no consistency or transparency around the reporting of any of this. And the government has no mechanism through which it monitors or establishes requirements for the ABC's performance in regard to its Australian content or its engagement with the independent production sector. To do so would immediately lead to a chorus of claims about infringement of the ABC's independence.
A profound disconnect
A profound disconnect exists between the ABC, public policy settings around Australian screen content, and the ABC's contribution to Australian culture and identity. Our most significant cultural institution is also vulnerable to unilateral internal change – contrary to stated government policy, and in the absence of any public discussion or review.
Australia has a public policy framework to ensure that Australian audiences have access to Australian programs on free-to-air and pay TV television services. This framework includes measures to develop and sustain a production and creative sector that is able to make these programs.
Yet the ABC, Australia's largest and most important cultural institution, stands outside and at times fiercely rejects any association or engagement with the policy debate, the evolving policy framework and, more generally, the screen production sector.
Any attempt to bring the ABC into this policy paradigm is opposed by the institution itself and many of its well-meaning supporters as an encroachment on its independence.
To achieve its public responsibilities, the ABC requires a governance structure within which its public purpose is clearly articulated and set by government. Under this structure, certain outcomes should be clearly established and the normal high standards of public sector accountability and transparency mandated and adhered to.
At present, the ABC's self-proclaimed and all-encompassing independence causes it to exist in a state of isolation, untroubled by debate about its role within the Australian broadcasting and cultural sectors.
The changes we are seeing in our media landscape are profound and fast moving. The ABC as a public broadcaster is in the privileged position of being able to engage actively and innovatively with this new digital landscape, free from commercial constraints. Its role as a provider of Australian stories and as a supporter of our local production sector can only grow in importance.
But it is operating outside of any public policy framework to ensure a commitment to Australian content and the production sector that creates it. And it has shown its disregard for this content, disdain for the production sector and disinterest for the adult and children's audiences that like to watch Australian programs.
The evidence before us clearly demonstrates the need for urgent action and an agenda for change.
Kim Dalton is the author of the new Platform Paper Missing in Action: The ABC and Australia's Screen Culture published today by Currency House. He is also addressing the Currency House Creativity and Business Breakfast on Wednesday 17 May at the Museum of Contemporary Art in Sydney with tickets available here.