On May 26 2014 Narendra Modi's BJP was swept to power with the largest electoral majority in forty years. The scale of the victory was partly a product of his astute campaigning and effective use of social media. It was also driven by profound concerns about economic stagnation, endemic corruption and a sclerotic state.
Congress had been in power for a decade and had shown little capacity to deal with India's long-running problems, indeed there was a widespread sense they had exacerbated many of them. Modi campaigned as an energetic "can-do" outsider who would bring to India the economic magic he had woven during his time as Gujarat's first minister.
The prime minster's in-tray is of epic proportions. There are huge expectations that he will re-energise the economy, oversee huge infrastructure investment, improve the workings of government and tackle corruption. As a result one might have expected Modi to be largely tied up at home during his first year. Yet, surprisingly, the opposite occurred.
Modi has been among the most active leaders on the international stage. In his first 12 months, he has spent 52 days abroad visiting 19 countries. Critics of the government see this whirlwind of personalised diplomacy as a manifestation of the prime minister's narcissism and tendencies to self-aggrandisement. While others have said his travels serve as a useful distraction from the government's meagre economic achievements.
Selling India
While even his admirers concede he has a touch of the megalomaniac, there is a larger logic of India's much more active and visible international engagement. If Modi's trips appear to have a theatrical quality it is because he is self-consciously performing the role of world statesman to signal India's confidence and sense of purpose. This is part of a much larger ambition for India to have an international weight befitting the world's second largest population. Equally, the international environment has become very fluid due the growth of non-Western power sources. Modi's foreign dealings are intended to improve India's ability to position itself in this more uncertain environment.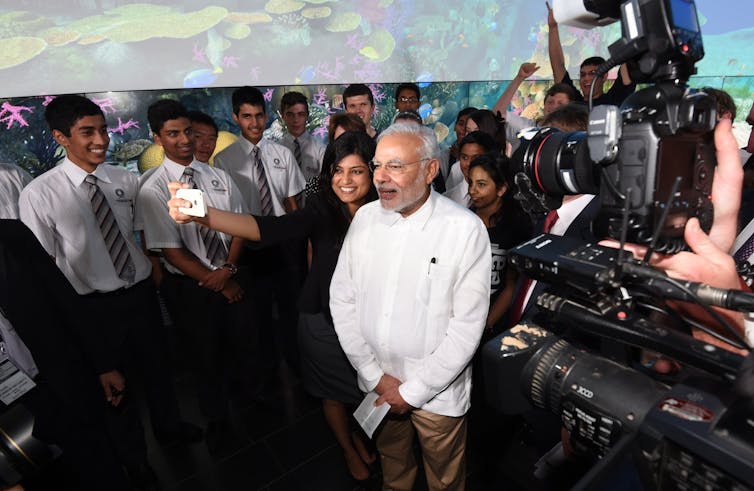 But the most important reason behind Modi's hyperactive foreign travel is that it is a vital component of his domestic agenda. The initial phase of India's economic revival, which began in the early 1990s was achieved not by the kind of selective engagement with the global economy that was so important to China. The prime minister is acutely aware of the need for an international focus if India's economy is to make good on its potential.
Modi's "Make in India" campaign is as notable for its sharp imagery and catchy phrasing as it is for its centrality to the PM's ambitions for India. The economy needs to produce millions of new jobs every year just to meet population growth - economic expansion will require even more. Increasing manufacturing's share of the economy from its 16% level is crucial to this aim. The government wants it to account for a quarter of the economy by 2020. To achieve this it is betting heavily on the campaign's ability to attract foreign investors to set up manufacturing bases in the country. Modi's overseas visits are about selling this idea to global businesses.
The second target for Modi's international economic ambitions are one of the country's most important assets – the Indian diaspora. Currently around 27 million people of Indian origin live abroad. Through tens of billions of dollars in remittances they already contribute significantly to Indian GDP. It is not by accident that when Modi visited Australia, the UK, the US and Canada, carefully choreographed public events were arranged to engage with and energise Indians abroad.
The government hopes to use the diaspora to invest and in some cases bring ideas and know-how back to India. It is also hoping to cultivate influential groups that can act as advocates on India's behalf. In this sense India is taking a leaf out of China's playbook; overseas Chinese are among the biggest investors in the PRC, and have helped Chinese firms go abroad.
The final aim of Modi's foreign travels is the traditional desire to promote trade. In some cases the government has sought specific agreements to correct large bilateral imbalances, such as agreements signed with South Korea to prompt investment in Indian infrastructure projects and manufacturing. In others, visits have triggered movement on larger agreements to try to jump start the broader economic relationship, such as the negotiations on a free trade agreement with Australia.
In one year Modi has become a figure of global importance. His extensive travels in many ways embody his political ambition. He knows his political success depends on his government's ability to deliver economically. This in turn requires successful engagement with the global economy. The problem so far is that the energy shown abroad has not been matched by the requisite zeal for domestic economic reform. After all, an energised and enthused businesswoman in Toronto will have to be convinced by more than Modi magic to invest in a country ranked 142nd in the World Bank's "ease of doing business" list. The international is crucial to the prime minister's agenda but it is at home where the real work needs to be done.
---
Read the other pieces in our Modi one year on series here.