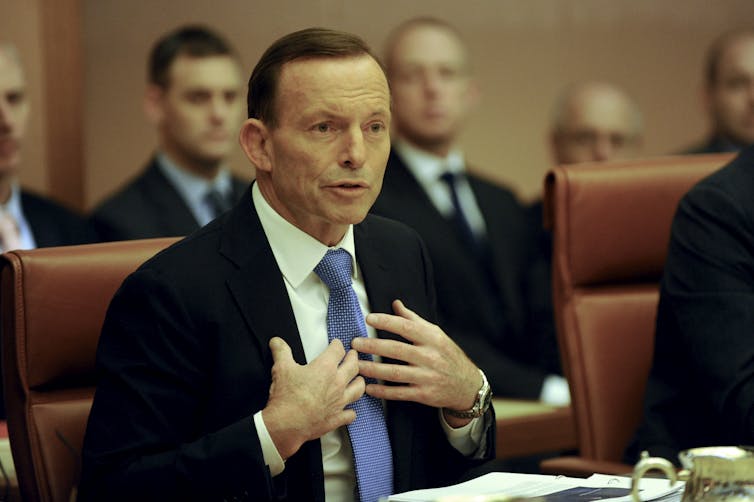 Cabinet minister Christopher Pyne has proposed a drastic change in the rules covering political donations. Pyne on Sunday said organisations – including trade unions and corporations - should be banned from giving money; only individuals should be allowed to do so.
Such a move would transform the funding landscape. Liberals calculate that it would hit Labor harder than the conservative side, because of the ALP's heavy dependence on money from the trade unions.
When the NSW Liberals brought in such a provision, the unions managed to have it struck down by the High Court.
But whatever one thinks of the Pyne proposal (which Malcolm Turnbull also floated some years ago), it's clear both political donations and the role of lobbyists are becoming big issues in Australian politics, and not just in NSW.
They are also among the more intractable, because scams will be developed to try to get around any reform. Much of the NSW Liberal wrongdoing being exposed was to circumvent toughened regulation. Labor legislation, notably the ban on donations from property developers, is what Liberals now in the gun were avoiding.
The most recent revelations in NSW, embroiling a swathe of Liberals and bringing down premier Barry O'Farrell, have seen his replacement, Mike Baird, promise to do everything needed for a clean-up.
But federally too, action is required - to help shore up state attempts, and also because the increasing trend to commercialisation of political access will almost inevitably end up triggering federal problems.
This commercialisation has brought the intersection between government and business into sharp focus.
The lobbying industry in Canberra has become very extensive and its participants change when the government does. In anticipation of Tony Abbott's election, its colour turned bright blue, with Coalition ex-staffers recruited, firms re-orienting their structures and new Liberal-leaning entrants appearing.
It's commonplace now for parties to sell access to politicians, including through high-priced intimate soirees, especially in the run-up to an election.
Business people attending next month's Liberal federal council in Melbourne (or next year's Labor national conference) will pay thousands of dollars. In return they will get briefings and the opportunity to chew frontbenchers' ears. Such charges to watch these gatherings were once unheard of.
Donations often grease the wheels of influence and access, yet legislation by the federal Labor government to lower the disclosure level (now more than $12,400) to $1000 and make disclosure more timely was stymied by the Coalition opposition. Obviously those reforms are needed but parties play hardball on anything they think will disadvantage them.
The bids to buy influence in NSW have put new life into the question of whether elections in that state or elsewhere should be entirely publicly funded.
In theory, it might look attractive; in practice it would encourage third-party groups to raise and spend a lot more money, and might run into free speech problems.
The role of lobbyists didn't seem to worry Tony Abbott in opposition; he rejected pressure from Clive Palmer, then still a member of the Liberal National Party, to curb them.
Suddenly in government it became an Abbott concern. The Prime Minister declared people could be either lobbyists or party officials or not both, which led to the resignation of a number of people from Liberal party posts. Even Liberals think this has not fully dealt with the problem of those with inside political knowledge getting a business break from it.
It's clear more should be done on a wider front.
There is a federal register of lobbyists but it does not cover those in companies holding the title of "government relations manager" and the like, who seek favours, or some who may dub themselves "strategic consultants" rather than lobbyists. Nor does it give detail of the timing, frequency and nature of representations.
NSW has seen shocking behaviour by some players on both sides of politics. Federal politics has, on the whole, been relatively "clean". But the Independent Commission Against Corruption revelations are an important warning of what can happen: they reinforce the need for electoral funding changes to make the money trail more transparent, and for the activities of lobbyists, broadly defined, to come under a much brighter legislative spotlight.
Listen to the new Politics with Michelle Grattan podcast with shadow assistant treasurer Andrew Leigh here.