Mayor of London, Sadiq Khan, recently pledged to increase the use of police stop and search powers to tackle knife crime. He acknowledged that such tactics cause tension, but insisted that the powers were a "vital tool for the police to keep our communities safe."
But there is little support for this claim. The government's own research found scant evidence to suggest that weapon stop and searches reduced crime, supporting the findings of other studies on the effectiveness and efficiency of stop and search in general.
A police officer must have reasonable grounds to suspect that a person is in possession of a stolen or prohibited item in order to conduct a lawful stop and search. But a 2013 report by HM Inspectorate of Constabulary found that an "alarming" 27% of recorded encounters did not include reasonable grounds to search people. Officers rarely face meaningful sanction for failing to meet this relatively low threshold.
Following major reforms instigated by Theresa May when she was home secretary in 2014, the number of stop and searches has been falling in recent years. In the year to March 2017, the numbers fell 21% overall, down to 303,228 – the lowest level since data collection began in 2002.
But there are still ethnic and racial disparities in who is being stopped – black people are now eight times more likely to be stopped and searched than white people.
There is a well-established body of evidence to suggest that stop and search contributes to the marginalisation, and criminalisation, of people – particularly those from disadvantaged communities or black, asian and ethnic minority backgrounds – who are most vulnerable to police attention.
The impact on young people is especially worrying. A Scottish study found they reported feeling anxious, angry and harassed as a result of unwarranted stop and searches. Other studies indicate that over-policing actually encourages offending, by labelling people and amplifying their perception as potentially criminally "deviant".
Researchers also argue that the tactics have a "corrosive impact on social solidarity", leading to "feelings of exclusion, resentment, distrust of the police, alienation, social and political disenfranchisement".
Defending stop and search
Khan is not alone in expressing an almost mythical faith in the power and legitimacy of stop and search. In 2017, one of the first actions of the incoming Metropolitan police commissioner, Cressida Dick, was to offer her support for the use of stop and search in tackling knife crime.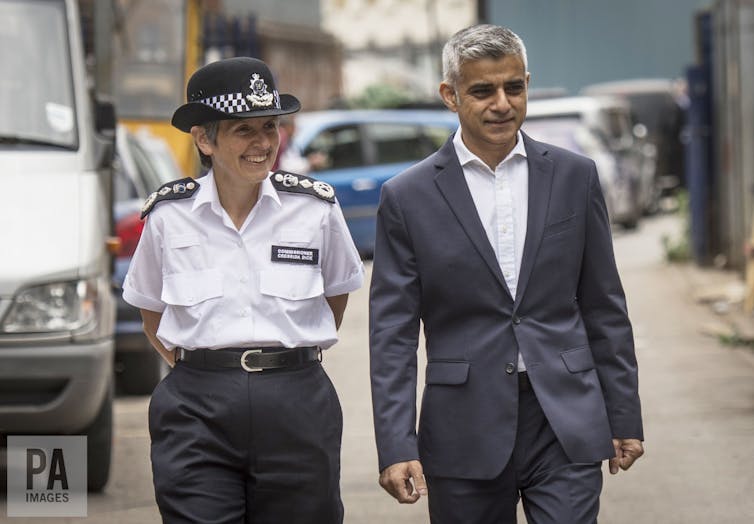 In 2006, the House of Lords ruled that the use of powers under the Terrorism Act 2000, which allows searches without reasonable suspicion, was lawful – even though the European Court of Human Rights subsequently found that such powers breached the Convention on Human Rights.
The use of section 60 of the Criminal Justice and Public Order Act 1994 to stop and search a black woman on a bus was ruled acceptable by the Supreme Court in 2015. The presiding judge said that such powers provided "great benefits to the public", particularly to black people since "it is mostly young black lives that will be saved if there is less gang violence in London and other cities".
The defence of stop and search is more intelligible once the powers are understood less as a crime-fighting tactic and more as means of enabling the police to contain and discipline those considered most threatening to the social order.
Khan's comments also drew on the emotional resonance of the powers. The politics of policing is about making people feel safe as much as it is about reducing offending, even if that means marginalising and excluding "undeserving" suspects.
A colonial legacy
Stop and search has a long history. In England and Wales, the powers are understood to have originated in the 1824 Vagrancy Act and in the 1839 Metropolitan Police Act. But the surveillance and detention of "foreign" populations were also part of colonial policing tactics in the Caribbean, India and Africa, which were subsequently turned inwards to govern racial minorities at "home".
The principles of preventative policing informed the creation of colonial police forces in places such as Colombo, Sri Lanka, and Bombay, India, before the establishment of the Metropolitan Police. Stop and search powers in other parts of the world, such as Southern Africa, also have their roots in colonialism and slavery, having developed from laws against vagrancy.
Researchers and campaigners have long argued for reform of stop and search powers, including recent calls for more robust safeguards for under-18-year-olds. But the political currency and emotive appeal of stop and search has proved irresistible in the face of damning evidence about its utility and impact.
Given the perennial failure to implement change, perhaps a wholescale redrafting of legislation – including a more onerous threshold than the current requirement of "reasonable suspicion" – remains the most viable solution.
Maintaining the fantasy that stop and search provides an effective solution to the complex social and cultural problem of knife crime is, at best, wishful thinking and, at worst, an investment in the corrosive policing of marginalised communities.