Musculoskeletal pain (such as low back pain, osteoarthritis, neck, knee and shoulder pain) is the number one cause of disability in Australia and affects 28% of Australians. It is one of nine national priorities in health.
Some 20% of Aboriginal Australians suffer long term musculoskeletal pain and to date it has received little attention or recognition.
Aboriginal Australians face many pressing health issues including a substantial gap in life expectancy. Musculoskeletal pain does not commonly contribute to reduced life expectancy, unlike other conditions such as heart disease, diabetes, lung disease and cancer.
It makes sense to direct resources toward conditions that reduce life. But musculoskeletal pain causes substantial disability and suffering and is often present alongside other long term health conditions that cause death. For example 41% of individuals with heart disease and diabetes also report arthritis, and 29% of people with diabetes report back pain.
Musculoskeletal pain may prevent people from managing their other health issues. For example a person who has heart disease may not be able to exercise (which is a cornerstone of management) if they have a painful back or a stiff, painful osteoarthritic knee.
Musculoskeletal pain in Aboriginal people is an area that hasn't received enough attention. This could be based on a couple of enduring myths.
Myth 1: musculoskeletal pain has less of an impact on Aboriginal people
Something we've often heard in clinical practice is that Aboriginal patients put up with pain, that they are tough, and inherently stoic. This has also been reported in research. For example a 1958 study stated Aboriginal people possess a "stoic indifference to pain, often commented on and displayed".
Another study of low back pain in a remote central Australian community concluded that, despite almost half of community members reporting back pain when asked, few community members complained about it, ostensibly because low back pain was not considered to be a health issue.
However these findings differ markedly to what we have found. In one study we talked to Aboriginal people about their low back pain. Aboriginal men and women talked about the impact of their pain on employment and sport (particularly men), family, daily functions, their emotions and cultural participation.
Cultural participation included the inability to "go bush" to connect to country and hunt, attend funerals, or cultural meetings. Another study found 8% of residents in a Queensland semi-rural community were limited in their activities due to musculoskeletal pain.
Aboriginal people are 1.5 times more likely to have osteoarthritis than non-Aboriginal people, and have an overall higher burden of disease. This means instead of less impact, musculoskeletal pain is likely to be more complex and be of greater impact.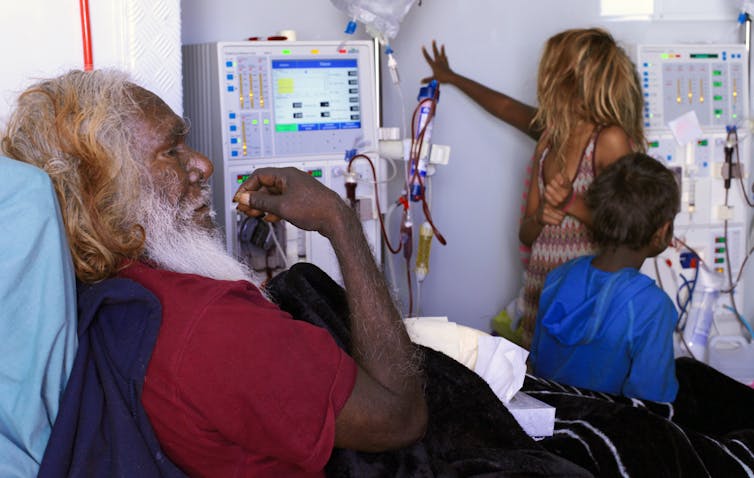 Myth 2: Aboriginal people don't want to access care
Health access data would appear to support the myth that Aboriginal people with musculoskeletal pain don't want health care. Compared to non-Aboriginal Australians, Aboriginal Australians are less than half as likely to see a GP for knee osteoarthritis. They're also between one fifth to one half as likely to have hip or knee replacement surgery due to osteoarthritis, and 0.8 times as likely to be hospitalised for musculoskeletal pain.
But reasons why Aboriginal people aren't accessing care become more evident when you look at their experiences of health care for musculoskeletal pain. Experiences are often, but not exclusively, negative and this deters Aboriginal people from accessing care.
We found poor quality or an absence of communication was a major reason Aboriginal people with low back pain chose not to access care.
Another study found the attitude of health professionals deterred Aboriginal people from reporting pain, especially when Aboriginal patients felt they were being stereotyped or stigmatised.
Thus current evidence points to issues in the way care is delivered, rather than Aboriginal people with musculoskeletal pain not wishing to access care in itself.
What does this mean for musculoskeletal pain?
There needs to be more of a focus on musculoskeletal pain in Aboriginal communities. Researchers and health services need to examine the quality of care provided to Aboriginal people. For example a recent study found Aboriginal people were 2.2 times more likely to be prescribed opioids (pain killers such as codeine) by GP trainees than non-Aboriginal patients. This is a concerning finding given the epidemic of opioid dependence.
Health care services and practitioners need to critically examine how they are providing care. Ways of working in Aboriginal contexts including more effective communication and realigning services to be more culturally secure for Aboriginal people. This means health and community services are delivered in a way that ensures Aboriginal cultural rights, views and values are maintained.