The arrest of five serving members of the British army on September 5 under suspicion of being members of the banned neo-Nazi group National Action sends a worrying signal about the recruitment of young people to extremist ideology.
National Action was proscribed using terrorism legislation in December 2016 – the first time in British history that belonging to a far-right group had been outlawed. It is now a criminal offence to be a member of the group, invite support for it or help organise any meetings. It is also a criminal offence to wear clothing linked to the group, and to carry or wear its symbols or insignia.
The group was banned following an assessment that it was "concerned in terrorism". A few months earlier, the only statement made in court by Thomas Mair – the convicted murderer of former Labour MP Jo Cox – was "Death to traitors, freedom for Britain", a slogan that featured prominently on the group's now defunct official website.
A distinctive ideology
I carried out research on National Action before the group was banned and much of its public profile was removed.
Unlike other more prominent British far-right groups, such as the English Defence League (EDL) and Britain First, National Action is committed to "traditional" Nazism. Describing itself as a National Socialist movement, the group glorified Adolf Hitler and the Third Reich, routinely using quotes from Mein Kampf alongside Nazi images and symbols on its banners and publicity materials.
From this emanated overt expressions of antisemitism, homophobia, racism and discrimination against disabled people, among others. From the words of its leaders and also on its website, the group spoke candidly about the need to "save" Britain, "our" race and "our" generation, along with a stated aspiration of establishing a "white homeland" in Britain.
In its commitment to traditionalism, National Action rejected groups such as the EDL on the basis they were unnecessarily populist and so failed to offer Britain's youth an authentic and true expression of Nazi ideology. Not only did this include the group seeking direct confrontation with EDL members on a number of occasions but it meant the group focused its ire on Jewish communities and Judaism rather than Muslims and Islam.
Youth recruitment
As a proclaimed youth organisation, National Action claimed to provide a much needed space where young nationalists could network, engage socially and be creative. While the number of supporters is difficult to gauge, despite typically attracting no more than 50 supporters to its demonstrations it had a much wider reach online.
Deploying social media to good effect, most innovative was how the group sought to tap into street culture. Disseminating images that routinely showed Nazi insignia alongside logos by those such as Nike and Adidas, it encouraged its supporters to adopt a distinctly street-style: all black branded, including the latest trainers and caps.
While much of the emphasis was on young men, National Action also sought to appeal to young women – albeit in quite bizarre ways. Possibly the most unusual was the Miss Hitler competition that encouraged female supporters to send in selfies along with answers to a handful of set questions. With names that including A Bus Full of Retards, Eva Bin Gassin, Lady of the Lolocaust and Galloping Gestapo, some of the young women expressed extremely traditional ideas about women and their perceived role "at home raising children".
Spreading hate
The group has a real propensity for violence and hate, evident in the actions of two of its sympathisers Garron Helm and Joshua Bonehill-Paine. After sending antisemitic tweets to the Labour MP for Wavertree, Luciana Berger, including a photo of her with a Star of David on her forehead alongside "#Hitler was right", Helm was sentenced to four weeks' imprisonment in 2014.
Deeming this to be unfair, Bonehill-Paine subsequently posted various articles about Berger on the Daily Bale website (Bale is an acronym for "Britain Against Left-wing Extremism") calling her a "rodent" and "money grabber" among others. He was also convicted and sentenced in December 2016 to two years imprisonment for racially aggravated harassment.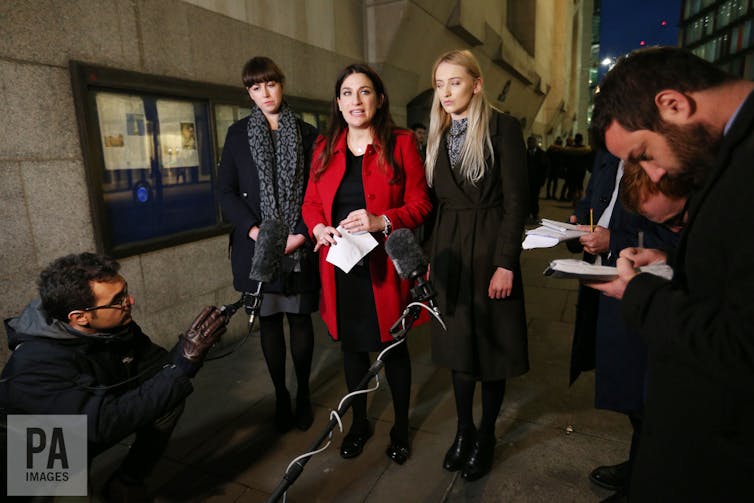 National Action unequivocally stated that it was non-violent and distanced itself from Helm and Bonehill-Paine and Cox's killer Mair on its website before the site was taken down after banning. But it regularly spoke about the need to prepare for "self-defence" and for its supporters to undergo combat training. Most overt was its declaration that National Action was "not afraid to swing the bat at the enemy" – and it had many of these.
Given the new arrests of the serving army members were intelligence-led it would seem that National Action has continued in some form or other in spite of being proscribed. This is not unusual as many of the groups banned under the same legislation have continued to operate by merely reforming with a different name. For example, the Islamist extremist group Al-Muhajiroun was banned in 2005 but continued to function until 2014 by repeatedly changing its name. It has recently been linked to around half of all Islamist-inspired terror in the UK.
What is slightly different here is that it seems National Action has continued to use its name albeit with some alternatives, for instance Scottish Dawn and NS131. Also worrying is the prospect of extreme neo-Nazi groups actively seeking to recruit servicemen. While no evidence of this currently exists in the UK, something similar was alleged earlier this year in the US.
We will need to await further details before drawing any conclusions. As many have been stating for some time, we underestimate the threat of the extreme far-right at our peril.