Two Nationals crossed the floor and four others, including three cabinet ministers, failed to vote on a motion from Liberal Democrat David Leyonhjelm to disallow the import ban on the Adler lever-action shotgun.
Senators John Williams from NSW and Victorian Bridget McKenzie voted with Leyonhjelm and One Nation against the ban.
Nationals deputy leader Fiona Nash, their Senate leader, Nigel Scullion, and Matt Canavan were missing, as was backbencher Barry O'Sullivan. This meant no Nationals voted against the motion, which was defeated 45-7.
Nationals sources explained the absence of ministers by saying the vote was a "mickey" – that is, a division in which the major parties vote against a minor party (and so the numbers are not close). But Liberal ministers George Brandis, Arthur Sinodinos, Scott Ryan and Mitch Fifield voted.
Leyonhjelm has accused the government of breaking a deal he had for the ban on the importation to be lifted earlier this year. A sunset clause was inserted when Tony Abbott was prime minister – although Abbott denied personal knowledge of it – but the ban was maintained by the Turnbull government.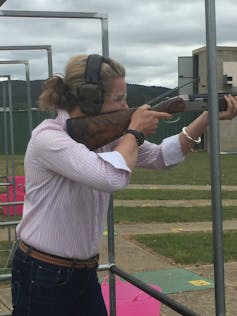 The floor crossing came as the Nationals reel from the byelection in the NSW of Orange, which saw a devastating wipeout for the state Nationals. On Monday the Shooters, Fishers and Farmers Party secured the seat by 50 votes. The Nationals suffered a massive 34% swing on primary votes.
The Herald Sun reported that in the two-hour meeting of the federal parliamentary party, there were concerns about the direction of the Turnbull government, the rising threat from One Nation, and the amount of time some Liberals were spending talking about "fringe issues" such as Section 18C of the Racial Discrimination Act.
The Nationals were divided over the issue of foreign workers – Queensland National George Christensen has publicly criticised the 457 scheme but some Nationals argued regional Australia depended on these workers, according to the report.