Australian urban design has historically focused on providing and improving access to public green spaces. As cities increase in density, this is a crucial part of creating healthy, engaged communities. But Australian urban designers often fail to consider the "other half" of public space – the town square.
Public squares or plazas were, and are, the centres of daily public life in many European towns and cities. Today they still influence the perception of place and help shape local identity. In Australia, Federation Square is an outstanding example of a space where Melbourne comes together.
---
Read more: Like it or loathe it, here's why Apple doesn't need a planning permit for its Fed Square store
---
However, public plazas need not be limited to the city centre. Social isolation is a major health concern in both suburbs and cities. Public spaces that offer opportunities for incidental interactions help build healthier and less isolated communities.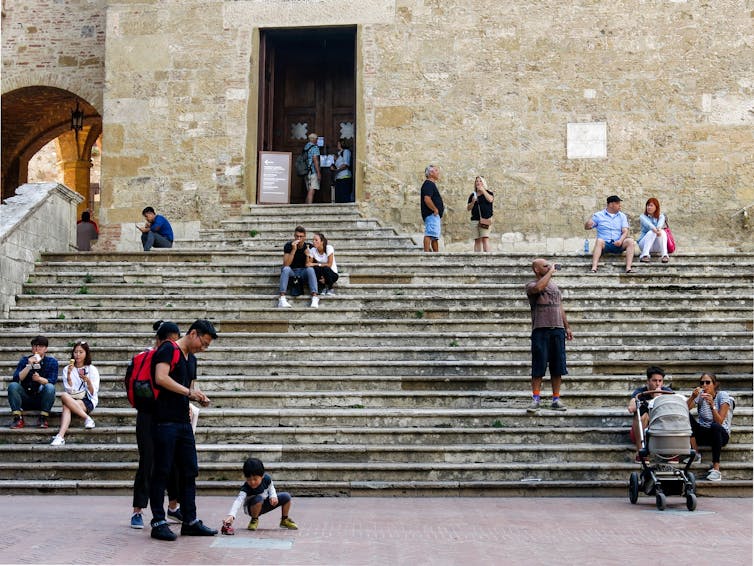 There's more to public space than green space
In Australia, priority is given to green space – sporting grounds and parks. These are often segregated from the "flow" of a community. Of course, green spaces provide a necessary escape and respite, but they should not be considered the only way to provide community space in our suburbs.
When done right, plazas are nodes of vibrancy. Places like this are needed alongside green open spaces to accommodate unexpected and planned events and enrich the everyday life of communities.
Plazas accommodate a broad variety of activities, bringing people together without separating them from the street. Successful plazas encourage people to travel across them. This is achieved by embedding them within the street network.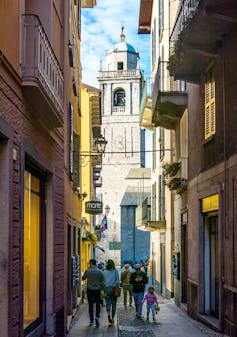 Especially evident in historic European towns, the approach to a plaza may be through windy, tight streets with limited direct sunlight. This makes the open, sunlit space of the square a welcome change. At entry, a momentary slowdown and a catching of breath occurs as the diluted intensity offers relief from the busy streets just passed and often teeming with tourists.
Plazas are a visual and psychological marker within the street network. They help us navigate the city and contribute to the identity of an area.
And by acting as neighbourhood living rooms, these shared spaces offer a place for residents to sit and meet, sometimes incidentally. A sense of community and belonging is fostered slowly in these spaces as formal and informal connections grow.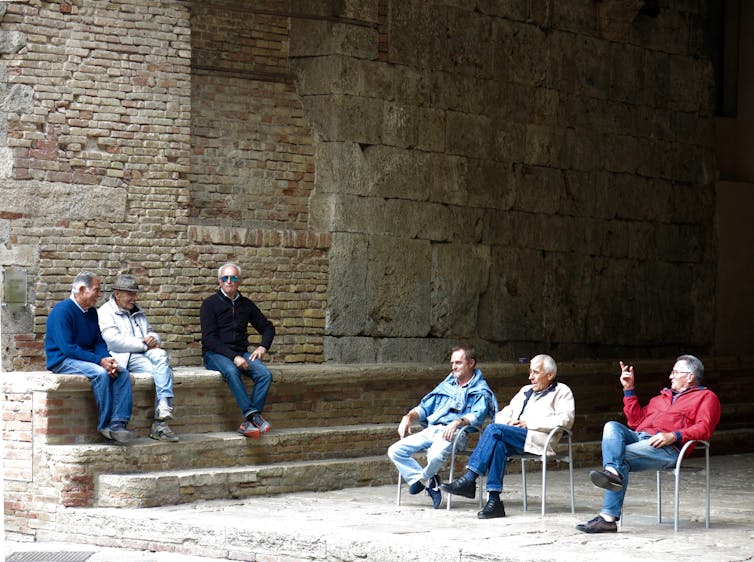 What makes a good plaza?
Characteristics of successful plazas vary, but a set of basic conditions exists.
Influential architect and design theorist Christopher Alexander suggests that squares should be made much smaller than first imagined. This maxim holds true in many modern cities where overly large squares become empty, windswept voids, such as Praça dos Três Poderes in Brasilia.
Designers need to consider a balance between accommodating large gatherings and the likely number of occupants at most other times. Providing for relative intimacy will ensure that spaces are inviting and feel lively.
---
Read more: People love parklets, and businesses can help make them happen
---
As Jan Gehl notes, for a neighbourhood square to function, faces need to be recognisable. Face recognition occurs from a distance of about 70 to 50 metres. At 25m, facial expression and details are understood.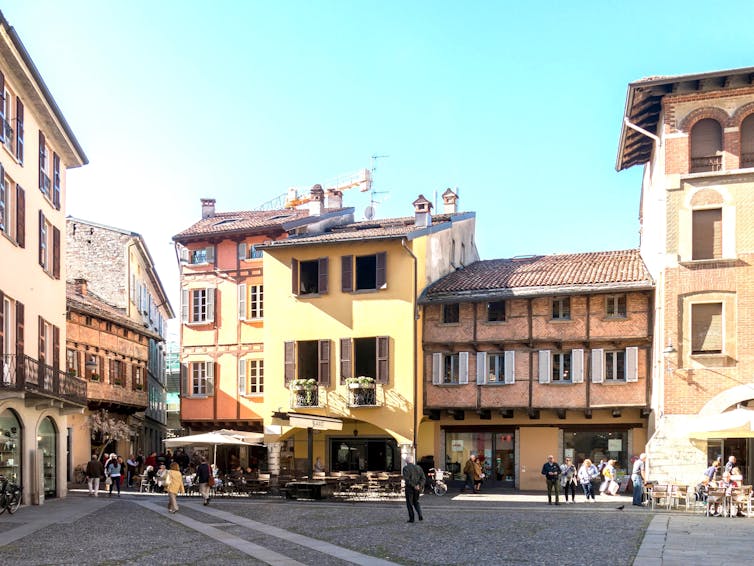 Locating a square at a confluence of streets will ensure that it is connected to the surrounding area and is a desirable thoroughfare.
The edges of the space are critical in supporting a lively atmosphere. Ground floors of surrounding buildings should house various attractions to provide pockets of activity. A mixing of functions will ensure activity from morning through to late in the evening.
---
Read more: Contested spaces: living off the edge in a city mall where design fuels conflict
---
Protection from negative sensory influences, such as sun, traffic or rain, is important for creating a pleasant and comfortable environment in which people wish to remain. Formal and informal seating, such as steps or building ledges, should also be provided.
Alongside elements, such as fountains and play areas, that provide a focal point, varied shop windows, building materials and design can provide visual complexity. All these elements help create a rich, inviting and memorable place.
The recently completed Greville Street upgrade in Prahran, Melbourne, shows a change in attitude within Australia's approach to suburban development. Greville Street has become a shared zone with a new small square connected to Grattan Gardens.
The square offers a variety of convenient places to sit and people-watch, as well as respite without disconnection. When the fountain is running, children and pets playing with water jets provide entertainment for all.
---
Read more: People-friendly furniture in public places matters more than ever in today's city
---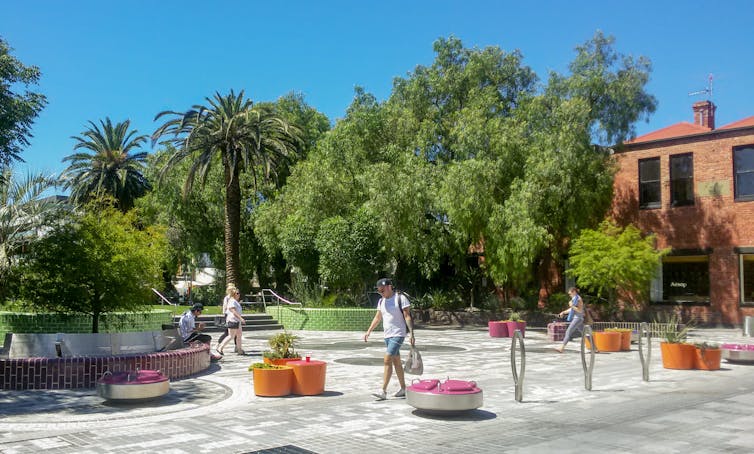 Gehl observes:
Whether people are enticed to walk around and stay in city space is very much a question of working carefully with the human dimensions and issuing a tempting invitation.
This invitation holds the key to improving physical and mental health, and increasing civic pride. Within these inviting shared spaces, incidental interactions – the momentary glances and shared moments between strangers – can decrease feelings of loneliness and increase a sense of belonging to a community. This is important for general societal wellbeing, especially considering the prevalence of loneliness today.
Successful neighbourhood squares allow for incidental encounters. They encourage lingering and interaction. Most importantly, they bring an area to life and give the community a space in which everyone is invited to participate and belong.