Eight million Australians have experienced violence since the age of 15, according to new findings of the fourth Personal Safety Survey released today by the Australian Bureau of Statistics.
The results confirm that domestic, family and sexual violence remain a national crisis in Australia.
Headline findings show that since the age of 15 years old:
one in four women, and one in 14 men, have experienced intimate partner violence

one in five women, and one in 16 men, have experienced sexual violence

one in three women, and two in five men, have experienced physical violence

one in five women, and one in 15 men, have experienced stalking.
The Personal Safety Survey collected data from 12,000 Australian women and men on the form and extent of violence they had experienced since the age of 15. Only Australians over the age of 18 were surveyed.
This survey is unique because it captures people's experiences from March 2021 and May 2022, during the height of the pandemic. Schools were closed across the country and many cities had extensive lockdown periods with work-from-home mandates that reduced interactions between colleagues.
The gendered nature of violence
The findings provide further evidence that violence in Australia is gendered. Women are more likely to experience all forms of violence within an intimate partner relationship, including physical, sexual, emotional and economic abuse. Men are more likely to experience violence from strangers.
Women are more likely to experience childhood abuse, both physical and sexual, with 18% of women and 11% of men reporting such an experience during their childhood.
How is violence changing in Australia?
The pandemic means the survey findings should be interpreted with caution, and context is key. Many questions, for instance, focused on experiences of violence in the previous 12 months, which for many Australians will have included lockdown periods.
The findings do indicate a reduction in physical and emotional violence experienced by men and women compared to the 2016 findings. There was also a reduction in the prevalence of sexual harassment and stalking.
However, we need to remember the reduced use of public spaces and workplaces during the pandemic, as well as changes in people's lifestyles. This could be a reason why victimisation rates were lower during this time.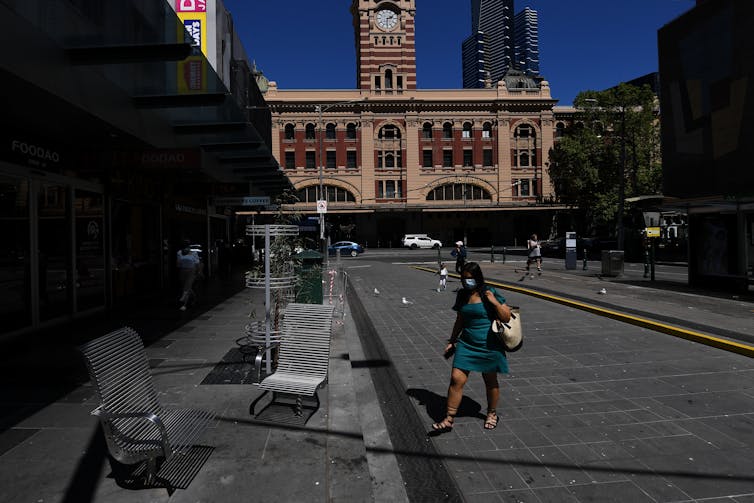 The survey shows, however, that rates of sexual violence remained stubbornly persistent. This highlights the importance of the National Plan to End Violence against Women and Children's commitment to bring "addressing sexual violence out of the shadows".
For the first time, the survey also captured economic abuse by partners who lived together, which is defined as behaviours or actions "aimed at preventing or controlling a person's access to economic resources, causing them emotional harm or fear".
The survey shows that one in six women and one in 13 men have experienced this type of abuse since the age of 15.
Hidden victimisation: what we don't know
Among the limitations of the survey is that it does not collect data specifically on the experiences of First Nations people. Budget commitments have been made for the Australian Bureau of Statistics to develop the first Aboriginal and Torres Strait Islander Personal Safety Survey. This is critically needed.
The findings today also do not capture the rate of violence specifically experienced by Australians with diverse gender and sexual identities, as well as people with disability.
There are also limits in the data collected in very remote areas of Australia. The findings do not provide information about differences in urban and non-urban victimisation rates. In a country as geographically dispersed as Australia, we need these insights.
---
Read more: We're missing opportunities to identify domestic violence perpetrators. This is what needs to change
---
Findings from the Australian Longitudinal Study on Women's Health, for instance, reveal the lifetime prevalence rate of domestic violence is higher in rural, regional and remote areas than in cities.
Also absent are the voices of Australians under the age of 18. Given the National Plan to End Violence against Women and Children's call for children to be recognised as victim-survivors in their own right, this is a notable gap.
Survey participants do reflect on prior experiences of child abuse and witnessing parental violence before the age of 15. It found:
one in six women, and one in nine men, experienced childhood abuse

one in six women, and one in nine men, witnessed parental violence during childhood.
Engaging children in this type of data collection can be challenging, but we need to improve our understandings of their experiences of violence and make space for their voices in national conversations.
It's encouraging to see the survey now including a wider range of harms. For future iterations, however, we also need information about technology-facilitated abuse, including using digital media and devices to abuse, harass and stalk and non-consensual sharing of images.
We must also ensure the survey captures different forms of intimate partner violence that happen within the one abusive relationship. Presently, the survey only records discrete acts and incidents of violence. However, research shows that many abusive behaviours are interconnected and occur as a pattern of abuse.
---
Read more: When it comes to family violence, young women are too often ignored
---
The need for more investment
The survey provides evidence of the scale of the problem of violence in the country. There is an urgent need to bolster funding and initiatives that prevent and respond to all forms of gender-based violence.
Advocates have critiqued the government's commitment of A$386 billion for nuclear-powered submarines under the AUKUS deal. In comparison, less than 1% of that has been invested in tackling violence against women, despite the national plan's pledge last year to eliminate gender-based violence in one generation.
Personal Safety Surveys will continue to document the gendered dimension of violence in Australia and the insecurity of women's lives unless we tackle the underlying causes of violence. This survey must be a call to increase our focus on preventing violence and dismantling gender inequality in all settings across Australia.