Balancing the environment with development is tricky. One way for policymakers to include the value of ecosystems in development is to set limits for pollution and other environmental impacts, known as environmental bottom lines (EBLs). These can be a helpful way of embedding into an economy the value of ecosystems. They also help protect natural assets in order to maintain a sustainable cash flow.
Unfortunately, bottom lines also risk developments meeting limits without actually helping the environment. Bottom lines form a significant part of environmental policy in New Zealand, in particular in the areas of freshwater and greenhouse gas emissions.
Bottom lines should not have as much influence in New Zealand policy as they do. So how can we make better policy that actually helps the environment?
Setting a low bar
The New Zealand government is reviewing its National Policy Statement for Freshwater Management and is emphasising the need to maximise an economic return on fresh water as a commodity.
In addition, the statement identifies various bottom lines for local councils (such as maximum acceptable concentrations of pollutants and/or minimum water quality attributes), as well as mechanisms to protect minimum flows.
The combination of listing bottom lines while looking for the best economic return can lead to perverse outcomes. For example, the proposed Hawke's Bay Ruataniwha Water Storage Scheme would protect water supply for intensifying farming, but increases the risk of worsening the already ecologically crippled Tukituki River.
The bottom-line philosophy is so entrenched that environmental groups recently celebrated a ruling that developers could not pollute a river so badly that it would kill off organisms. A bare minimum standard must be met, but it is not something we should aspire to celebrate.
On the other hand, many regional councils are trying to do better than this by specifying goals for improving water quality in certain areas. The Rotorua Lakes and Lake Taupo are examples of central and local government working together to improve conditions.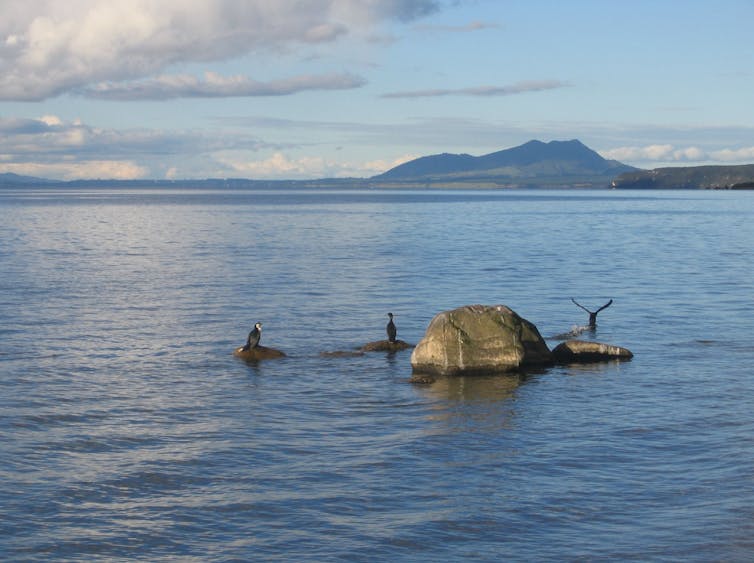 But without clear central government support, those councils that want to go beyond the bottom line and make more significant environmental improvements may end up facing legal action brought by those suffering real or imagined erosion of their property rights.
The same is true of greenhouse gases, particularly those related to transport development. The current benefit-cost approach to investment in roads is not assessed against national emission reduction targets. This leads (as one example) to nationally signficant road projects being approved without accounting for transport emissions increases.
While better roads increase fuel efficiency and so lower emissions per vehicle, they also generate more car use, meaning a net increase in emissions. Road transport emissions have increased 72% between 1990 and 2014.
True, the government has voiced support for electric cars and use of biofuels and also funded more public transport, walking and cycling, which will help reduce emissions. But overall the lack of joined-up thinking and a bottom-line approach – we will pollute, but only this much – protects economic growth rather than the environment.
While water quality and greenhouse emissions are less bad than they might have been with no policies at all, the bottom-line concept implies that ecosystems can be maintained at some measurable minimum acceptable standard, with the option of improvement when conditions allow.
Unless matched with clear timelines and goals to improve ecological health, the result is a continued trading down of ecosystem assets in order to boost economic ones.
Positive developments
An alternative to the bottom-line mindset would be to implement environmental policies that call for net positive ecological outcomes – so-called "positive development".
This integrates ecological decline and improvement into economic decision-making. The human and ecological history of a place would be accounted for. You would look not only at whether the materials for, say, a building came from sustainable sources, but whether you were contributing to improving ecosystems.
For example, protecting and enhancing biodiversity is done in Australia and New Zealand to offset development impacts. The preference is not just to minimise harm, but to improve things.
In the same way that economic investments need to demonstrate a positive financial outcome, so positive development will require a demonstration of how human activity will contribute to improving ecological health – water quality, biodiversity, local and global air quality, and so on.
Attached to resource consents, it could mean failure to demonstrate net ecological benefit means no permit. This shifts things from, say, just rehabilitating a mine site to requiring demonstrated improvement in its post-mining ecological value, or contributing to improving ecological values elsewhere.
As explained by Janis Birkeland in her 2008 book Positive Development, this approach goes beyond reducing use of materials, carbon and energy (the kind of outcomes attached to such initiatives as green buildings), to requiring improvements in total ecological health over the life cycle of a proposed development.
Applied to water quality, it would require developers to show how they would improve water quality and associated ecological values, rather than merely meeting minimum defined standards. And in terms of climate change, it would require proof that transport funding would result in a decline in emissions, rather than simply limiting the rate of increase.
What is needed is a government that is willing to go beyond requiring that development minimises harm to requiring that it does actual good.