The Financial Times, one of the great global journalism institutions, has been sold by the Pearson Group to the Japanese media company Nikkei.
This ends 60 years of benign custodianship, which has allowed the pink paper to be one of the more successful of the newspapers dealing with the challenges of the internet. The 127-year-old FT now has 70% of its audience paying to read it online and made a £25m profit this year.
The FT is looking healthier than most newspapers, partly because it occupies a valuable niche, but also because it has had the shelter of a large parent company. Now the Pearson Group says it wants to concentrate on its core educational publishing business.
Nikkei chairman Tsuneo Kita – who paid a whopping £844m for the FT - was quoted reassuring staff and readers:
We share the same journalistic values.
So a major British institution becomes Japanese. Or does it? Is this a recognition that the FT is now truly global? Does the identity of the owner make a difference?
Why ownership matters
Of course it does, but not always in the obvious way. There is no reason to believe that Nikkei is going to turn things on their head. After all, they know this business well and will be fully aware that the best thing to do with a successful media product is allow it to continue on its track.
But there will come a time when they have to appoint a new editor, and that is when an owner exerts the greatest influence. The most respected owners choose someone they trust and let them get on with it, giving them the freedom to interpret their mandate, knowing only that they can be fired if they go beyond it. The Scott Trust, which owns the Guardian of London, famously instructs its editors only to continue "as heretofore".
Other owners are famous for interfering. Rupert Murdoch ensures his many editors follow his political choices. He uses his newspapers to give him political clout, and uses his political clout to manipulate governments and regulators to the benefit of his broadcasting interests.
Clearly the power to hire and fire the key editorial decision-maker gives a great deal of power to the proprietor in whatever form they choose to exercise it.
When the going gets tough
In recent years, we have seen that in a time of financial pressure on the industry a key factor in ownership is not just the individual in charge, but the structure of the company. In the good times, those newspapers that were part of listed companies made good money for shareholders. In tough times, though, the ones surviving best are those with ownership structures that lend themselves to the pursuit of long-term goals, rather than the relentless cycle of short-term results demanded by the stock exchange.
The best example of this is the trust-controlled Guardian. During the boom years when newspapers were making huge margins, the Guardian's cautious trustees were considered something of an albatross around the newspaper's neck. Now, in tough times, the Trust has been able to sell other assets to build a war chest of more than £650m. This has allowed the Guardian to pour money into building a global internet audience and keep access to its site free and open.
They have gone from being a relatively small British left-leaning paper to a leading global brand which measures its audience in tens of millions. They have carried serious losses to achieve this (about £30m last year), but these appear to be decreasing. The hands-off approach of the Trust has also allowed the Guardian to take serious risks on recent stories, such as the Wikileaks and Edward Snowden revelations.
In the US, many of the papers have been controlled by families, and the best of these recognise their ownership as a public trust rather than as a source of quick profit. Although the New York Times is a listed public company, it has been protected by a family which has taken a long view on their investment, even with a falling share price.
The problem with family control, however, is when things get tight families can run out of money, or squabble. This is what happened at the Washington Post, where they sold to Amazon founder Jeff Bezos, who had the deep pockets to sustain it, and the Wall St Journal, which was sold to Murdoch.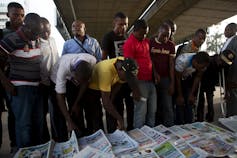 This points to another form of ownership: newspapers which are part of large conglomerates where other lucrative media – such as pay television – can sustain the newspapers in difficult times. This has its limits, though, as shareholders question the wisdom of carrying low-profit newspapers when their other assets are pumping money. Murdoch was forced to move his newspapers into a separate company.
Similarly, the Media24 group in South Africa, - which owns papers such as the Daily Sun, City Press and all the Afrikaans language titles – is part of the giant Naspers group. The fortune Naspers is making from pay television across Africa and its internet investment in China could sustain its newspapers, but shareholders – particularly those around the world who have no reason to care much about one country's newspapers – are likely to question why they are holding low-performing assets.
Naspers, though, is firmly controlled by its South African directors, notably chairman Koos Bekker, and this may offer medium-term protection. It has certainly enabled them to experiment on the internet more than their rivals. Most other South African newspapers are part of listed companies, forcing management to chase short-term results. Independent News and Media is not listed, but its new owner carries a huge debt which is likely to constrain spending.
A return to where it all began
The bottom line is that most newspapers are no longer the lucrative investment they once were. There are a few owners (and even fewer in South Africa) who do it because they believe their papers play an important role in a democracy, and treat it as a public trust. Others will do it for the political clout it gives them.
This is, oddly, a return to where newspapers began a couple of hundred years ago, before advertising made newspapers so lucrative.