As we all know, the economy hasn't been doing well of late, stagnating since the 2008-09 recession. Since then it has grown by just 0.13% a year, compared with the historical average of 2% a year. This matters because stronger productivity growth increases tax revenues and helps improve wages and living standards. But the overall picture disguises what is happening in different sectors of the economy. And it isn't all bad news. Our latest report shows that NHS productivity is bucking trends apparent across the rest of the economy.
NHS productivity is measured by comparing growth in the outputs produced by the NHS to growth in the inputs used to produce them. NHS outputs include the amount and quality of care provided to patients. Inputs include the number of doctors, nurses and support staff providing care, the equipment and clinical supplies used, and the hospitals and other premises where care is provided.
The measure of NHS output captures all the activities undertaken for all NHS patients wherever they are treated in England. NHS output has increased between 2004-05 and 2013-14, primarily because ever more patients are receiving treatment. Compared with 2004-5, hospitals are treating 4m (32%) more patients, the number of outpatient attendances has increased by 17%, there has been a 25% growth in GP consultations and community care activity has increased by 14%.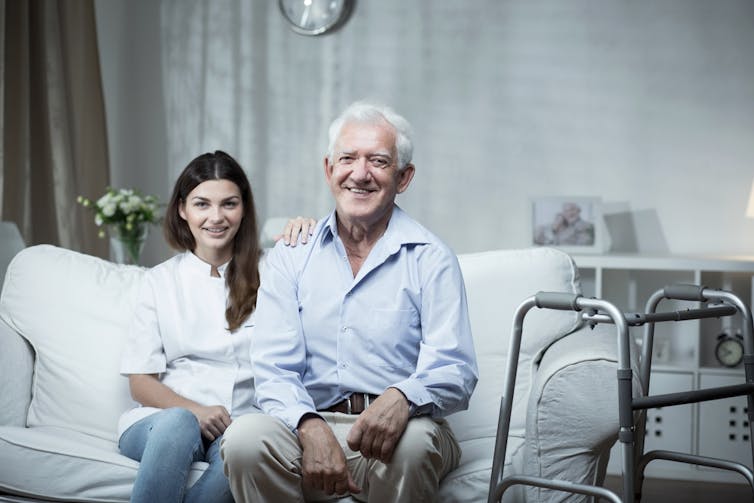 Quality has also improved. There has also been year-on-year improvements in hospital survival rates, although concerns remain about a variation in survival rates across hospitals. On the downside, although waiting times are shorter than they were in 2004-5, they have been getting longer since 2007-8. Taking account of the amount and quality of care, overall NHS output increased by 47% between 2004-5 and 2013-14.
Increased NHS output has come about in response to pronounced increases in NHS expenditure. This has funded higher wages – which rose by 24% between 2004-5 and 2012-13 (although pay has fallen since 2009). It has also paid for a 10% increase in the number of NHS staff and increased use of agency staff –although there have been periods of retrenchment, notably whenever the hospital sector has been struggling to reduce deficits.
The use of non-staff resources, such as equipment and supplies, has increased by about the same proportion (11%) year-on-year. Taken together, NHS inputs increased by 31% between 2004-5 and 2013-14.
We can calculate productivity growth by comparing output growth with input growth. From 2004-5 to 2013-14, NHS productivity has increased by almost 13%. Productivity growth has been especially strong since 2009-10, and between 2012-13 and 2013-14, the latest available figures, growth amounted to 2.2%.
How does the NHS compare?
The NHS has been outperforming the rest of the UK economy over the last few years. The economy-wide measure produced by the Office of National Statistics referred to as gross value added per hour worked is calculated by assessing the contribution of each sector of the UK economy to overall economic growth.
The rate of NHS productivity growth since 2004-5 compares favourably with that achieved by the economy as a whole. The graph below shows NHS productivity growth outpacing the economy through the entire period. The recession in 2008-09 is reflected by the notable dip in each series. Since then NHS productivity has increased year-on-year, whereas productivity has been falling for the economy since 2011-12.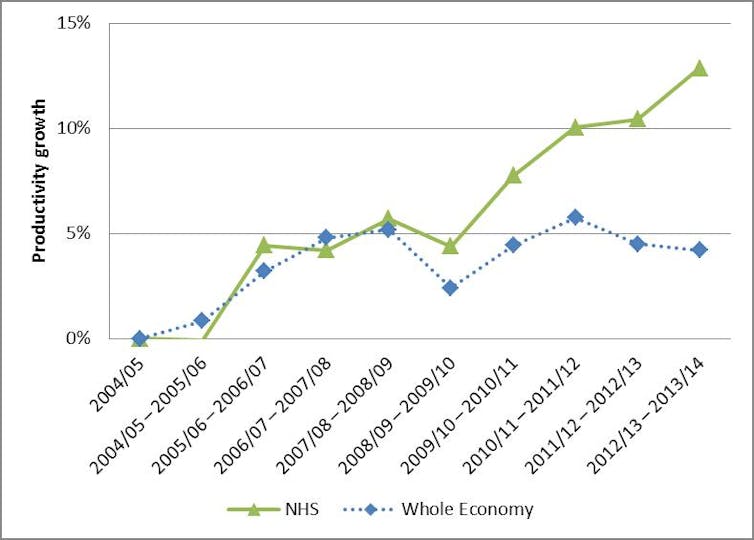 Challenges ahead
This good news about NHS productivity growth is tempered by the claim that it is not enough. In order to meet growing demand on the NHS over the foreseeable future, the NHS has been set a target of productivity improvements of 2-3% a year. Although this rate has been achieved recently, it is higher than the annual average realised since 2004-05. However well the NHS has been doing, the pressure to do better remains.
There is another problem. The recent productivity gains may not be sustainable. They have been achieved mainly by restricting growth in staffing levels – staff have been working harder and the productivity gains are down to this. But staff numbers have increased lately in response to the Mid Staffs enquiry and may do so further if the NHS is to extend the range of services it provides seven days a week. Faster growth in staff numbers may outpace growth in the numbers of patients treated or improvements in the quality of their care. If so, there will be a slowdown in productivity growth.
The NHS then, like the economy as whole, faces tough challenges in continuing to make productivity gains. Looking forward, it will not be enough simply to work existing inputs harder. Rather the NHS will have to become better at reducing inefficiency and unwarranted variations in practice. But at least the NHS will be starting in a stronger position than might have been thought.