Winter is well on the way, and with it, the NHS continues to face ongoing staffing pressures – with falling numbers of nurses and increasing vacancy rates for many clinical and non-clinical roles.
Applications to study nursing are also down – hit by the double whammy of UK students facing fees instead of bursaries and EU students facing Brexit. And with the UK set to leave the EU, things could go from bad to worse – as new analysis from The Bureau of Investigative Journalism (BIJ) finds that some key hospitals in England depend on the European Union for up to one in five staff, and even higher proportions of doctors and nurses.
The report also reveals that senior figures in the NHS have warned that recruitment from Europe has dried up, with potential knock-on effects on waiting times, operating theatre capacity and beds.
The hardest hit
In the NHS, 63,000 staff – 5.6% of the total workforce – are from EU countries, including 10% of doctors and 7% of nurses.
Recent research reports from both The BIJ and the House of Commons Library, which give more detail on regional variations, show hospitals in London and the south-east are particularly reliant on EU staff. In London, 11% of staff are nationals of other EU countries compared with just 2% in North East of England.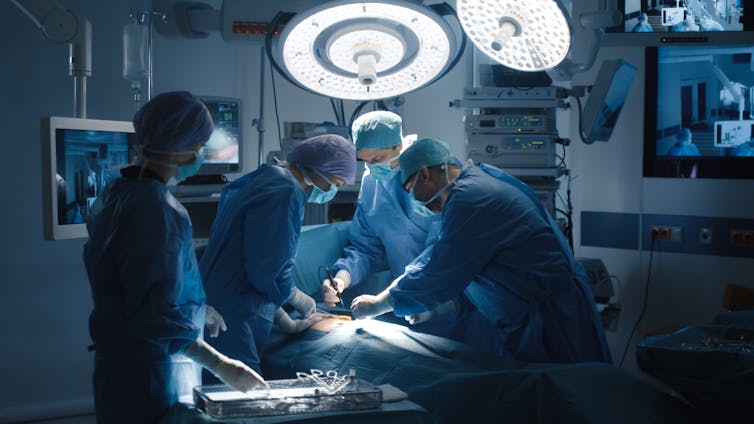 The Royal Brompton is the hospital most reliant on EU staff, with 28% of doctors and 27% of nurses from the EU. Overall, in a third of health trusts, EU nationals make up more than one in ten medical staff. And in over a fifth of trusts they make up more than one in ten nurses and health visitors.
The EU effect
Since the EU referendum, the percentage of NHS staff (for whom nationality is known) has changed apparently little, but there are nevertheless worrying trends beneath the headline figure. Between 2015 and 2016, 11% of those joining the NHS were EU nationals, falling to 9% in 2016-2017 – and to 7.9% in 2017 to 2018.
The number of doctors who are recorded EU nationals has been stable since the EU referendum at around 9.8%, but for nurses the percentage of NHS joiners who were from the EU halved from 19% in 2015-2016 to 7.9% in 2017-2018, and of those leaving the NHS, 9% were EU nationals in 2015-2016 rising to 13% in 2017-2018.
---
Read more: Brexit is not good news for the NHS – here's why
---
In social care, over 100,000 staff (around 8% of the total workforce) are EU nationals from outside the UK. There are real concerns in this sector too, particularly since the recent migration advisory committee report, which recommended no preferential treatment for EU citizens after Brexit, and cutting visas for lower skilled workers – which would include those working in social care.
Although the committee was "seriously concerned" about the social care sector, it believes that improving pay and working conditions would attract a UK workforce. Although true, this may be unhelpful to local authorities, who are already straining to maintain services in the face of long years of budget cuts. To fill future social care vacancies with UK workers could require a 20% pay increase, according to estimates by the Resolution Foundation.
Brexit damage
It's clear that Brexit is already harming the NHS. And as the uncertainty over what will happen when Britain leaves the EU accelerates the trends towards staffing shortages that were already well underway, it's not surprising the recent People's Vote march in London saw such a high turnout of people calling for a referendum on any Brexit deal. The British Medical Association, Royal College of Nurses and Royal College of Midwives have all called for a vote on the final deal, with concerns that Brexit could jeopardise safe patient care.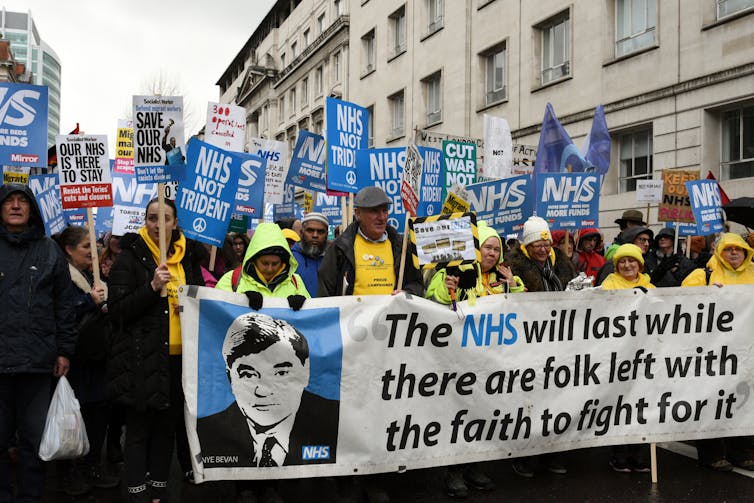 Before the 2016 EU referendum, health economist Andy Street, and I wrote on "the truth about migrants and the NHS". This responded to misinformed anecdotes about inward EU migration creating strains on the NHS, and to the MP Sarah Woollaston's insightful comment that "if you meet a migrant in the NHS, they are more likely to be treating you than ahead of you in the queue".
We pointed out the "healthy migrant" effect, which means that inward migrants, from the EU and further afield, are more likely to be working and less likely to be ill. We also explored the NHS's reliance on staff, particularly clinical staff, trained from overseas.
Two years later, we approach with trepidation an imminent chaotic Brexit with uncertain effects on many parts of society – not least on our health. Reports of government instructions to stockpile medicines in advance of Brexit are alarming, but as this latest analysis shows, the most concerning long-term impacts may well be yet to come.
---
Read more: Shortage of nurses in UK is affecting patient care and threatening lives
---